Owning shares in Realty Income (O) and Home Properties (NYSE:HME) is like comparing oil and water. However, upon further analysis and contrary to popular opinion, these two most precious and perilous resources (oil and water) are more popular than you would think. Oil and water are both integral to our lifestyle, for example. Human settlement, and civilizations has always been determined by water and what it can provide, and fossil fuels have changed everything.
Conversely, Realty Income and Home Properties are REITs that are differentiated by risk profile but very similar in terms of overall value proposition. As my frequent readers know, I am a strong believer in the triple net (aka single tenant net lease) model and I advocate positions in Realty Income, National Retail Properties (NNN), Agree Realty (ADC), and American Realty Capital Trust (ARCT) on a very frequent basis. There is simply no substitute for a REIT that provides the balanced risk-aligned fundamentals of credit, growth, and income.
The triple-net sector is considered one of the most risk-averse as I often refer to the "sleep well at night" (SWAN) characteristics described as the three-legged stool of investing. One leg is defined as high-quality credit with income characteristics that are sustainable over long time periods. For example, Walgreen's and AutoZone would be considered high-quality investment grade rated credits. The second leg is defined by long-term fundamentals. Triple net leases are typically fifteen to twenty years and the average lease term for many of the triple net REITs is between eleven and twelve years. The third leg to the stool is defined as growth and that is essentially the same as rent bumps (increases).

It is because of these three-prong fundamentals that the triple net REITs have consistently outperformed many of the other equity REITs. In fact, Realty Income and National Retail Properties have built an exceptional track record of consistent and increased dividend payments for eighteen and twenty-two years respectively. There are just five other equity REITs with equal or better dividend records (Federal Realty (FRT) is the leader with forty-four years of dividend performance).
Oil and Water ?
Realty Income has a diverse revenue model with over 2,600 properties and around thirty-nine different categories. Much like water, Realty Income has a very fluid composition that provides leased facilities to many high-quality tenants. Also, like water, Realty Income is household resource that is delivered monthly to thousands of mailboxes across the world.
Much like oil, housing is also a resource that dates human existence. Shelter defined (Wiktionary) is "a refuge, haven, or other cover or protection from something." Housing is certainly considered a necessity-driven sector and the apartment sub-sector has become an increasingly popular investment alternative. As explained by Victor Calanog, Chief Economist at Reis, Inc, a New York-based real estate research firm:
"Apartment fundamentals remained strong in the first quarter, with vacancies hitting 4.9 percent, a level last observed in late 2001. This is only the third time in Reis's 31+ years of history that national vacancies have plummeted below 5 percent - expect an acceleration in effective rent growth as landlords perceive tighter market conditions as an indication of greater pricing power. Also expect another good year for apartment rentals, given that the for-sale single-family housing market is still on the ropes. However, 2013 might be a different story once a veritable deluge of new projects open their doors. That might not mean a reversal in recent good fortunes, but for certain markets that no longer benefit from extremely tight supply conditions, rent growth might just not be as stellar."
The snapshot below (provided by Reis,Inc.) illustrates the supply and demand apartment fundamentals that Calanog describes: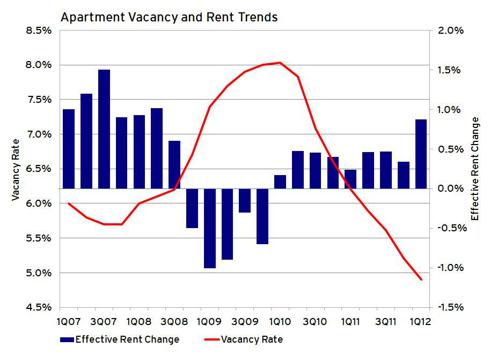 Apartment REITs
As I alluded above, the three-legged stool is an integral part of investing and the apartment sector is weighted most heavily towards the "leg of growth". Assuming a reasonably stable economy and moderate job growth - and if assets are properly managed - apartment ownership should continue to reward REIT investors. Historically apartment owners have been able to average (over time) annual rent increases of around three percent (while expenses rise with inflation).
Of course, apartments are rented "by the door" and the short term lease structures make for a riskier and more volatile value proposition. Accordingly, I am limiting my REIT picks to three apartment REITs that are currently paying a dividend yield of four percent or greater. As noted, I support apartment allocations based on the notion that there is growth in the sector and these fundamentals should provide enhanced dividend and total return growth.
Campus Crest Communities (CCG), Home Properties (HME), and Mid-America Apartment Communities (MAA) are all paying dividends in excess of four percent and here is a snapshot of the basic fundamentals:

Do Oil and Water Mix?
So yes, in this case, oil in water mix.
Like weeds, humans will persist without oil but we will perish without water. As far as REIT investments, I can live without apartment REITs; however, I support a hedged strategy whereby a weighted allocation of apartment REIT equities could provide some enhanced total return growth. The apartment sector is more cyclical in nature and the triple-net sector is one the least volatile REIT alternatives.
By combining these unique operating platforms, an investor could benefit by enhanced diversification and provide for hedged exposure to differentiated income strategies. By owning shares in these combined REIT models, an investor is guarded against principal losses and is more likely to benefit from the value-aligned demand characteristics of the apartment sector.

Footnote: American Realty Capital Trust closed last night at $11.24. As I wrote a few weeks ago (ARCT - The Triple Net Threat), investors should see the value in this risk-aligned platform and the latest price indicates that the "train has left the station."
Disclosure: I have no positions in any stocks mentioned, and no plans to initiate any positions within the next 72 hours.