We have already spoken about that potential yen devaluation and concluded that if it was to happen it most likely will have to be self orchestrated.
A two day BOJ meeting has just finished and as we anticipated, nothing happened. I was reading many, maybe too many notes about a great easing coming at that meeting and now read that they will ease at the next meeting.
Granted there is no smoke without fire and the fact that Ryutaro Kono's nomination for the Policy Board was rejected by the Upper House on the grounds that he simply was not dovish enough shows that there is strong political pressure on the BoJ to ease further. Former BoJ Deputy Governor and current head of the Japan Center for Economic Research Kazumasa Iwata said in a Reuters interview on Friday that February's action was a regime shift in the sense that the BoJ set a flexible inflation target and that the central bank must now make efforts to achieve the target as soon as possible. He mentioned that markets believe that too and considering that Japanese inflation expectations have been creeping up and passed positive at 0.34% he might be just right.
(click to enlarge)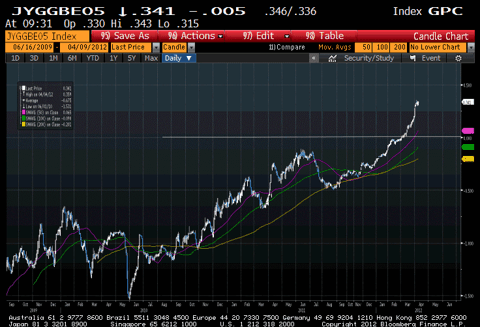 Societe Generale via Zerohedge thinks the BOJ reform proposal in which "the BOJ is required to end deflation with a specific time limit or face the dismissal of its executives" proposed by the opposition party will pressure Noda and the BOJ in implementing easing measures as soon as today. They also cite economic reasons and while valid I do not see them as a great incentive as nothing much has changed in Japan economic landscape for Shirakawa to suddenly massively change his stance.
Furthermore, Shirakawa, widely viewed as an inflation hawk, has often warned of the dangers of Japan being seen as monetizing debt as it would cause interest rates to spike. He has been more vocal lately describing one board member suggestion to ease further as "suicide". And he might be just right as we all know that should interest rates just triple (the 10 year would still be below 3% and the 2 year below 0.5% so it is in the realm of possibility), Japan will not have enough tax revenues to service the interest alone it pays on its debt.
So the question is whether Shirakawa can withstand the political pressure and on that matter it is important to remember that unlike the FED, the BOJ is not independent. In fact, some articles of the Bank of Japan Act make it a highly politicised institution:
Article 4 states "the Bank of Japan shall, taking into account the fact that currency and monetary control is a component of overall economic policy, always maintain close contact with the government and exchange views sufficiently, so that its currency and monetary control and the basic stance of the government's economic policy shall be mutually compatible".
Under Article 19, government representatives are permitted "when necessary, to attend and express opinions at Board meetings for monetary control matters" and even "submit proposals concerning monetary control matters, or request that the Board postpone a vote on proposals on monetary control matters submitted at the meeting until the next Board meeting for monetary control matters".
SG says that the easing could come by raising the inflation goal to 2% or increasing the asset purchase program. While it is possible I doubt Shirakawa will take on the risk of having a spike in interest rates and sovereign debt crisis under his governance by increasing it by a significant amount.
And even if they do ease further, the impact on the Yen will only last if it brings the country out of deflation as like it is the case for our Swiss friends, the REAL interest rate (Central Bank Target rate-CPI) differentials with the US and the Euro Zone is much to strong and in favour of Japan as you can see in the two chart below. And regarding other currencies, the Yen has not been particularly strong against them. Like for the Euro, it is all relative...
Real interest rates are nearly 2.5% higher in Japan than in the US
(click to enlarge)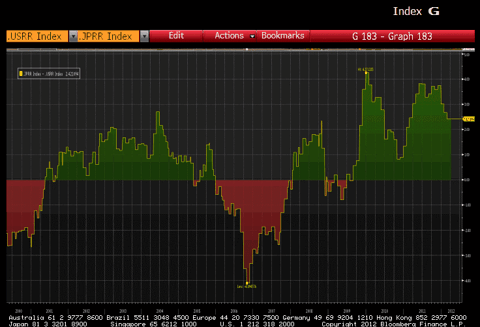 Real interest rates are nearly 1.5% higher in Japan than in the Euro Zone
(click to enlarge)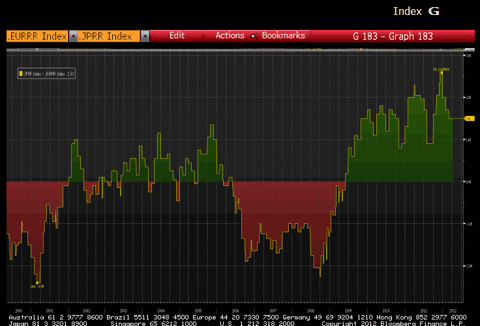 So if not easing, what is Japan to do to successfully devalue the Yen and avoid the complete hollowing out of its economy without generating a sovereign debt crisis?
Well, on that I tend to agree with Albert Edwards. The Japanese authorities to ignore the disingenuous criticism it is receiving from the US and others and intervene in unlimited quantities to drive the yen lower.
Some have said it is impossible for Japan to emulate Switzerland. I disagree but as Albert Edwards says, it has consequences:
I am frankly amazed when I read commentators saying that Japans interventions to stop the yen rising are doomed to fail. They are not. An economy can always stop its currency rising. Just look at China. But you have to be prepared to intervene in unlimited quantities on the FX markets and then be prepared for the economic consequences these are likely to be runaway domestic money supply growth, a credit bubble, and unsustainably rising asset prices most especially property prices. These are things that most Japanese can only dream of. It is time for the Japanese authorities to make a stand against the US Treasury and make that dream a reality.
Consequences that are a much better option than being seen as monetizing debt and causing interest rates to spike. In fact, even Ben Bernanke himself has cited FX intervention as a way to fight deflation in a 2002 speech.
Disclosure: I have no positions in any stocks mentioned, and no plans to initiate any positions within the next 72 hours.