Many consider gold a potential stock market and currency hedge, pointing to global money printing and expanding sovereign debt loads as a reason to maintain personal reserves, and the yellow metal's lengthy history as a method of storing wealth. Another option some gold-bugs may consider is investing in gold miners.
Currently, several large-cap miners provide a dividend that probably beats interest rate you will currently find on a high interest savings account, or even a 5-year CD. Of course, many of those dividends only got so competitive though recently declining share prices.
Through the last several years, gold appreciated to a considerably greater degree than the majority of gold miners, largely due to broad expectations that gold should not maintain its prior trajectory and price range. Nonetheless, throughout 2011 and so far into 2012, the gold miners have consistently underperformed gold when it appreciates, and fallen more significantly than gold when it depreciates.
Below are five large-cap gold miners traded in the United States: Barrick Gold (ABX), Goldcorp. (GG), Newmont (NEM), AngloGold Ashanti (AU) and Yamana Gold (AUY). I have provided their present yields, as well as their 1-month, YTD and 6-month equity performance rates. I have also provided the performance rates for the gold via the Gold ETF (GLD).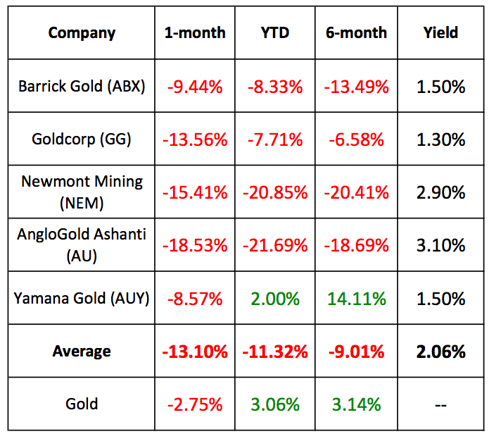 Click to enlarge
And below is a recent performance chart for the Gold ETF, showing gold's trading range over the last three quarters: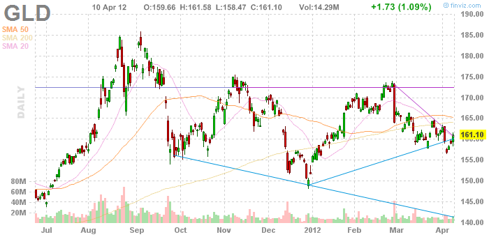 Click to enlarge
Over all the above-listed time periods, gold outperformed the average of these miners. Thus far into 2012, gold is up 3.06 percent, while the miners have depreciated by an average of 11.32 percent.
Another difference between the miners and gold itself is that these large miners provide a dividend that beats most savings accounts. The above-listed gold miners all yield over 1.3 percent, with an average yield of 2.06 percent. Gold does not provide a yield, and also often requires investors to pay storage costs and/or management fees.
These mining companies could suffer risks that a commodity investment cannot, such as geographical and political risks, mine productivity problems, bad weather, management negligence, bad luck and fraud. Such issues regularly present themselves, which accounts for a significant portion of the average miner's underperformance. Mines can be shut down by hostile governments, bad weather, an earthquake and many other foreseeable and risks.

Disclosure: I have no positions in any stocks mentioned, and no plans to initiate any positions within the next 72 hours.