While equity markets have been skyrocketing since October, agriculture stagnated downward. Despite heightened inflation expectations since LTRO, commodities such as live cattle, lean hogs, orange juice, cotton, and coffee are at 52 week lows.
Agricultural Indexes such as the PowerShares DB Agriculture (DBA) and the Dow Jones Livestock Index (COW) are also at 52 week lows both in absolute terms and at three year lows versus the S&P 500. Due to global demographic factors, declining global stockpiles, and future inflation driven by US monetary policy, I believe agricultural commodities are in the process of bottoming out.
Economic fundamentals are still bullish for agricultural commodities. The population is still growing at 79,800,000 people per year (1.14%) and the convergence of global living standards have increased the demand for eating meat products (which require more grain for feeding). The March USDA report has published that corn supplies have decreased and other crops are losing acreage in favor of future corn growth. The high indebtedness and aging of farmers in food exporting countries such as Russia and the United States may also hurt long term output growth.
Agricultural commodities should outperform equities in a global slowdown because the demand to eat is inelastic compared to the purchasing of industrial and consumer goods. With a large portion of the world just recently upgrading from a meat based diet from a grain based diet, these new meat eaters will be hesitant to sacrifice their diet before giving up luxuries first.
Also, population growth will increase demand for food regardless of economic conditions. An extensive economic downturn also increases the likelihood of further quantitative easing which will rise inflation concerns and through them commodities.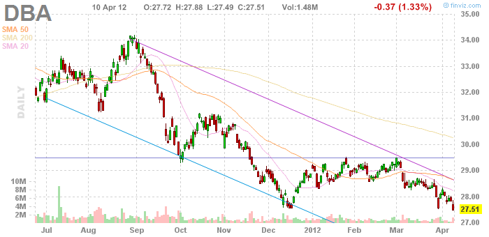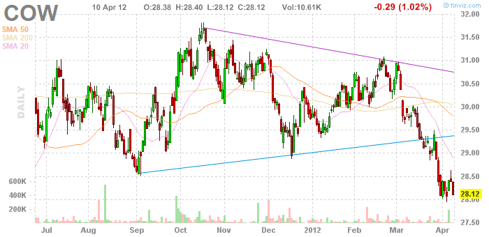 Technicals, on the other hand, are concerning for commodity bulls. Moving average indicators have rolled over to the bearish side and the breaking of these 52 week lows has busted through critical support levels. RSI measures (14 day) are weak, but not yet oversold, which indicates there may be more short term downside.
Overall, it seems like agricultural commodities are bottoming out. At this point it is good idea to initiate long positions, but save most of the buying for a further downturn or breakout of existing downward channels. For those looking to buy agriculture, but also make a bet on a Chinese hard landing, try shorting base metals (DBB) as a pair trade to buying agriculture ((NYSEARCA:DBA)).
Disclosure: I am long DBA.
Additional disclosure: I am looking to add positions in DBA other agricultural ETFs (JO, BAL, and WEAT) when technicals improve.