A few months prior we produced an article here providing investors with some of our insight on a speculative name set to explode. Since our prediction, Cheniere Energy (LNG) has essentially doubled from our reference price that we told investors to begin purchasing. Our original strategy began as a long stock position with some protective long term puts as a hedge. Following our vindication that came in late October we removed our put options and have taken the ride all the way north to $16 a share where we began liquidating our position which was in the first quarter of 2012.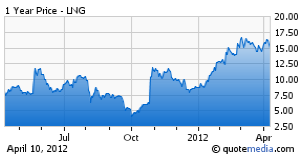 Here we will provide investors with an update on our position, our plans for the future regarding this company, and what we believe the correct move is to continue to earn profits in LNG.
I would like to begin with notifying investors that we have not fully liquidated our position in LNG. We have decreased our overall position by approximately 80% but continue to hold some shares awaiting a better opportunity to pick up shares at a cheaper price. YTD investors have booked a significant 75% gain on this stock and we believe the famous phrase "nobody ever got hurt taking a profit." Our target price as of our last article was $15 and we have since upped our price target to $17 per share based on long term projections.
We see significant weakness in the market and have hardly participated in the rally that has occurred in the overall market YTD. With a forthcoming sell-off in our opinion, we believe that investors will be able to once again pick this company up between $11-$12.50. We do not believe that investors should be purchasing this stock above $12.50 regardless of the positive news out of this company due to the high correlation seen with this name and the market.
Our main thesis for LNG was on the basis of global energy demand which is going to progressively grow each year. LNG is working to fill these global energy needs with liquefied natural gas exports to countries that need to import energy. These energy needs always need/should be met with cheaper and cleaner alternatives to oil and natural gas fills that void. Natural gas has hit historic lows in the USA due to a glutton of supply that is meeting a very mild demand (mostly our governments fault but that is for another time).
Natural gas is flirting with a $2 price tag and it is trading well in excess of 5 times this price in many countries overseas. This provides companies like LNG the opportunity to produce massive profits over the long term even though they are currently losing money. The growth prospects of exporting natural gas are enormous and LNG is only in its infancy for this market.
Currently, we believe it is important for investors to stay clear of this name simply due to the volatility of the stock and the clear effort of the company to dilute its shareholders by issuing new stock. The recent high correlation between LNG and the markets (which we believe are headed lower) is going to provide investors with a better opportunity to purchase this company.
Continue to keep your eye on this company as it has a big and bright future ahead of it along with the overall future of natural gas. The balance sheet has not made any significant improvements since our last article and we maintain the view that it is a little dangerous.
However, as stated in our previous article, we believe that with signed contracts worth extraordinary sums of money, LNG will have to put forth little effort to continue its operations should it need additional financing. We will keep our small long position on the table looking for better prices to obtain more shares.
Disclosure: I am long LNG.
Additional disclosure: Looking to add to our long position at better prices.