On April 9, Greek marine transportation services company DryShips Inc (DRYS) announced that it would sell 9 million common shares of its partially spun-off subsidiary Ocean Rig UDW, Inc. (ORIG) in a public offering. This amounts to a rough 9% of the parent company's position, which would drop its ownership down to about 64% in the offshore drilling company. DryShips also announced that 900,000 shares of the offering would be bought by companies affiliated with CEO George Economou. Shares of ORIG dropped 3.12% in the after market session on Monday, closing at a price of $16.45/share.
At a hypothetical price of $16/share, DryShips has the opportunity to raise a total of $165 million should the 1.35 million additional shares covered by an option be exercised by the underwriters. Such an offering raises immediate capital that is available to relieve corporate debt, be held in reserve, or be used for additional strategic acquisitions. Overall, the corporate move appears to be part of a plan to unlock some of the value that is hiding in the profitable subsidiary.
At $16/share, the company's ORIG position would carry a market worth around approximately $1.2 billion for DryShips, who currently trades with a market capitalization of $1.34 billion as of April 9, 2012. By parting with a small 9% portion of the drilling company, DRYS bolsters its balance sheet and proves to be capable of extracting value from the profitable subsidiary.
With the shipping industry suffering near all time lows, the offering provides immediate access to capital in a manner sure to be the envy of the industry which has notoriously avoided diversifying away from its core business. Dryships had originally been looked down upon by its peers for expanding into the non-related UDW drilling rig sector in 2008.
Yet, as it stands, public dry bulk shipping companies such as Excel Maritime Carriers (EXM), Navios Maritime Holdings (NM), and Diana Shipping (DSX) have all faltered against the weight of falling charter rates in recent months. Along with DRYS, these companies were assaulted by an oversupply of vessels coming out of the shipping yards as the global recovery has struggled to get started.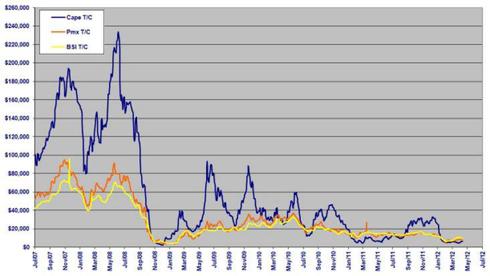 Click to enlarge
Indeed, with such an oversupply of shipping capacity, the name of the game has turned into a financial version of musical chairs. The last companies to remain liquid in the wait for shipping rates to recover will be the winning survivors in an industry in dire need to reduce its available fleet capacity. As seen in the above chart, shipping rates continue to bottom out with little sign of hope over the near-term horizon.
Those with the ability to raise cash have the greatest endurance odds working in their favor. Whether it be via the public markets or in the ability to extract value from additional holdings, the survivors of this market are likely to emerge from the pool of companies that have unhindered access to capital in order to stay liquid.
Despite this, it's somewhat difficult to determine whether Dryships' latest move to tap into its automated teller machine found in ORIG is one that is entirely beneficial to shareholders. Clearly, ORIG remains the safer investment for shareholders in the current economic environment with stable oil revenues being used to help prop up those diminishing under the shipping side of DRYS.
Likewise, for a management team that has been so heavily criticized for maintaining ongoing operations with companies affiliated with the CEO, the involvement of these private companies in this latest ownership exchange is sure to raise an eyebrow or two. It's hard not to wonder if part of this offering was intended for the alternative purpose of moving safer revenues over to the CEO's private companies.
Yet, regardless of the possible underlying intention, the raised capital for DRYS is sure to be a welcome sight for investors who have often considered the company to be stretching its debts a bit far in order to fund its fleet expansion.
Disclosure: I am long DRYS.