Just two and a half weeks ago, we evaluated Bank of America's (BAC) upside. In the article, entitled How High Can Bank of America Go?, we ultimately offer an answer to our title question, and it goes something to the effect of "much higher."
But the market correction that began at the end of the first quarter of 2012 has put our analysis in question. The rally that preceded it, which catapulted the financial sector in particular to outsized gains, has ended, and banks have retreated considerably over the past two weeks. Bank of America closed near $10 on March 26th, but now stands at $8.54. The 3-month chart below comparing performance for several of the large banks illustrates this correction.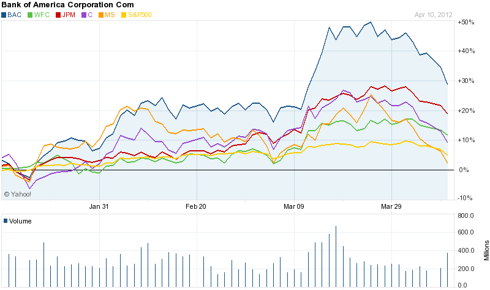 Source: Yahoo Finance.
Given this downturn, the financial services companies highlighted in our previous article have a new performance profile. We provide the updated performance data below. Considering the severity of the short-term price action, we included a one-week return column.

Source: Data taken from Morningstar.com.
The S&P 500 returned 10.57% YTD up to the same date (4/10/12). Clearly, despite the correction, financials have still outperformed in 2012. The question is whether we are in the midst of a bull rally correction that will be followed by further gains or a reversal of the rally altogether. We favor the view that the recent market action is only a temporary correction on the way to a prolonged rally and financial recovery. As value-oriented investors, we have faith in the fundamental data, which, in our view, points to an undervalued banking sector.
Fundamental Analysis: A Case For Further Recovery
In the dual tables below we compare the profiled financials with several key data points used in valuation analysis. Note that "EUB" stands for "Exceeds Upper Boundary."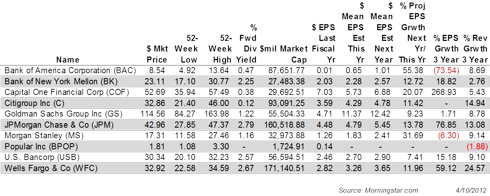 At the end of 2011 and again earlier this year, we assessed our view of banks and concluded they are attractive at current levels given the following notions:
a) Banks are selling at historically low multiples;
b) Housing prices are stabilizing;
c) Bank earnings in a normalized financial environment would make current prices extraordinarily cheap;
d) Europe is unstable, but U.S. banks are minimally exposed relative to (no surprise here) European banks.
These key points haven't changed for us. Looking at the table, the five-year average multiples paint a striking picture. In particular, Bank of America, Bank of New York Mellon (BK), Citigroup (C), Goldman Sachs (GS), JP Morgan (JPM), Morgan Stanley (MS), Popular, Inc (BPOP), U.S. Bancorp (USB), and Wells Fargo (WFC) are all trading at lower price/book ratios - in many cases by large margins - than their five-year averages.
Meanwhile, Capital One Financial (COF), Citigroup, Goldman Sachs, U.S. Bancorp, and Wells Fargo all have trailing P/E ratios materially lower than their five-year averages. And with sizable earnings growth expected in 2012 and 2013, forward multiples are extremely attractive, with several stocks trading less than eight times forward earnings and Popular, Inc's forward P/E only a shade above six.
For investors looking for value in equities, financials are still attractive in our view. We favor Bank of America, but contend that there are also attractive investments among its peers. Although financials are particularly susceptible to the current macro headwinds - and we see potential for more pain in the short term - we believe the fundamentals are in place for an extended recovery in the sector. We recommend accumulating in reasoned intervals during periods of downturn.