Telecom stocks have not fared as badly as Utilities this year, but their performance has been unimpressive. Add to that the recent steep decline in stock prices, and it looks like Vanguard's Telecom ETF, VOX, may be oversold and possibly worth consideration as a dividend play.
VOX is a passive index ETF with very low expenses (.19%) and about $428M in assets. YTD (4/10/12) it has gained just .66% and is down -5.57% over the past year, up 21.96% over the past three years, and down -1.44% over the past five years. Its three and five-year standard deviations and Sharpe Ratios are 15.98 and 19.58, and 1.10 and 0.02, respectively (Source: Morningstar). Its investment approach is described below:
Vanguard Telecommunication Services ETF is an exchange-traded share class of Vanguard Telecommunication Services Index Fund, which employs a "passive management"-or indexing-investment approach designed to track the performance of the MSCI US Investable Market Telecommunication Services 25/50 Index, an index of stocks of large, medium, and small U.S. companies in the telecommunication services sector, as classified under the Global Industry Classification Standard (GICS).
As of 2/29/12 its holdings were concentrated in just 34 stocks, of which the two largest were AT&T (T) and Verizon (VZ), and the ten largest holdings represented almost 71% of its assets. The other eight stocks in the top ten were CenturyLink (CTL), Crown Castle (CCI), Windstream (WIN), Sprint Nextel (S), Level 3 Communications (LVLT), SBA Communications (SBAC), Frontier Communications (FTR), and Telephone & Data Systems (TDS). As of 12/31/11 AT&T and Verizon alone represented over 47% of the assets. (Source: Vanguard.com)
As of 4/10/2012 VOX's market price slipped to 62.58, reducing its Relative Strength Index to 29.42. This suggests that it is technically oversold and perhaps ready for a rebound. Its 62.58 close lies just below its 200-day moving average of 62.65, and it might bounce off that technical level. Below that support lies at 61.66. Its current price is 6.2% below its recent high of 66.75 on 3/21/12. Its YTD chart is shown below.
(Source: StockCharts.com)
(click to enlarge)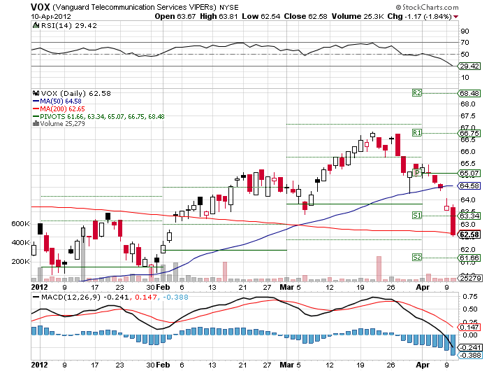 On the positive side, VOX's recent decline has raised its 12-month yield to 3.09% and its SEC yield to 3.62%. At this level it provides competition for Vanguard's highly popular bond index ETF, BND, currently yielding 3.07%. Investors who might be thinking of using the current drop in interest rates to sell some of their bond ETF holdings and move into interest-paying stock ETFs might consider VOX as an option.
By comparison, Vanguard's highly popular dividend appreciation ETF, VIG, is only yielding 2.0% (Source: Morningstar).
But this strategy has some glaring drawbacks. First, and perhaps foremost, the index VOX replicates includes some notably weak stocks, especially Frontier Communications, which just reduced its dividend 47% and is down -40.27% over the last year, and Sprint Nextel, which is down -43.76% over the same period.
Already I can hear Seeking Alpha readers saying, "Why not just buy AT&T and Verizon and ditch the dogs in the index?" and they have a point. But some people are committed to an index approach to investing and are not interested in buying individual stocks. So they need another strategy. One option might be Vanguard's Utility ETF, VPU, which currently has a 12-month yield of 3.67% and a SEC yield of 3.95%. But it too has had a miserable year so far, down over -4%, and doesn't look attractive at the moment (Source: Morningstar).
Thus, it looks like VOX is not a viable answer to the important question of where bond ETF investors should look for bond-like yields in stock ETFs when (and if) inflation heats up and interest rates start to rise. The Telecom industry is dominated by two imposing giants, AT&T and Verizon, leaving the increasingly precarious also-rans to drag down the sector index.