Ciena Corp. (NASDAQ:CIEN) doesn't limit itself to just one color of the spectrum. The company makes transport and switching equipment (CoreStream, CoreDirector) that increases the capacity of long-distance fiber-optic networks by transmitting multiple light signals simultaneously over the same circuit. It also sells transport systems for metro and enterprise wide-area networks, as well as broadband access products that enable communications companies to deliver Internet protocol [IP] services, such as Voice over IP (VoIP), IP video, and DSL. Ciena serves telecom service providers, cable companies, large enterprises, and government entities.

Profits, like swallows at Capistrano, are coming back to Ciena. Four out of the last 5 years were negative. One year, 2003, hit a loss of $6.09 a share. That's in the past. Last year, the company eked out 1 cent a share in earnings. This year, analysts are looking for $1.20 and next year, $1.60. Investors believe the analysts are right.

While the stock hit a high of $1056 (that's not a misprint) in 2000 (remember those days), it's been mostly downhill since then with the price bottoming out in 2005 at $11.50 a share. It hit there twice in a year. Now the price is coming back (at $45) with investors believing. No one thinks the $1056 will be repeated, however. At least not until earnings get to about $42 a share, based on a p/e (price to earnings) rate of 25.

Revenues are jumping at Ciena. Third quarter sales were up 34% from a year ago, thanks to strong demand from additional capacity and network convergence at cable providers like AT&T. In the same quarter last year, the company lost 5 cents a share. This year it made 41 cents in the quarter due to a better product mix and cost leverage because of higher volumes. The fourth quarter should improve in both revenues and profits as well, to the tune of 41 cents a share vs. 16 cents last year.

The future looks mighty bright for Ciena. Reasons: more capacity is needed by every provider because of heavier use of bandwidth demanding data services such as video and high speed wireless networks, known as 3G. Second, media companies merge and smaller rivals are bought, requiring the legacy networks come together in a way that's efficient and cost effective. As an example, Ciena is working with AT&T on converging 8 networks. Third, global carriers are making good money and will need to increase capital expenditures to keep current or ahead of competitors. Some analysts believe that translates into 22% growth in revenues with 33% increase in earnings for the next several years.

Investors believe, truly believe in Ciena. They've driven the stock up 50% since March. That puts the valuation at a fairly high level, but nothing like the good old days of 2000. Momentum investors may want to look at Ciena for a trading possibility. Long term investors may want to consider the stock if it takes a breather.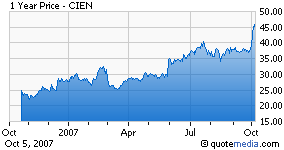 Disclosure: none