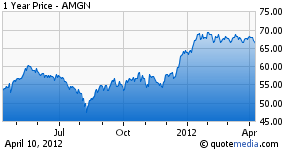 Shares of Amgen (AMGN) lost 1.2% on Tuesday after the company announced it would acquire KAI Pharmaceuticals, a developer of chronic-kidney diseases in an all cash transaction valuing the company at $315 million.
The Deal
The transaction of KAI Pharmaceuticals is consistent with Amgen's acquisition strategy to increase its research and development pipeline as drug growth is slowing down. Furthermore Amgen's own pipeline is getting emptier amidst blockbuster patents expiring. As part of the deal Amgen will provide a loan to KAI to fund the phase 3 stage of development of its KAI-4169 drug which tackles a hormone imbalance which is often the fate of patients on dialysis.
"We think the KAI molecule is very interesting and has some important potential benefits that of course need to be born out by future study," according to Amgen's vice president of Global Development Severino.
Amgen already has two anti-anemia drugs used by chronic kidney patients. However sales of these drugs "Aranesp" and "Epogen" have slowed down on safety concerns.
Valuation
According to its latest quarterly filing Amgen held $20.6 billion in cash and short term investments vs. $21.4 billion in debt, leaving a net debt position of a mere $0.8 billion. As such the company can easily finance the deal in cash.
The market values the company at roughly $52 billion or 3.3 times annual revenues and 14 times annual earnings. These are relatively cheap valuations compared to competitors such as Pfizer (PFE), Merck & Co (MRK) and Abbott Laboratories (ABT) which trade at price-earnings ratio's of 18-20 times.
On top of a reasonable valuation, investors receive a quarterly dividend of $0.36, providing an annual dividend yield of 2.2%
A lack of profitable investment opportunities in recent year lead to a significant built up in cash holdings. Amgen used these funds to retire a significant amount of shares over the last years. Shares outstanding fell from roughly 1.08 billion in 2008 to just under 800 million according to its latest quarterly filing.

Investment Thesis
Pharmaceutical and biotechnological companies are always tricky to (e)valuate given the reliance on key drugs passing crucial tests. However Amgen looks reasonably cheap. Despite the fact that revenues are flat over the recent years and net income fell over 2011 valuations are very generous for a long term investor. Furthermore the company spend $3.2 billion in research and development in 2011 which all ended up in the income statement, thereby depressing net income, while it is fair to say many of these efforts lead to valuable results such as new drugs, which drive future profitability.
Shares trade at 5 year highs around the $66 mark as renewed buyback programs which have retired about one-in-four shares over the last years propelled shares higher. At this path the company is on track to test its all time high of around $85 set in 2005.
Disclosure: I have no positions in any stocks mentioned, and no plans to initiate any positions within the next 72 hours.