Amazon is everything that Apple is not…
One of the very first lessons that I learned as a young prop trader was not to get emotional when it comes to the stock market. Even though unwavering discipline always (well, almost always) prevents me from making emotional trades, nothing makes me crazier than watching a momentum stock get bid up to a level where, if (and only if) everything goes just right for the next five years, the company might finally be generating enough profit by 2017 to justify the stock price today.
Amazon.com (AMZN) is one such example of a stock that frequently tends to be bid relentlessly higher without regard for fundamental valuation. Although the online retail giant has consistently failed to deliver significant profits over the last several quarters it is trading at 141.9x trailing-twelve month (TTM) earnings and 153.1x expected 2012 earnings; in other words, the market is essentially pricing roughly six consecutive years of 50% earnings growth into the shares today.
Analysts expect Amazon to earn $1.27 per share in 2012. If the Company can indeed realize 50% earnings per share [EPS] growth year-over-year [YOY] for six years, earnings would reach $9.64 in 2017. Therefore, if on April 9, 2018 Amazon shares were still changing hands at $194.39, only then would the Company be reasonably valued at 20.1x TTM earnings. Sure, Amazon will almost certainly be worth its current $88 billion market cap someday, but it is absolutely not worth that today… so why is it valued as such? It drives me nuts!
Perhaps investors in Amazon expect that the company will suddenly begin to exceed projected earnings growth by 100% year-after-year and continue to do so for the next half-decade or maybe they presume that shares are destined to trade at a triple digit earnings multiple forever. Both suppositions are highly unlikely and as such I simply cannot see the rationale behind buying Amazon at such a lofty valuation. Amazon investors should reallocate their capital to a more sensibly valued equity… one that, by trading at a lower earnings multiple with a price to earnings to growth (PEG) ratio at or around 1.0, still enables shareholders to participate in the upside of near-to-medium term earnings growth. There is no better example of such a company than Apple (AAPL), an enterprise that, despite its torrid growth and enduringly lofty expectations, has always seemed to remain fairly valued in the marketplace.
Apple is everything that Amazon is not…
Apple closed at an all-time high of $633.68 on Thursday, April 5th; shares are up nearly 6% already this month, 56% year-to-date, 87% over the last twelve months and 8,750% since December 31, 2002. Yet even at $633.68 Apple only trades at 18.0x TTM earnings and 14.4x expected 2012 earnings of $43.99 per share. While Apple would not currently be considered overvalued by any standard metric, I thought it would be interesting to investigate whether the Company has ever traded at a valuation comparable to many of today's (aggressively priced) 'tomorrow's hopefuls' like Amazon.com. I pulled all readily available AAPL 10-Ks (1994-2011) and compiled the pertinent data in a table to reveal how exactly Apple's historical relative valuation (measured by PE and PEG ratios) has trended over time:
Click to enlarge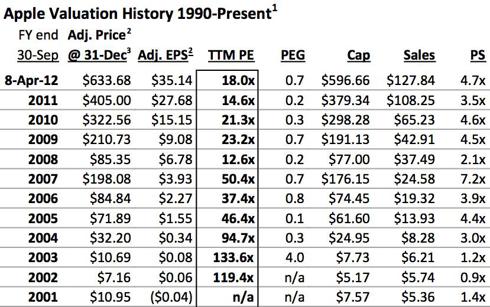 Apple's fiscal year ends on September 30th so I calculated a TTM PE at the end of each calendar year with the closing stock price on December 31st of that same year. Using a price roughly two months after the annual earnings report ensures that the market had sufficient time to fully digest the numbers and value the stock accordingly.
Apple shares flirted with all-time lows in 1996-1997 as the company absorbed massive restructuring charges in an effort to address rapidly declining sales and shrinking share of the personal computer market. The substantial net loss posted in 1997 also included a $375 million write-off of purchased in-process research and development related to the Company's acquisition of NeXT Software. When Apple returned to profitability in 1998, shares traded at a relatively modest valuation of 19.5x TTM earnings. A year later, even with the apex of the dot com bubble just a few months away, on December 31, 1999 AAPL was only trading at 28.5x 1999 earnings with a PEG ratio of just 0.40. Apple's stock proceeded to collapse with the broader markets and while it managed to grow earnings by 21% in 2000, sales dropped 33% in 2001 as demand for the Company's products was severely impacted by deteriorating global economic conditions.
Upon first glance, the data for 2002-2003 might appear to suggest that Apple was indeed trading at an exorbitant valuation but that would be an incorrect conclusion. Despite returning to profitability in 2002, Apple shares lost 35% of their value over the course of the year and by year-end were only trading at 0.9x sales - hardly the metrics of an overvalued stock. Similarly, in 2003 Apple again posted just slightly positive earnings, yielding a non-meaningfully high PE ratio while only trading at 1.2x sales (compared to 4.7x currently).
The hyper-growth trajectory that Apple remains on to this day ultimately began in 2004, as EPS jumped 325% YOY - with a PEG ratio of 0.3 the company's trailing PE of 94.7x was more than justified. Apple's earnings growth even further accelerated in 2005 at 356% while the trailing PE was more than halved to 46.4x as the PEG ratio bottomed out at 0.1. Following a sharp correction in the overall markets brought about by the global financial crises, Apple shares ended 2008 with a TTM PE of only 12.6x. Over the next four years the company's PE ratio would not again exceed 24x whilst its PEG ratio ranged between 0.2 and 0.7 indicating that not only has Apple consistently been fairly valued, it may even have been significantly undervalued. The market apparently came to the same conclusion and has added nearly $215 billion in market cap to the company so far in 2012 alone.
The Takeaway
Apple shares have gained 8,750% in less than 10 years, but during their incredible run, as a PEG ratio consistently well under 1.0 indicates, the shares never became overvalued. Conversely, in the 16 years since going public, Amazon has generated a mere $1.9 billion in cumulative net income, while sales have grown exponentially, profits have not materialized at a comparable rate and as such shares have been significantly overvalued since its IPO.
Amazon's PEG ratio is difficult to determine because the company's earnings have actually been declining. Further, despite growing earnings at a pace that Amazon could only dream of, Apple's PE has contracted markedly since 2003, which may serve a caveat for those paying ha huge multiple to own shares of AMZN as they lack the support of a sub 1.0 PEG ratio. Apple investors have prospered because shares have always been available at an attractive valuation enabling individuals to immediately participate in the upside of the company's success - because the market is already pricing six years of 50% growth into Amazon shares, the same cannot be said for Jeff Bezos' brainchild.
Apple's valuation history should serve as a guideline for selecting all equity investments where the goal is capital appreciation: buy stocks that are fairly valued now so that you can be assured to realize gains from all subsequent earnings growth upside. Moreover, Apple's valuation history demonstrates that even during extended periods of sustained hyper-growth, the market will pay an increasingly lower multiple of earnings for a stock. So why would any rational investor pay current shareholders of Amazon.com for five or six years of expected growth that is yet (and certainly not guaranteed) to even happen? I am simply unable to come up with an answer to that question... but at least it gives me something to stew over!
[Until Amazon demonstrates meaningful progress in its ability to generate substantial profits I will look to short the stock into any general market weakness. While Apple is still undervalued trading at a forward PE of 14.4x 2012 earnings, I would remain alert to the fact that given the sheer size of the company the market may at some point begin to value shares at a discounted multiple.]
Disclosure: I have no positions in any stocks mentioned, and no plans to initiate any positions within the next 72 hours.