On February 14th, I published a sell short recommendation on J.C. Penney Company, Inc. (JCP). My reasoning for shorting this short was based on several key points:
Clouds of Uncertainty
The company has recently embarked on a new strategy of "Becoming America's favorite Store." Among other things, the main point is to slash prices across the board. The main fear is that no one really knows how this strategy will play out. It might potentially deter current loyal shoppers rather than bring new ones. Uncertainty is always a risk factor in the markets.
Expensive Valuation
| | | | | | |
| --- | --- | --- | --- | --- | --- |
| Metric/ Company | J.C. Penney | Kohl's Corp (KSS) | Macy's (M) | Sears Corp. (SHLD) | Target (TGT) |
| P/E | N/A | 11.38 | 13.2 | N/A | 13.2 |
| PEG Ratio | 1.16 | 0.78 | 1 | -0.42 | 1.2 |
| Price/Book | 1.8 | 1.86 | 0.87 | 1.47 | 2.4 |
| Price/Sales | 0.42 | 0.63 | 0.6 | 0.15 | 0.54 |
Even after a substantial decrease in its share price, it is still pricey in terms of PEG and Price/Book relative to its retail competitors.
Suspicious accounting
Since last December, the company ceased to report a very important gauge, called "Same Store Sales" or "Comparable Store Sales", which represents the growth (or the lack of) of sales compared to the previous quarter. This metric serves as an indication of what the company is likely to report next quarter. CSS is probably the most important gauge in the retail world. The abrupt dismissal of this important gauge was a flashing warning sign to me.
So, how did our trade play out?
Apparently, I was not the only trader who had concerns regarding the valuation metrics and the "reinvention" new character of the company regarding its pricing policy. We initially opened our short position at a price of $42.5. The current stock price, as of the close yesterday is $33.2.
This has netted us an extraordinary profit of 28% in 58 days.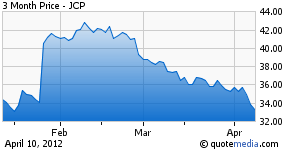 This profit is even more significant than it first appears. We made 28% by shorting a stock while the SPDR S&P 500 (SPY) remained stagnant at $135. This was not a bear market.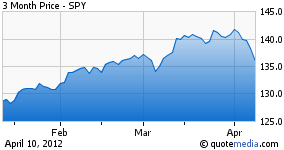 We will make a few adjustments to our trading instructions:
First, We will buy to cover 50% of our original position in order to protect our 28% unrealized gains. This will leave us with another 50% in the trade so we can capture some further downside following the violation of the $34 level downward. We will buy to cover our remaining position at $31.
Second, We will re-adjust our stop loss level and place it at $38 to protect our gains. This translates into a 15% trailing stop loss based on current price of $33.
Disclosure: I am short JCP.