A long term investment in Baidu (BIDU) would work out well for the investor who has the money to put into the stock. It is expected to continue to grow as the market in China has a lot of growth potential. If the investor does not have the money to invest in the stock, option strategies are also available. We share one here.
Baidu Inc operates one of the largest search engines in China. Most of its revenue comes from China. Its core business is selling advertising while it offers various services to users to create a continual audience for its paying customers. It did have competition from Google (GOOG) but it left after disagreements with the nation over censorship and content. After Google's departure, Baidu's market share grew to 75.5% in China.
Future Potential Growth in China
Chinese Premier Wen Jiabao, in his annual state-of-the nation report, forecasted the growth rate for 2012 would be 7.5% down from last year's 9.2% growth rate. This might seem like bad news, but wouldn't it be great if we had that problem here in the United States? We wish our growth rate WAS 7.5%. This shows the immense potential for growth Baidu has in the Chinese market.
A portfolio manager out of Hong Kong recently stated that the two largest internet stocks in China, namely Sina (SINA) and Baidu, still have lots of room for growth. There are over 500 million Chinese users on the internet but, potential for growth in China is extreme; as it is estimated only 40% of China is online. This means less than half the population has been tapped.
One of the comparisons analysts have made is between Baidu now and Google in the past. Comparing Baidu to Google when Google was at similar revenue levels, the path to continued mid double-digit growth appears clear for the next 3-4 years. Piper Jaffray analyst Gene Munster notes that Baidu has a "significant growth opportunity," and believes it is similar to Google six to seven years ago. Munster rates Baidu shares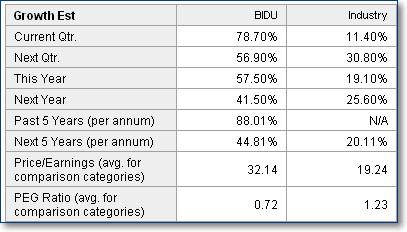 "overweight" with a $202 price target. Baidu has copied the Silicon Valley tech giant step-for-step, but in a market with significantly more opportunities.
The company's growth this year is expected to be spectacular. Not only are they expected to grow over 50% higher this quarter than last year, but for the year they are expected to grow another 41.50%.
The next 5 years they are also projected to grow just as fast. This is double the industry average. We believe an option play would make a good investment for those who cannot buy the stock outright.
The Options Play
Buy January 2013 '150' call option (priced at $21.40)
Sell January 2012 '155' call option (priced at $18.95)
Net Debit to Start: $2.45
Maximum Profit: $2.55
Reasoning behind the Trade
The growth rate of the stock is phenomenal for the year so we expect it to continue up.
Analysts have it pegged for 192-well within our trading range
January allows for a yearly lull in the stock before it moves up again.
Baidu has great growth potential for the next 5 years and would make a good long term investment. For those who do not have an interest in owning an expensive stock, options plays are also available at less risk but offering good profit potential.