There was a lot of nonsense written last week about the sale of Commerce Bancorp (CBH) to TD Banknorth (NYSE:TD). To the Wall Street Journal the deal is nothing if not emblematic of . . . the rise of the Canadian dollar! "Purchase of Quirky Regional Bank Shows Power of the 'Loonie'," the paper reported Thursday. Wrong! The deal is for 75% stock. What's the price of the Canadian dollar got to do with it?
Others think the sale highlights problems inherent in Commerce's business model. According to the Philadelphia Inquirer, for instance, CreditSights says that, since Commerce's loan book didn't grow at the same 20%-plus rate as its deposit base, the deal "indicates that [Commerce's] deposit driven model was untenable in the long-run." Wrong again! The last thing a bank should do is gun for rapid loan growth for its own sake. That's just a recipe for big credit problems. Instead, Commerce wisely took the deposits it couldn't prudently lend and used them to buy high-grade mortgage-backeds. "Deposits don't charge off," Vernon Hill likes to say. Sure, the strategy has lately squeezed Commerce's margins. But the yield curve will eventually steepen and the squeeze will end. Considering the stock's 20-plus P/E, it was something investors were willing to wait out.
Commerce Bancorp, recall, has been one of the great trailblazers in the banking industry for as long as anyone can remember. The company put in place once-unthinkable innovations, from extended and weekend hours to free coin-counting machines, that are now standard practice at many institutions around the country. Over 33 years, the company grew to 428 branches from just one—and virtually all of that growth was organic. The company's earnings per share have risen at an average annual rate of 18%--for the past 15 years! Over that same period, Commerce's stock has generated a return roughly five times that of the S&P.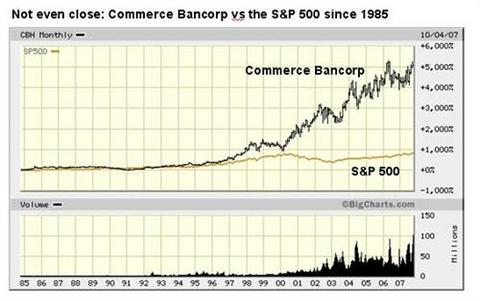 All of which is to say that Commerce Bancorp is one of the great, most innovative companies in all of corporate America. The company's sale, in my view, is a tragedy.
Board had little choice
Don't get me wrong. I don't blame the board for finding a buyer. Once founder and CEO Vernon Hill was forced out by regulators this past July, it didn't have many options. And I have no problem with the price the board accepted either; it's not as if the stock hadn't been bid up early in anticipation of a deal. Nor do I believe that TD Banknorth is a particularly inappropriate acquirer. I agree with Vernon that Commerce has "found the right buyer at a reasonable price."
Still, the fact is that the Commerce Bancorp that I've long thought to be the best bank in the country will shortly become a thing of the past. If the long history of prior bank deals is any indication, Commerce as a unit of a larger bank won't be the dynamic performer that it has been as an independent entity. It can't be. Rightly, acquirers have their own practices and policies that they want to put into place at the companies they acquire. TD Banknorth surely has some changes planned for Commerce along those very lines. As Commerce is folded into the larger TD Banknorth fold, its glory days of high returns and rapid growth will come to an end.
The infuriating thing about all this is that it didn't have to happen. The regulators' objections that led to Vernon Hill's ouster, recall, had nothing to do with the main issue bank regulators are supposed worry about: an institution's safety and soundness. As noted, the credit quality of Commerce's assets is pristine. Nor (to state the obvious) is Commerce funding itself in some kind of quirky way. If anything, the company has too much in the way of stable, low-cost deposits.
Instead, the OCC chose to obsess over some related-party transactions between Vernon and Commerce that the bank has been disclosing for years. You'll have your own view as to how objectionable those transactions are. Many of you have e-mailed me to take strong exception to them. I happen to disagree. Still, at the time of Vernon's resignation I didn't see why, among federal regulators, the OCC felt it had to be the one to do something about them. I still don't. In retrospect, it's hard to see what tangible benefit to the banking system the OCC achieved in squeezing Vernon out.
But the time for rearguing all that is over. Now, the only thing left to do is note with sadness the passing of a company that was a great shaker-upper in an industry where things don't get shaken up often enough. Shareholders earned enormous returns; customers enjoyed great banking service and convenience; employees were given wonderful new job and career opportunities. They all have great reason to be grateful for what Vernon Hill wrought.
Commerce Bancorp, RIP.
Tom Brown is head of BankStocks.com