BTIG analysts downgraded shares of Apple (AAPL) on the expectation that wireless carriers will stop subsidizing upgrades of the iPhone heavily and Apple will have to lower the price of its iPhones.
We'll take a look at Apple and its competition, Research in Motion (RIMM) and Google (GOOG), to see where you should put your investing dollars.
Apple Inc.
Sales at Apple have grown by an astonishing and unsustainable 41.2 percent annually while earnings increased 65 percent annually. Earnings this year are reported as increasing 82.6 percent. Earnings next year are forecasted to increase 14.3 percent, a figure that could be closer to Apple's long-term sustainable rate of increase in earnings. Earnings the next five years are forecasted to increase at a 19.7 percent annual pace.
Gross, operating and profit margins are 42.4, 33.9 and 25.8, which are phenomenal numbers. Return-on-equity is a superb 45.6 percent. Institutions own 70.9 percent of Apple shares.
Apple isn't using leverage and has a quick ratio of 1.55. The price-to-earnings multiple has increased in recent months and now stands at 18.1. Forward P/E is 12.6.
Shares are trading well above the rising 50-day simple moving average and the long-term 45 degree trend line on the 3-box reversal point and figure chart. Apple shares are up 56.5 percent year-to-date.
Apple remains one the best companies in the S&P 500 (SPY). Margins are excellent, the company doesn't use a lot of debt, and Apple is delivering return-on-equity. Overall, we feel that it is time to take profit on Apple and prepare for disappointing numbers going forward. Sales and earnings growth should slow. The downgrade of Apple on the belief that iPhone prices will have to fall could be the factor that slows earnings at Apple. Market saturation and competition from RIMM and Google could be the catalyst that slows sales.
Research in Motion
Sales the past five years increased at an annual pace of 43.4 percent while earnings increased at 15 percent. Earnings this year decreased 65 percent and are forecasted to decrease 8.7 percent next year. RIMM went through a period of unsustainable growth and the valuation had come back to earth. Earnings the next five years are expected to increase at 6.5 percent annually.
Gross, operating, and profit margin are 35.7, 8.1, and 6.3 respectively as return-on-equity is 12.2 percent. The margins are good. Institutions own 60.6 percent of shares.
The firm doesn't use leverage and is very liquid. The valuation multiples have contracted substantially and P/E is 5.71 and forward P/E 7.1. The enterprise is priced at 0.36 times sales.
RIMM is trading near the flattening 50-day simple moving average a potential sign of accumulation. Shares are trading well below the long-term down trendline.
Sales growth and market share have declined at RIMM. However, RIMM is still one of the biggest players in the smartphone market. The company isn't carrying much debt on its books and has the opportunity to reorganize, refocus and become a mature company after having been a growth company for several years. The firm is going through what is called the "shake out" phase that follows the growth phase. Apple went through the "shake out" phase, Steve Jobs returned and Apple is now a mature company. We believe RIMM has the ability to remain a major player in the technology space and the valuation is attractive (if I could buy the whole company, I would!).
Google Inc.
The annual increase in sales the past five years is 29 percent as earning increased 24.5 percent annually. This years earnings growth slowed to 13.1 percent and is forecasted to increase to 17.9 percent next year with the next five year annual increase forecasted at 18.7 percent.
Gross, operating and profit margins are 65.2, 31, and 25.7, exceptional margins. The return on equity is 18.6 percent and institutions own 84.4 percent of shares.
Google doesn't use much debt financing and is very liquid. The valuation multiples have expanded in recent months and price/earnings per share is 21.3. The forward multiple is 12.6.
Shares are trading above the rising 50-day simple moving average and there are some signs of distribution. Google is trading above its long-term trendline.
Google is in excellent position to compete with Apple for the next several years. Google recently entered the PC space with its netbook and also bought Motorola which allows it to compete in the smartphone space. Google is a major contender in these areas. Google has the opportunity to grow its market share in the computer and smartphone spaces and take market share away from Apple.
Dow Theory
According to the rules of Dow Theory, we are in a bull market. Notwithstanding, the Transportation Average has failed to reaffirm the bull market. Since the low of the previous bear market we have seen two intermediate reactions. In a typical bull market, there are two intermediate reactions and the third intermediate reaction is the start of a bear market.
You can't do finance without economics; in the next section we will show that the economic data has improved recently and may be peaking. We would look to add to positions after a correction in the economy.
Macro Picture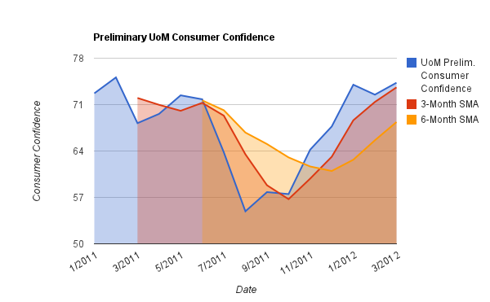 Click to enlarge
Consumer Confidence is rising is above the 3 and 6-month simple moving averages.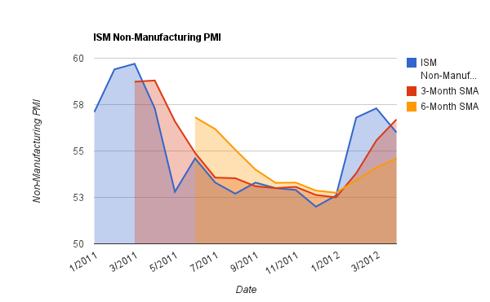 Click to enlarge
ISM Non-manufacturing PMI is below the rising 3-month simple moving average. The decline below the 3-month simple moving average could be a warning of a slow down to come in the pace of growth in non-manufacturing.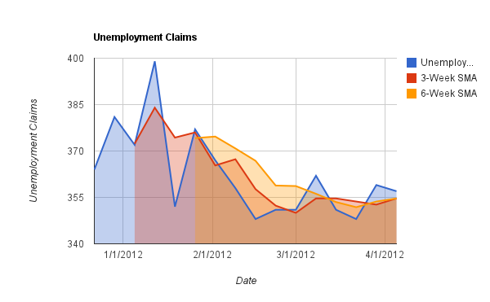 Click to enlarge
Unemployment claims has been in a range the past few weeks. Notwithstanding, claims are above the flattening 3 and 6-week simple moving averages; that could mean that claims could rise in the weeks to come.
RIMM & GOOG
Growth at Apple will slow and that should shake out some investors.
RIMM is trading at a low historic valuation and makes an excellent product for business users.
Google remains an excellent company with a solid position in the smartphone market and has recently entered the personal computer market.
RIMM may be down; it certainly isn't out and Google is a major challenger to "Apple Mania." Sorry Apple fans, we'd rather be invested in RIMM and GOOG.
Company data courtesy of finviz.com.
Disclosure: I have no positions in any stocks mentioned, and no plans to initiate any positions within the next 72 hours.