As we know, Apple (AAPL) has defied the law of large numbers, with the US fast becoming apple nation. According to CNBC, half of US homes have at least one apple product, and 1 in 10 that don't currently have an apple product in the household indicated that they would be purchasing an apple product within the next year. Apple continues to sell its products at a large premium when compared to its competitors.
Apple's ecosystem consists of companies such as TriQuint Semiconductor (TQNT), Broadcom (BRCM), Avago Technologies (AVGO), OmniVision Technologies (OVTI), RF Micro Devices (RFMD), and Skyworks Solutions (SWKS).
Skyworks is a company that jumps out at us among the ones mentioned on the list above. Skyworks has a pristine balance sheet along with mid-teen net profit margins. Combine that with the addition of its devices and products being included in the new I-pads and I-phones and we can expect accelerated growth of revenues. The components for continued sales and profit growth for Skyworks have dramatically increased over the past year.
Business Drivers
Mobile broadband connections have exploded globally from 500 million subscribers in 2010 to a projected 2.5 billion by 2014. That's a 44% compound annual growth rate and Skyworks is in a great position to benefit financially from this smart phone revolution.
Skyworks not only stands to benefit from Apple, but from the growth of the mobile internet and the proliferation of smart phones and smart pads. Skyworks, together with its subsidiaries, offers analog and mixed signal semiconductors worldwide. The company provides power amplifiers and front-end solutions for cellular handsets from entry level to multimedia platforms, as well as smart phones.
The company's product portfolio includes amplifiers, attenuators, circulators, detectors, diodes, directional couplers, front-end modules, hybrids, infrastructure RF subsystems, isolators, mixers/demodulators, opt couplers, opt isolators, phase shifters, PLLs/synthesizers/VCOs, power dividers/combiners, receivers, switches, and technical ceramics. The company also offers MIS silicon chip capacitors, transceivers, and modulators. It provides products for supporting automotive, broadband, cellular infrastructure, energy management, industrial, medical, military, and cellular handset applications.
Analyst Comments
JP Morgan analyst, Rick Hsu, in a research report published March 21, 2012, expects 40% y/y smart phone shipments within 2012. The newer models like the I-Phone 5 this year (that is the expectation), will benefit Skyworks, as analyst expect more chips from Skyworks to be included in the newer version.
Barclays analyst, Blayne Curtis, thoughts on I-Phone 5 - based on wins in new I-Pad, including two 3g cellular I-Pads and a majority share of 2.4 gigahertz wireless phone - expects 2.41 EPS in 2013.
Quick Financial Analysis
Click to enlarge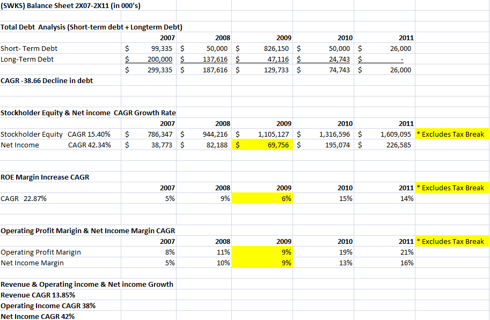 The decline in Skyworks long-term and short-term debt demonstrates management's commitment in strengthening Skyworks balance sheet. In five years, Skyworks has been able to wipe out over $270 million in long- and short-term debt. This is very impressive for a company of this size - which requires large reinvestment of operating earnings into the business - to expand its product offerings. Keep in mind the company also has over $400 million plus in cash on balance sheet.
The second is to show potential investors how the company was able to grow its book value and not affect the growth of net income. The two metrics show above average growth. Investors in Skyworks have been rewarded - with the book value of the company growing, and net income growing as well.
The last metrics provided show that Skyworks is able to increase revenue and net income, growing its bottom-line at a faster rate than revenue. This highlights management's ability to control cost and become more efficient and productive. The metrics also show how Skyworks is able to enjoy economies of scale with its maturing production lines.
All info is from 10-k SEC filings
Conclusion
Skyworks has a history of beating earnings and we expect 2012 and 2013 to be no different with the new Apple products and overall growth of the smart-phone industry. As more analysts revise earnings upward, this should bode well for the company, which in turn should allow for a trading premium to its industry and the S&P.
Analysts expect a range of $1.80-$1.95 for 2012, and $1.87-$2.41 for 2013. We estimate next year's EPS will be above $2.00 and have a $38 price target based on a 20 multiple of EPS of $1.90 for 2012. Skyworks is expected to post a stellar 2013, with earnings being closer to the upper end of the 2013 analyst projections. We are taking an optimistic estimate and using a $2.20 EPS for the year. Throw in a 20x multiple and Skyworks should see $44.00 in 2013.
Disclosure: I am long SWKS.