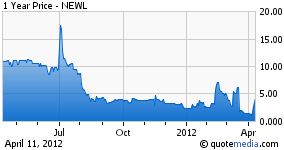 NewLead Holdings Ltd. (NEWL) is an international shipping company engaged in the transportation of refined products, such as gasoline and jet fuel, and dry bulk goods, such as iron ore, coal and grain. The company operates in two segments: Wet Operations, which consists of tankers transporting several different refined petroleum products simultaneously in segregated, coated cargo tanks, and Dry Operations, which consist of transportation and handling of bulk cargoes through ownership, operation, and trading of vessels. The company also operates a fleet of six double-hulled product tankers and 16 dry bulk carriers (including the three new buildings) with a combined carrying capacity of approximately 1.89 million deadweight tonnage (dwt).
Very recently, the company announced that they were compliant with the Nasdaq minimum bid price of $1.00. The company also announced that they reached a non-binding preliminary agreement with Lemissoler, which remains subject to the completion of legally binding documentation to finalize the outstanding issues with regards to the termination of the sale and leaseback transaction by the owners, including the settlement of the trade payables and other liabilities in relation to these four vessels.
Today's reaction was rather delayed if one puts all the recent press releases into consideration. The stock ultimately ran above some technical levels and essentially bucked the general market trend and closed at the high of day.
This stock outperformed the likes of (DRYS) and (DSX) today. With a market cap of under 50M, will this stock double from current levels as its business improves and gain market share from its competitors?
Disclosure: I have no positions in any stocks mentioned, and no plans to initiate any positions within the next 72 hours.