This is part of a series of reports on Virtus Investment Partners (VRTS). The parts will cover: Recommendation and Overview, Valuation Analysis, and Key Points, Risks and Outlook.
Keys to Investment Thesis
We love Virtus' organic asset growth. Since 2009 VRTS has had positive AUM growth due to organic net client inflows. Virtus had organic asset growth rate of 17.7% for 2011 and about 6.2% for 2010 and 0.5% for 2009, which significantly exceeds peer competition in the asset management space.
Virtus Investment Partners mutual funds have earned a number of industry accolades, including three open-ended mutual funds that were the best in the Lipper categories for one-year investment performance, and 85 percent of assets in 5- and 4-star Morningstar®-rated funds at year-end. Eighteen of 30 funds eligible for rating, representing 85 percent of mutual fund assets, are either 5- or 4-star funds, as rated by Morningstar on an overall load-waived basis.2 Five-star funds include three of the company's four largest funds: Multi-Sector Short-Term Bond (Class A: NARAX), Emerging Markets Opportunities (Class A: HEMZX), and Foreign Opportunities (Class A: JVIAX); as well as AlphaSector Rotation (Class A: PWBAX), Short/Intermediate Bond (Class I: HIBIX ), Small-Cap Core (Class A: PKSAX), and Tax-Exempt Bond (Class A: HXBZX). Seven Virtus funds were ranked by Lipper as top-quartile funds for the three-year period ended December 31, 2011: Multi-Sector Short-Term Bond, Emerging Markets Opportunities, Foreign Opportunities, Multi-Sector Fixed Income (Class A: NAMFX), International Real Estate Securities (Class A: PXRAX), Small-Cap Sustainable Growth (Class A: PSGAX), and Mid-Cap Value (Class A: FMIVX).
Virtus Mutual Fund Performance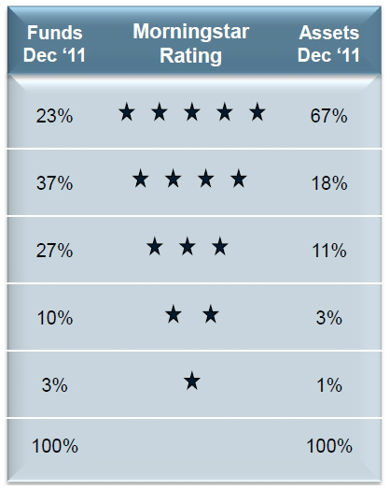 Source: Virtus Investor Presentation (pdf)

Virtus Investment Partners Advisors has $34.6B AUM and is continuously growing. VRTS has seen strong overall AUM growth from $22.6B in 2008 to $34.6B as the end of 2011, an aggregate growth of 54% since the firm became independent. VRTS has strong diversity between assets under management, 54.87% are in Equities, 38.13% are in Fixed Income and 7% in Money Market/Cash Management. We can live with 7% in Money Markets because we are bears on this segment and we believe that it will drastically underperform the equity sector over the next 10 years. Though the majority of the firm's AUM is in traditional open-ended retail mutual funds, 44.5% of client AUM is in Closed-End Funds, Variable Insurance Products, Separately Managed Accounts and institutional products, which we believe offers less volatile streams of client assets than traditional open-ended funds.
The Dodd-Frank Wall Street reform law will not hurt VRTS since it is not a bank. Virtus Investment Partners is a holding company operating a multi-manager asset management boutique model. Since VRTS only manages client moneys and since the firm is not a hedge fund, Dodd-Frank does not apply to them. We believe that weakness in the banking sector, as well as regulation of insurance companies by Dodd-Frank, may present opportunities for VRTS to acquire asset management operations that banks and insurers may want to sell in order to focus on the core businesses. We were surprised that VRTS did not acquire Goodwin Capital Advisors from Phoenix (PNX), though. Conning acquired it and will serve as the subadvisor for Phoenix's General Investment Account.
Bank of Montreal (BMO) owns 23% of the common stock; we believe there is also potential for BMO to acquire majority or outright ownership of the company.
Risks to Achieving $97.97 Common Stock Fair Value Target Price
Failure of investment community to recognize VRTS' competitive advantages, resulting in a stagnant or declining price/earnings ratio.
Failure to maintain its strong investment performance.
Dependence on 3rd-party distribution sources to market VRTS' asset management solutions.
Economic headwinds (European debt crisis) affecting asset flows and market valuations of VRTS' client assets under management.
Revision of the Dodd-Frank Wall Street Reform law to increase regulations on asset management firms.
Loss of key personnel to other firms.
Financial Health
Virtus Investment Partners has a strong, liquid asset position on its balance sheet. The firm's strong operating cash flows allow it to support a low equity capitalization, as well as provide cash to support liabilities. VRTS only had $15M of indentured debt, which is more than offset by its $69 million of cash and other investment security assets, which represents 24% of VRTS' balance sheet assets as of Q4 2011. Virtus has generated about 27% adjusted annualized return on equity for 2011 and are no longer obliged to pay $3M in preferred stock dividends to Bank of Montreal.
We are also pleased that it generated over nearly $20 Million in annual free cash flows (Net Cash Flows Provided by Operating Activities minus Net Capital Expenditures and Purchase of investment management contracts) for 2010 and 2011, which was about 180% of its adjusted Net Income during this time period, which shows that it is able to convert net income to free cash flows and reinvest in the business to generate incremental returns. This also shows that it is progressively reducing sterile, illiquid assets on its balance sheet such as Property, Plant and Equipment and intangible assets due to prior acquisitions in the 1990s, which provide an additional source of cash flows relative to net income. We are also pleased by the firm's adjusted operating margins, which were 28% in 2011 and have increased from 8% in 2009.
Asset Management Industry Outlook
We are noticing a bifurcation of the asset management industry between boutique firms that can add value through active management and large quantitative-style low-cost index driven passive managers. We are seeing consolidation of the "middle class" of asset managers globally and the remaining firms are typically pure play firms, who have the advantage of no longer being trapped under the bureaucracy of a commercial bank, brokerage or insurance institution.
We have noticed the demand for Global Assets Growing Faster than U.S. Assets. With more than 50% of the global market capitalization represented by non-U.S. companies, U.S. investors are increasingly looking to diversify their assets through non-U.S. investments. We believe U.S. investors are under-allocated in global equities relative to global benchmarks, particularly in the defined contribution channel, with only 7% of defined contribution assets invested in non-U.S. equities. In response to increased demand, Cerulli Associates indicates that 65% of managers are allocating over 30% of new products to international strategies and 47% are allocating over 70% of new products to international strategies. According to the Investment Company Institute, flows to foreign stock funds increased more than 210% in 2010 relative to 2009.
Demand by U.S. investors for life cycle funds has been driven by investors' desire to diversify their investments across various asset classes as well as to automatically shift to less risky asset classes as these investors near or enter retirement. Cerulli Associates estimates assets in life cycle funds will increase by 40% per year from 2009 through 2015. As part of the Pension Protection Act of 2006, target-date funds have become a default option of 401(k) plans that have an automatic enrollment feature subject to safe harbor protections for plan sponsors. A study by Hewitt Associates and Financial Engines found that participants that receive help in the form of professionally-managed target-date funds, managed accounts or online advice achieve better returns than participants that do not receive help. As a result of the Pension Protection Act of 2006 and subsequent U.S. Department of Labor guidelines, plan sponsors are now actively seeking automatic retirement savings solutions for its employees. Under the Pension Protection Act of 2006, employers who automatically enroll employees in what are known as Qualified Default Investment Alternatives, or QDIAs, are safeguarded from fiduciary and legal risk if the employers adhere to certain regulatory guidelines.
Increased focus is on employee benefit plan management due to rapidly rising healthcare costs, managers taking a holistic approach to benefit plan design and providing solutions to retirement and health benefit plans. For example, Hewitt Associates estimates healthcare costs are likely to rise 9% in 2011. According to Towers Watson's 2010 Health Care Cost Survey, employers pay 28% more for healthcare now versus five years ago, $7,896 in 2010 versus $6,169 in 2005, and employees pay 40% more, $2,292 in 2010 versus $1,642 in 2005, over the same period.
We see a renewed Focus on Intergenerational Planning. A 2011 U.S. Trust survey of Americans with at least $3 million in investments highlights a gap between the importance such investors place on providing family financial security and the actual estate planning such families are doing. Nearly 40% of such individuals acknowledge they do not have a comprehensive estate plan and only 3% of business owners have a business succession plan as part of their overall estate plan. Intergenerational planning is also a concern, with only 34% of individuals surveyed feeling that their children will be able to manage any inheritance left behind. More than 27% of such individuals have never discussed intergenerational wealth transfer with their financial advisor. We anticipate significant opportunities for investment managers that can position themselves as trusted advisors to high net worth investors.
Increased Risk Management Interest based on a reaction to 2008 and 2009 crisis. Following the credit crisis and global bear market that began in 2008 and early 2009, investors and financial advisors have become increasingly interested in absolute return strategies, or strategies that seek positive returns over full market cycles. A 2010 survey of financial advisors and brokers by Putnam Investments states that 59% of advisors were likely to recommend absolute return strategies to their clients. The study states that advisors generally see the benefits of absolute return strategies as minimizing portfolio volatility and serving as an asset class diversification strategy. Industry consultant Casey, Quirk and Associates predicts that over the next 10 years, managers will increasingly be paid for investment solutions as opposed to investment products, and Pensions and Investments notes that top money management firms are starting to strengthen solutions units in an effort to provide highly customized investment solutions for clients, with a goal of forming strategic partnerships, and, as a result, stronger relationships with clients.
Overall, we feel the industry is undervalued and we would use declines in the market to add to positions in high-quality asset managers like Virtus Investment Partners and gains in the market to sell weaker asset managers.
That concludes our report series on Virtus Investment Partners. You can read more on Virtus on our Progress Report and Featured Holding Report.
Disclosure: I am long VRTS.
Additional disclosure: Saibus Research has not received compensation directly or indirectly for expressing the recommendation in this report. Under no circumstances must this report be considered an offer to buy, sell, subscribe for or trade securities or other instruments.