The recent success of EMC (EMC), which I recommended on the virtue of its discounted ownership of VMWare (NYSE:VMW), has led me to another stock whose valuation appears out of whack. American Software, Inc. (NASDAQ:AMSWA) develops, sells, and services software for supply chain management. The company is growing nicely - 1Q 2008 revenue and earnings came in 8% and 40% respectively ahead of last year, and analysts expect 10% top line and 16% income growth for the full fiscal year.
But like EMC, the most compelling part of the American Software story is value, not growth. An inital look shows that AMSWA's PE of 26 and P/S of 2.78 are slightly below industry averages. But digging a little deeper exposes the true value underlying AMSWA. The company has $75M in cash and no debt. It owns 88% of another supply chain management company, Logility (LGTY), a stake that is currently worth over $166M.
Add that together, and the total value of $241M exceeds AMSWA's current market cap of $238M. Throw on top of this a healthy cash flow more than adequate to cover the recently-raised 3.9% dividend, and it really does look like you can buy this company for free.
The best part is that this value discrepancy looks to be a short-term aberation. A 6 month chart shows that as you would expect, the price of AMSWA usually tracks LGTY: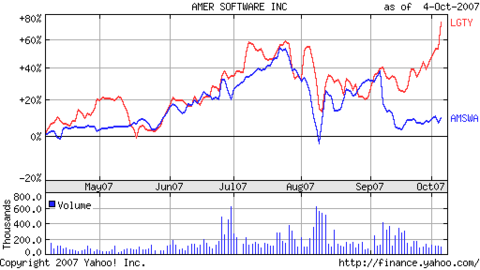 But in the past month AMSWA has lost over $50M in market value, while the value of its stake in LGTY has actually increased more than $50M. Apparently, this is a result of AMSWA's first quarter growth slightly missing analyst expectations and LGTY reporting blow-out numbers on the same day. The market's recent infatuation with LGTY and disfavor for AMSWA has overlooked the fact that they are one and the same. While it certainly doesn't seem to make sense, I'm happy to take advantage of the opportunity.
Disclosure: SmartGuyAB is long AMSWA.