With new tablets and smartphones coming out daily, touch screens have to keep advancing. One of the newest advancements in touchscreen technology is flexible technology. This technology will change the tablets and other devices we know today into a whole new generation of portable devices.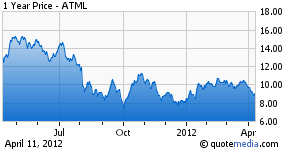 Atmel (ATML) Corporation has a market cap of $4.2 billion and is one of the world leaders in touch screen technology. It operates in four segments but the biggest (and the one that handles touch screen and flexible technology) is its microcontrollers segment. 86% of its sales are derived from international customers, 59% from Aisa, 26% from Europe, and 14% from the United States. This makes sense as the majority of assembly plants for tablets and smartphones are located outside of the United States.
Atmel has its maXTouch S Series touchscreen controllers and its XSense touch sensors. The XSense sensors are still in sampling but Atmel expects to start production in the third quarter of this year. These sensors are based on a flexible technology. They offer better functionality and reliability as well as lower power consumption. This will allow edgeless devices and could allow for a device that is completely surrounded by the touchscreen material. If it can get the samples perfected and start production in the third quarter, there could be some really cool new devices out in limited quantities for the holiday season.
Atmel has a strong balance sheet with $329 million in cash and only $4.6 million of long-term debt. In its 2011 10-k it reports revenue increased10% from 2010 revenues and that the Microcontroller segment increased 25% over 2010. A look at the inventory note shows an increase in raw materials and work in progress. Atmel is gearing up for an increase in demand for 2012. It did however experience a drop of nearly $100 million in revenues in the fourth quarter of 2011. Hopefully that decrease was a fluke offering us a good entry point into a long position.
Cypress Semiconductor Corp (CY) has a market cap of $2.3 billion and also operates in four segments. The consumer and computation division is where it records its TrueTouch touch screen and CapSense Contollers products. Its TrueTouch screens reportedly have waterproofing in that they'll work with wet or sweaty fingers. This could be a positive step towards a true waterproof device that would definitely be looked at by the military. It also boasts the lower power use and the accurate touch screen with minimal interference. At this time however, there is no mention of any flexible technology regarding touch screens on its website. Last month it reduced revenue estimates for the first quarter because of decreasing sales. It did maintain that it was nothing specific to Cypress but just part of the broader trend within their industry.
Cypress's consumer and computation division is responsible for 51% of revenues according to its 2011 10-k. Revenues in this division increased just over 49% from 2010 levels due to touchscreen applications and other items in this division increasing market penetration. Raw materials and work in progress have decreased which could indicate that Cypress is unsure when orders will pick up and doesn't want to commit to goods before having firm orders. About 35% of revenues come from China, nearly 14% come from South Korea and 12% come from the United States. Cypress also recently initiated a dividend and then raised it to $0.44/share for a 3% yield with a 20% payout ratio.
Synaptics Inc (SYNA) has a $1.1 billion market cap and operates in two segments. The digital lifestyle segment is where the mobile items are reported. Synapitcs recently signed a deal to partner with NVIDIA (NVDA) to deliver the premier touch experience for tablets. The new ClearPad7300 combined with NVIDIA's DirectTouch will bring thinner, better, more energy efficient screens to future tablets. It also recently announced shipping large quantities of its new ClearPad 3250 single chip touch controller. This technology will allow smart phone developers to make their models even thinner than ever before. One of Synapitcs's senior VPs boasts that it will enable OEMs to further differentiate their smartphones and thinks there will be broad adoption of this technology during 2012. I think the NVIDIA partnership is a key position because it leverages the expertise and R&D of both these companies to develop highly efficient technologies to allow producers to develop better products.
For the end of the second quarter results revenues were down across the board but gross margins were up around 5%. This was because sales turned to lower priced tail solutions instead of higher priced full sensor modules. In inventories raw materials increased while finished goods decreased. I think Synaptics is gearing up for a growing tablet and smart phone market that is expected as companies continue to compete by coming out with new models. I also like the solid balance sheet with $285 million in cash with only $2.3 million in debt.
Which company is the best play here? Well Synaptics is flirting with its 52 week high and has a P/E of 19.86 while Cypress and Atmel are flirting with their 52 week lows and have P/Es of 15.69 and 13.06 respectively. I like each of them because they have newer leading edge technologies and are in a constant fierce battle to be first to market. Since October of 2011 Synaptics is up nearly 60% while Atmel is up 20% and Cypress is flat. I think Synaptics is the safest play of the three, especially with the new NVIDIA partnership, but Atmel is the best growth play in my eyes. I like the new flexible display technology and think that is the future. Atmel is the only one of the three that has it; I think Atmel still has a 50% upside by the end of the year as it rolls out its XSense line.
Disclosure: I am long ATML.