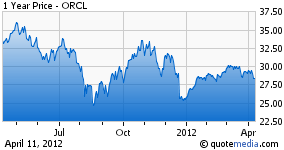 Oracle (ORCL) was recently downgraded by analysts at both Citigroup and Jefferies Group to a "hold" rating. Disappointing hardware and software license sales coupled with concerns over the company's growth strategy are cited as principal reasons for the downgrade. That said, share prices and volumes have been relatively flat. I will give you my take on Oracle and its viability as an investment from a value investor's perspective. We will also look at factors precipitating this downgrade, where Oracle goes from here and what it needs to fear from close competitors.
Starting with the basics, Oracle has a market cap around $140 billion and trades at about $28 per share. It has a value leaning price to earnings ratio of 14.83 and a near perfect price to earnings growth ratio of 1.02. Expectations diminish slightly on price to book which comes in at 3.37. Return on equity is a very respectable 24.25%. Quarterly year-over-year revenue and earnings growth are an uninspiring at 3.10% and 18.10% respectively. Oracle's debt to equity and current ratios are truly striking, reported at 34.15 and 3.23 respectively. Oracle pays a stingy dividend yielding 0.8% against an eminently sustainable payout ratio of 13%.
Looking solely at fundamentals, Oracle comes up short as a value stock. The price to earnings ratio and price to book are just a bit too high and the dividend too low. Oracle also has no clear economic moat and that, in part, is reflected in the downgrade rationale. That said, let's turn our attention to Oracle's downgrade by Citigroup & Jefferies.
Both analysts regard Oracle's recent quarter financial results as weak. Oracle's acquisition of Sun Microsystems in early 2010, represented Oracle's entry into the hardware market and it is in that market that Oracle has met significant earnings challenges. Hardware system product sales suffered a 14% year-over-year decline while hardware systems support suffered a 2% year-over-year hit. A closer analysis of software licensing suggest that it is reasonably healthy, given the economic climate, as real declines existed only in the new application software licensing segment, which declined a modest 2%. I regard this as less than earth-shattering in today's sluggish economy. Total software revenue was actually up 7%. Overall revenues were up 2% year-over-year.
I certainly understand the basis for the downgrade but, on balance, I am no less keen on this stock than I was before the downgrade. That said, let's take a look at SAP AG (SAP), a close competitor. SAP's market capitalization is just above $77 billion and it trades at around $65 per share. The price to earnings ratio of 17.18 makes the stock more expensive than Oracle. The price to earnings growth ratio for SAP is inferior to Oracle as well, coming in at 1.22. Price to book for SAP is 4.72, some 28% higher than Oracle's 3.37. SAP's return on equity is some 26% better than Oracle's and quarterly year-over-year revenue and earnings growth for SAP are reported at 10.9% and 175.8% respectively. This is a significantly stronger performance than Oracle was able to demonstrate. SAP's debt to equity beats Oracle's and is posted at 31.14. Oracle has about a 2 to 1 leg up on SAP. SAP's current ratio is 1.54. SAP pays a dividend yielding 1.3% against a payout ratio of 16%. Better than Oracle but not a game-changer. It is interesting to note that Jefferies downgraded SAP to "hold" in January, 2011 while touting increased competition as one reason to downgrade Oracle. While Jefferies did not name SAP as the competition referenced, it clearly is. No such hypocrisy existed in the Citigroup's downgrade, but, at the end of the day, analyst consensus on both stocks is "hold."
Any analysis of Oracle should comprehend the $1.3 billion dollars the jury awarded Oracle in its litigation against SAP. While no monies have changed hands at this juncture, SAP will certainly end the day paying a significant sum to Oracle and/or SAP will also face considerable legal expenses pursuing an appeal. I see the jury award as money in the bank for Oracle and when that money hits the balance sheet, shareholders will profit.
I believe Oracle has a promising future. With the acquisition of Sun, it is in an unchallenged position to offer truly comprehensive enterprise solutions. I can imagine Oracle offering turnkey products in the not too distant future. SAP and other players will not be able to compete effectively against Oracle unless they enter the hardware market, which I regard as very unlikely. It is much more probable, in my view, that software only companies will be "acquired" by the likes of Hewlett-Packard (HPQ) and Dell (DELL), perhaps even Oracle. Oracle is, after all, sitting on around $30 billion in cash, placing it in a favorable position to pursue other acquisitions.
In conclusion, Oracle remains a powerhouse by any definition, made stronger still by its acquisition of Sun Microsystems. If Oracle focuses on turnkey enterprise solutions, it could sell to customers on the premise of mitigating operating costs associated with maintaining a comprehensive IT staff. This could be a catalyst for sales and it is an ideal marketing approach, given current economic conditions. Current declines in the overall market may make Oracle an attractive buy for the investor with a willingness to go long. While I do believe that great things lie ahead for Oracle, one never knows with certainty how far ahead that might be.
Disclosure: I have no positions in any stocks mentioned, and no plans to initiate any positions within the next 72 hours.