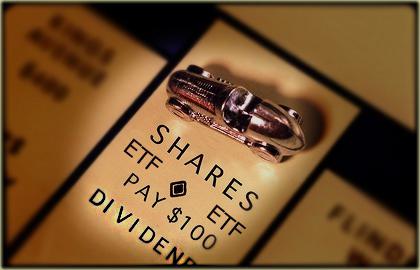 As investors grow older they generally become a bit more risk-averse, and understandably so. They're no longer focused on aggressive (usually more risky) growth, and instead want to invest for income. This trend is more important than ever today, with baby boomers turning in record numbers to lower-risk investments such as bonds and dividend ETFs that allow them to invest for income and retirement.
There are quite a few ETFs in the marketplace today that are focused on dividends. For this article we will focus on just two: the iShares Dow Jones Select Dividend Index Fund (NYSEARCA:DVY), and the Guggenheim Multi-Asset Income ETF (NYSEARCA:CVY).
DVY is the largest of the dividend ETFs by assets under management (nearly $10 billion). DVY's stated investment goal is to seek "investment results that correspond generally to the price and yield performance, before fees and expenses, of the Dow Jones U.S. Select Dividend Index." Dow Jones, in turn, constructs its index by ranking companies listed in the U.S. by their indicated annual yield. The index consists of 100 of the highest dividend-yielding stocks in the Dow Jones U.S. Index. It's also worth noting that any stocks selected for inclusion in the index must be very liquid and have a three-month average daily trading volume of more than 100,000 shares.
With this in mind, DVY's top holdings all have high indicated yields. Its top five holdings may not all be instantly recognizable. In descending order, they are Lorillard Inc (NYSE:LO) (4.05% allocation), Lockheed Martin Corp (NYSE:LMT) (2.90%), Chevron Corp (NYSE:CVX) (2.04%), CenturyLink Inc (NYSE:CTL) (1.94%), and Entergy Corp (NYSE:ETR) (1.93%). Its highest sector allocations are Utilities (30.7%), followed by Consumer Goods (18.8%), and Industrials (16.14%).

DVY (in blue) has outperformed the Dow Jones U.S. Index (red), from which its constituents are drawn, over most of the last year.
The Guggenheim Multi-Asset Income ETF is an altogether different animal. CVY tracks the Zacks Multi-Asset Income Index, which is composed of a wide variety of asset classes, which help provide uncorrelated exposure to the market. The fund holds U.S.-listed common stocks, dividend-paying American Depository Receipts (ADRs), Real Estate Investment Trusts (REITs), Master Limited Partnerships (MLPs), Closed-Ended funds, Canadian royalty trusts, and traditional preferred stock.
This extremely esoteric mix of holdings positions the ETF well to take advantage of upswings in one asset class or another. CVY is well diversified across sectors and industries, although it is a bit heavily weighted in Finance (22.2%) and Energy (19.2%).

CVY (in blue) appears highly correlated to the S&P 500 (red), although recently it has dropped a bit more sharply.
Disclosure: I have no positions in any stocks mentioned, and no plans to initiate any positions within the next 72 hours.