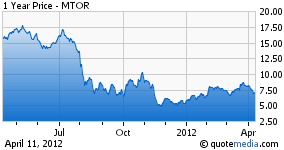 The market has encountered it first significant turbulence of 2012 in the past few trading sessions. The pullback has allowed intrepid investors to deploy new capital at lower entry points. One cheap stock that has had my eye for some time is Meritor (MTOR). I think it will make an ideal purchase on the next down tick.
7 reasons Meritor provides value at just under $7 a share:
It is way below its consensus price target. The 7 analysts that cover the stock have a median price target of $12 on Meritor.
It has a minute five year projected PEG (.11) and sells for 14% of annual revenue.
Earnings are growing smartly. The company earned 85 cents a share in FY2011 and analysts have it making $1.20 in FY2012 and $1.64 in FY2013.
In addition, consensus earnings estimates for FY2012 and FY2013 have risen in the last two months.
Meritor is cheap at 7 times operating cash flow and just over 4 times FY2013's projected earnings.
The stock has been hurt by the projected recession in Europe where it gets 22% of its revenues. However, it does not seem to get any credit for the 30% of sales that come from fast growing Asia and Latin America. It also should benefit by an improving North American market.
It sells at the bottom of its five year valuation range based on P/E, P/S and P/CF.
Disclosure: I have no positions in any stocks mentioned, but may initiate a long position in MTOR over the next 72 hours.