On Tuesday, April 10, 2012, Watson Pharma (WPI) launched a generic version of ViroPharma's (VPHM) antibiotic Vancocin (vancomycin hydrochloride). The market's reaction was swift, dropping ViroPharma's shares more than 20% in the premarket to the low $20 range. The shares closed at $22.44 on the day.
Adding to the company's concerns were two additional announcements: (1) the U.S. Food and Drug Administration denied the citizen petition filed by ViroPharma on March 17, 2006 related to the FDA's proposed in vitro method for determining bioequivalence of abbreviated new drug applications referencing Vancocin capsules, and (2) the company received a notification that the Federal Trade Commission is conducting an investigation into whether the company has engaged in unfair methods of competition with respect to Vancocin. As noted by the company, the existence of an investigation does not indicate that the FTC has concluded that ViroPharma violated the law. Further, the company asserted it does not believe it has engaged in unfair methods of competition with respect to Vancocin. The company is cooperating with the FTC investigation.
Vancocin is the first-line treatment for resistant Staphylococcus aureus. It is traditionally the drug of "last resort" after other antibiotics have failed, though some newer antibiotics are increasingly being used. Still, for treating gram-positing bacteria associated with, say, Clostridium difficile, it remains the "go-to" treatment prescribed by most physicians.
The drug was developed by Eli Lilly (LLY) and fast-tracked to approval by the FDA in 1958 because of the rapid development of penicillin-resistance strains of staphylococci. It did not fare well in the marketplace because, among other reasons, it possesses poor oral bioavailability and must be given intravenously. Thus, in 2004, Lilly licensed the drug to ViroPharma in the United States. (In the U.K., the drug was licensed to Flynn Pharma while in Australia, they licensed it to Aspen Pharmacare.) The patent expired in the early 1980s, and a number of companies were authorized to sell a generic version in the United States. For reasons due to the difficulty in manufacturing the drug, however, none was marketed and approved until now. Importantly, an oral form of vancomycin for the treatment of Clostridium difficile induced pseudomembranous colitis was approved by the FDA in 1986 and is marketed in the U.S. by ViroPharma.
What happened yesterday - that is, the release of a generic version of Vancocin-had its roots in FDA Office of Generic Drugs, or OIG, internal discussions relating to the need for clinical trials before generic versions of Vancocin would be approved. I last covered this story in January, 2008. What I will present below, for background, is a summary from ViroPharma's 8-K filed May 31, 2006. It provides the background necessary to understand how the company, and FDA, and Watson Pharma were on the collision course that finally came together cataclysmically in yesterday's actions.
"Up until early 2006, the FDA had 'indicated' the use of clinical trials involving human subjects would be required before it would approve a generic version of the company's drug. Then, on March 16, 2006, the FDA's Office of Generic Drugs announced that it would use a new test-tube (in vitro ... literally, in glass) method to approve new drug applications for generic Vancocin. In fact, here's what the FDA told ViroPharma: FDA has not issued any specific Guidance regarding BE (bioequivalence) testing for Vancocin capsules. The agency has, however, indicated that ANDA applicants seeking to copy Vancocin would need to conduct clinical studies. (here, p. 3; (emphasis added), FDA's general Guidance on BE studies for orally administered drug products indicates that for orally administered drugs that produce their effects by local action in the GI tract:
Documentation of BE for ANDAs (abbreviated new drug applications) ... can be achieved using BE studies with clinical efficacy and safety endpoints and/or suitably designed and validated in vitro studies, if the latter studies are either reflective of important clinical effects or are more sensitive to changes in product performance compared to a clinical study.
"Less than two weeks later, on March 1, 2006, OGD (Director Gary) Buehler's deputy, Dale P. Conner, Pharm.D., the Director of OGD's Division of Bioequivalence, signed a letter to a Canadian stock analyst at Infinium Capital Corp., (emphasis added) indicating that OGD would no longer require in vivo studies for ANDA applicants to demonstrate BE to Vancocin. (Tab 1) According to OGD's letter, in correspondence dated February 3, 2006, Infinium had requested BE recommendations from OGD regarding Vancocin. OGD's March 1 response commented that only dissolution testing would be required:
Vancomycin is a highly soluble drug and the reference listed drug (RLD) product (i.e., Vancocin) is rapidly dissolving. Waivers of in-vivo bioequivalence testing can be requested in abbreviated new drug applications (ANDAs), provided that the test product is rapidly dissolving at the conditions specified in the guidance waiver of in vivo BA and BE studies for IR solid oral dosage forms based on a biopharmaceutics classification system (BCS Guidance).
"Six days later, on March 7, 2006, Mr. Buehler signed two additional letters which were virtually identical to OGD's March 1, 2006 letter to Infinium. One of the March 7 letters went to Lazard Capital Markets LLC, the other to a law firm in Boston. (emphasis added) Curiously, according to the OGD letters, the Boston law firm had requested information about BE standards for Vancocin on November 4, 2005, and Lazard had made its request on November 22, 2005. (Tab 2) Why these requests, made earlier in time, were responded to nearly a week after Infinium received a response to its much later request (February 3, 2006) was not explained.
"One potential applicant for approval of an ANDA copy of Vancocin, Akorn Inc., also apparently was notified of OGD's decision not to require in vivo studies. ViroPharma was informed that in an investor meeting with Akorn on April 24, 2006, Akorn confirmed that OGD had informed Akorn of its lowered BE standards for Vancocin sometime in February 2006. OGD has not explained how this notification can be reconciled with Mr. Buehler's public slideshow on February 18, 2006, indicating that 'Bioequivalence of Locally Acting GI Drug' was merely an ongoing topic of research inside OGD, as opposed to something on which OGD had already come to a decision.
"On March 16, 2006, some two weeks after its letter from OGD describing the lowered BE standard for ANDA copies of Vancocin, Infinium issued a report on ViroPharma entitled 'Generics ... sooner than you think.' Infinium's report stated that, 'Our recent communications with the FDA regarding the approval process for a potential generic competitor to Vancocin lead us to believe a generic could enter the market 1-2 years sooner than current expectations.' What 'recent communications with FDA' might mean, beyond OGD's March 1, 2006, letter to Infinium, is unclear to ViroPharma.
"Infinium's report was the first public disclosure of OGD's new standard. (emphasis added) ViroPharma itself had not previously heard that OGD had lowered its BE standard for Vancocin. Nor it would seem, except those to whom OGD had privately communicated, had anyone else. Infinium's announcement triggered urgent communications from ViroPharma to FDA seeking to learn what in fact had happened. These communications were met in the first instance by silence, then contradictory statements. While ViroPharma eventually received verbal confirmation from OGD that a change in standards had been made, FDA nevertheless refused to supply ViroPharma with copies of FDA's correspondence with Infinium or anyone else on this topic (a refusal that continues to this date). ViroPharma first received copies of the letters sent to Infinium and certain other persons from third parties following the issuance of Infinium's stock market analyst report."
The action in the markets was as swift with the release of Infinium's report as they were yesterday, and even more devastating, triggering a multi-day sell-off of ViroPharma's stock that cut the company's market capitalization by 40%, or some $500,000,000. Despite requests for investigations by the FDA Office of Ethics, HHS Office of the Inspector General, the SEC Enforcement Division, and the SEC Office of the Inspector General, to the best of my knowledge, no action was taken by any agency.
You can read a good summary of OGD malfeasance (and other FDA corruption) in this CounterPunch article.
ViroPharma, for its part, contended that OGD's actions violated the law in several ways. On December 18, 2008, ViroPharma filed suit against the Department of Health and Human Services HHS and the FDA in Federal District Court for the District of Columbia under the Freedom of Information Act FOIA. In its FOIA action, ViroPharma sought the administrative record relating to FDA's decision in March 2006 to change its long-standing interpretation of its regulations that required manufacturers of generic copies of Vancocin to show that the generic is bioequivalent to Vancocin through in vivo testing.
In its press release yesterday, ViroPharma stated it intends to file a complaint in the U.S. District Court for the District of Columbia, seeking an injunction to set aside the FDA's approval of ANDA's for generic versions of Vancocin. According to the company, the concern is the safety of patients. According to the company, the FDA's 2006 in vitro bioequivalence method did not protect patients from risks associated with inactive ingredient differences. However, the FDA has since determined that generic products would not be eligible for the in vitro method unless they have the same inactive ingredients in the same quantities as Vancocin. And in yesterday's petition response, the FDA further tightened standards to require generics use a particular grade of polyethylene glycol.
Still, ViroPharma believes the FDA is incorrect in interpreting its bioequivalence regulations in a manner that provides it with broad discretion to permit in vitro bioequivalence testing in the absence of a waiver of in vivo testing. Further, the company contends the FDA's position is not supported by its regulations or by FDA's stated interpretation of those regulations at the time of their enactment.
Stay Tuned!
Technical Analysis
As seen in the daily chart below (courtesy StockCharts.com), the stock gapped down precipitously yesterday on the announcement that Watson Pharma would market a generic version of ViroPharma's lead drug Vancocin. The shares currently hover almost $2 below the 200-day moving average, with the Relative Strength in oversold territory and the MACD decidedly negative.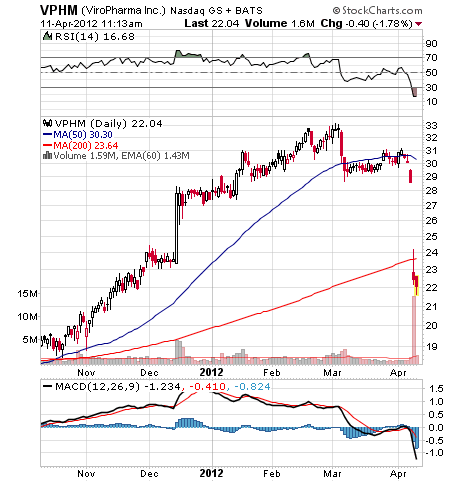 The weekly chart tells a similar tale. Here, the stock is just below the 50-week moving average. Any further bad news or a general market drop could trigger a fall to the $15 level, where the 200-week moving average currently is found. At that point, the stock, arguably, should be considered for purchase, though more cautious investors might want to wait for a test of any bottom that forms.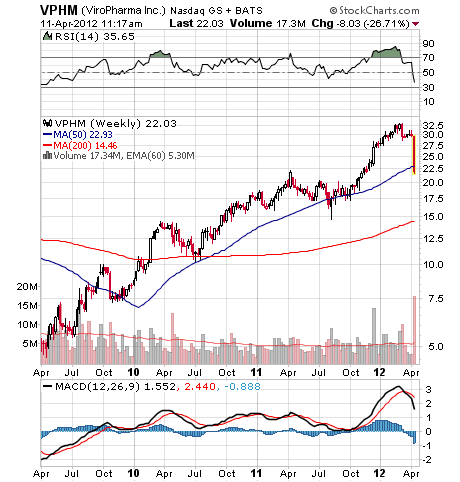 This may not be the time to "catch a falling knife."
Disclosure: I do not own VPHM and will not purchase shares in this company within 72 hours of the time of publication of this article. Material presented here is for informational purposes only. Consult your financial adviser before making investment decisions. Investing includes risks, including loss of principal.