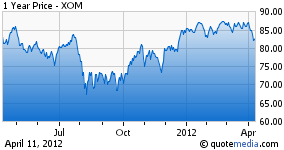 Warren Buffett is a long term investor and his ideal holding period is "forever." So, when he completely exits his investment in a company it is worth examining if something is fundamentally awry with that company.
Buffett completely exited Exxon Mobil (XOM) in Q4 2011 and so far he has been proven right. Exxon has lost 1% year to date, significantly underperforming the S&P 500's 10% gains despite rising oil prices. In this article, I am presenting my analysis on Exxon. I am bearish on the stock because of its high valuations, exposure to natural gas and modest production growth profile. Investors should consider exiting Exxon as there is a possibility that it might not be able to sustain its premium valuations versus its peers and its PE multiple may contract causing it to underperform the broader oil and gas sector.
For Warren Buffett valuation is the primary investment consideration. To quote him "It's far better to buy a wonderful company at a fair price than a fair company at a wonderful price." So to begin with let's take a look at Exxon's valuations versus its peers.
XOM is currently trading at 115% of NAV with a forward P/E of 9.40 and trailing P/E of 9.96. This is a premium over its oil and gas peers. Here is a table indicating the P/E multiples of oil and gas majors.
| | | | |
| --- | --- | --- | --- |
| Stock | Ticker | Trailing P/E | Forward P/E |
| Suncor Energy Inc. | | 11.38 | 7.82 |
| Marathon Oil Corp. | | 7.31 | 6.74 |
| Chevron Corp. | | 7.70 | 7.73 |
| ConocoPhillips | | 8.37 | 8.25 |
| Valero Energy Corp. | | 6.72 | 5.54 |
| Average | | 8.30 | 7.22 |
Source: Yahoo Finance.
Valero has the lowest PE multiple in the above group and has posted 17% year to date which is the best among the above listed stocks. It appears that investors are looking for value buys in the sector and Exxon with one of the highest PEs among oil and gas majors doesn't look too promising.
Another big problem with Exxon is its natural gas exposure. Exxon has the second-largest exposure (in terms of mix) to natural gas among the large cap oil and gas group. Natural gas prices in the U.S. are near the lowest levels of the past few years. However, it's not just the low natural gas prices that are making me bearish on the stock. It is Exxon's bullish outlook on natural gas demand, which worries me more.
Most of the oil and gas majors including Chesapeake Energy (CHK) and ConocoPhillips have announced natural gas drilling cuts and yet Exxon has increased its focus on natural gas by increasing its production in the U.S. The company also acquired XTO Energy, a pure-play natural gas company. Exxon's focus toward domestic natural gas has increased to 16% from 8% prior to the acquisition. Clearly, Exxon's focus on natural gas is likely to be a headwind for the stock until the natural gas fundamentals turn bullish again, which I believe is unlikely in the near term.
In addition to challenging natural gas fundamentals, I am not too bullish on Exxon's production profile either. I expect Exxon to post flat production volumes in 2012, and a modest 2% growth in 2013. The significant uptick in volume growth will begin only in 2014 when production in the Gulf of Mexico, Papua New Guinea, Banyu Urip in Indonesia and the West Qurna-1 field in Iraq are expected to start. That clearly is some time away and bulls will not have much to cheer about in 2012.
With the pay-off from higher capex including accelerating volumes several years away, flat production volumes and higher leverage to natural gas over its peers in the near term; I don't think XOM warrants any premium over its peers. I see a good chance of its PE multiple compressing in the near to medium term which will lead to its underperformance versus its peers.
Disclosure: I have no positions in any stocks mentioned, and no plans to initiate any positions within the next 72 hours.