"For every action there is an equal or opposite reaction."

- Sir Isaac Newton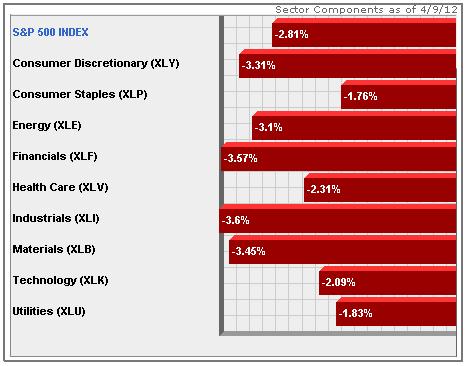 Another way to say this is "what goes up, must come down." This is the lesson that the market has been preaching ever since the 1st day of April. And for many investors, if you have been holding during that span, well it is easy to say that the joke has been on you. Of course I'm saying this in jest, but looking at the sector performances so far in the second quarter I feel a bit foolish for not having anticipated these declines early enough.
In the first part of this article we looked at some technology stocks where we discovered securing profits during periods of turbulence was the prudent thing to do. In part two, we turned our attention to the financial sector and realized there were some opportunities to mitigate some exposure to losses by selling ahead of the declines. In this article, we are going to dissect the utilities sector.
To say that the utilities sector has underperformed so far on the year would be a pretty significant understatement. The combined performance of the group year-to-date has yielded a disappointing negative 5%. What investors want to know is whether now is the time to buy or wait for what might eventually prove to be more of the same lagging performance. What I find interesting in the chart above is that although the sector has performed the worst YTD in terms of gains, it is now outperforming the rest of the sectors in that is has lost the least amount during this recent downtrend - outperforming all the others except for consumer staples.
(Click to enlarge)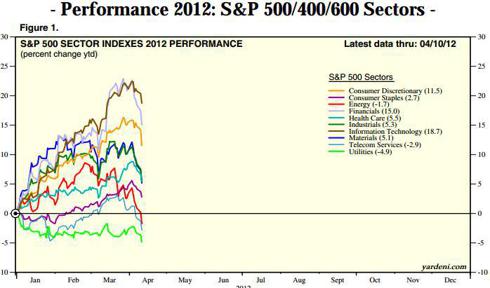 So with the sector having been beaten up on the year, it becomes a bit more challenging to say with any degree of certainty whether or not this is a good sign, bad sign or merely "table-setting" for what lies ahead. But I suspect for one reason or another, investors have decided to take money out of utilities and placed into those that are riskier yet more profitable. Despite the lagging performances, there are several stocks that have posted significant gains early on in the year.
For investors, it would be wise to lock in these gains now if the likelihood exists that market sentiment will continue downward. For example, in water utilities there are names such as Connecticut Water Service (CTWS) that has jumped as much as 15% on the year before seeing a recent pullback. The stock currently trades at $27 but it's pretty expensive as it trades at a multiple of 21. On the bright side, the stock pays a very handsome 3% dividend which makes it pretty safe. However, it remains prudent to consider that any sustained market turbulence will have some adverse effect on the stock's ability to trend higher. It might be best to steer clear of Connecticut Water until there is more stability within the market.
Another name investors should consider is Clean Energy (CLNE) - for similar reasons to Connecticut Water. At one point the stock had surged on the year with gains as high as 30% but since then has seen its shares decline over the past couple of months. I think now presents a buying opportunity for investors that remain optimistic about the idea of Clean Energy. It can't hurt that President Obama has mentioned the idea of clean energy and/or alternative energy in several of his speeches. Also it is worth noting that the Natural Gas Act to which president Obama referred in his State of The Union address will continue to make Clean Energy a talked about stock and company until it is fully embraced and implemented - all of which has the potential to serve as catalyst to propel the stock higher.
CenterPoint Energy (CNP) is another stock within the sector that I think has seen better days. Though the stock has been up as of late, it has traded mostly flat so far on the year. There is reason to suspect that this trend may change as the stock has climbed 4% since reaching a recent low of $18.07 at the end of January. While posting solid earnings relative to its peers, the stock also offers a handsome dividend at a 4.3% yield. Another name within the sector that deserves some consideration is FirstEnergy Corporation (FE). As with CenterPoint, it has traded flat for most of the year. However, I think the reason for this is the fact that it is pretty expensive by virtue of its P/E of 20. This makes CenterPoint appear more attractive as it trades at a multiple of only 6.
But FirstEnergy offers an excellent dividend at a 5.1% yield and relative to its peers, the company's underlying fundamentals present a great opportunity for value investors willing to be patient. Inergy, L.P. (NRGY) is one stock in this sector that didn't even benefit from the strength this sector had last year. It has been steadily grinding lower since topping out early in 2011 and it has been following a steady pattern of establishing a resistance level before ultimately breaking down. After holding near $24 for two months, it is now starting to set new lows, again continuing the trend. I would stay away from this stock at the moment.
Completing this list is Public Service Enterprise Group (PEG), another utility experiencing similar movement as those mentioned above. The stock in my opinion presents some tremendous value at any price below $30. However, investors should be patient and realize that it may take the rest of the year for it to regain its previous high of $35. The company recently fell under some important points of resistance at $31 after having traded flat for a considerable amount of time. But its stock has been slowly building a base that suggests that the stock may begin to move upward. As with the other firms above, PEG pays a respectable dividend of 4.5% and trades at a decent P/E of 9.
Disclosure: I have no positions in any stocks mentioned, and no plans to initiate any positions within the next 72 hours.