Every April, millions of income investors are dragged kicking and screaming into their tax accountant's office to settle up with Uncle Sam. Braver soles will file via online software packages, yet that dread of completing the process still remains. As we sit through this agonizing process, one positive aspect does come into play. Income investors are now forced to review their 1099s / K-1s and get an overall picture of how their income investments have paid out during the year. Although this should happen more often, sadly for many investors this is the one time that the whole picture is placed before their eyes. That being the case, now would be the time to possibly take action while the data is fresh in one's mind.
This is exactly where I find myself as I review my income investments for the year. Sure, there are some great names that have generated some fabulous cash flows this year. Tickers like American Capital Agency (AGNC) and CVR Partners (UAN) are just two of the names that have done well, but there is always room for more. So my mission is to find three more investments to add to my portfolio in the coming new tax year.
Linn Energy (LINE)
It is no secret that some of my favorite income plays revolve around the energy sector. That being the case, it has been a bitter pill to swallow as we all watch natural gas prices fall to such cheap levels. Companies that are highly leveraged to natural gas have been taking their lumps all across the markets. So as these companies get beaten up, it has become more difficult to find good investment candidates to buy. One entity that seem to a great choice is Linn Energy.
Linn Energy is an independent oil and natural gas company that engages in the acquisition and development of oil and gas properties. The company's properties are primarily located in the Mid-Continent, the Permian Basin, Michigan, California, and the Williston Basin in the U.S. As of Dec. 31, 2011, it had proved reserves of 3,370 billion cubic feet equivalent of oil and gas, and natural gas liquids, as well as operated 7,759 gross productive wells. The reserve life index is more than 21 years, so Linn should have enough assets for years of growth.
Now sitting on a pile of natural resources is one thing, but converting it into a successful income investment is a whole other ballgame. The great thing about Linn is that it is one of a few companies that seem to be getting it right. The way they approach this is through a very extensive hedging program. The current expected natural gas production is hedged at 100% through 2015. The oil side of the house is hedged at 100% through 2013 and 80% in 2014 and 2015. These numbers are not including the recent East Texas acquisition. All of this hedging helps stabilize investor's worry as energy prices can swoon daily with current events and demand. At a recent price of $38.21 a share, this makes Linn's yield 7.1%.
Another thing that makes Linn an attractive investment is the company's dedication to growth. For example, the company recently signed a definitive purchase agreement to acquire properties located in East Texas for a contract price of $175 million. The company anticipates the acquisition will close on or before May 1, 2012, and will be financed with proceeds from borrowings under its revolving credit facility. In this acquisition, Linn has derived approximately 430 wells on approximately 19,800 contiguous net acres.
If that was not enough, on April 3rd Linn announced a joint venture agreement with an affiliate of Anadarko Petroleum Corporation (APC), whereby Linn will participate as a partner in the CO2 enhanced oil recovery development of the Salt Creek field, located in the Powder River Basin of Wyoming. In this agreement, Linn is assigned 23% of the interest in the project in exchange for future funding of $400 million. Over the next three to six years, Linn expects to invest a total of $600 million, which includes the $400 million of Anadarko's costs and $200 million net to Linn's assigned interest. Anadarko has been utilizing CO2 to develop this field since 2004 with outstanding results, and additional development associated with this joint venture is expected to double current production by 2015.
Linn is a very interesting company and one that I will probably add to my income investment portfolio. It would probably be better to add to the IRA or retirement accounts as its distributions are reported on K-1s, which tend to be more challenging at tax time.
Pembina Pipeline (NYSE:PBA)
A second company that looks very exciting is the new and improved Pembina Pipeline. In reality, Pembina become a publicly traded company in 1997 and traded on the Canadian exchanges. Pembina is very well known in the energy transportation sector and has been a solid player for a long time. The company has owned and operated crude oil and NGL pipelines form a 7,500 kilometer network that extends across much of Alberta and British Columbia. The pipelines transport approximately half of Alberta's conventional crude oil production and about 20% of the NGL produced in western Canada. In a big change for the company, Pembina common shares just recently became listed and began trading on the New York Stock Exchange.
If that was not enough of a change, Pembina also announced that it has completed its acquisition of Provident Energy. Pembina acquired all of the issued and outstanding common shares of Provident in a transaction valued at $3.8 billion. In the final transaction, Provident shareholders received 0.425 of a Pembina share for each Provident share. As a result of the acquisition, Pembina has agreed to take on all of the rights and obligations of Provident. Most notable is the 5.75% convertible unsecured subordinated debentures maturing Dec. 31, 2017, and the 5.75% convertible unsecured subordinated debentures maturing Dec. 31, 2018.
What I like about Pembina and pipelines in general is that often times they are not as susceptible to energy prices. Whether oil trades at $150 or $80 a barrel, Pembina's pipelines transports the stuff for the agreed upon price. With the acquisition of Provident, the dynamic for the company has shifted a little. The core pipeline business still remains, but now the company has stated that it can pursue larger, more complex growth projects to the benefit of all stakeholders.
The question is: How does this affect income investors? As part of all this change, Pembina is going to increase its monthly dividend rate by 3.8%, from $0.13 per share per month to $0.135 per share per month. At first glance that does not seem like much, but it does show that management is confident in the big changes.
The shares, being new to the NYSE, trade for around $29. This makes for yield of 5.6%. This is a stock I am planning to make part of my income portfolio.
Eaton Vance Tax Advantaged Global Dividend Income Fund (ETG)
My last pick for a potential new income investment is the closed-end fund ETG, a fund that seeks high total return with current income and capital appreciation through investments in dividend-paying common and preferred stocks.
Before continuing with ETG, let me first state that I fully understand that many individuals do not like closed-end funds (CEFs). Income investors around the world will either love or hate these kinds of investments. The ones that love them like the fact that one may potentially buy the shares at a discount to net asset value, gain exposure to leverage, and participate in investing strategies that retail investors have limited access to. Haters often point out similar characteristics on a negative bias. The fact that shares can trade at a discount to net asset value can be concerning if that valuation becomes extreme. Also, leverage can amplify losses as the cost of borrowing can eat into profits. Finally, management fees and administrative expenses can run high and offset potential dividends.
All that being the case, I still like ETG as an investment. The fund has an inception date of 2004, so it has been around for over eight years. The shares trade at a 5.5% discount to net asset value, and distributions are made on a monthly basis. Currently the distribution rate is 8.6%. The fund is leveraged at an effective rate of 26.95%, so that is something to keep an eye on.
A positive aspect about ETG is its holdings. The top equity names that the fund holds are such companies as McDonald's, Chevron, and Nestle. The equity side of the fund makes up about 78% of the overall portfolio. The balance is made up of preferred shares and corporate debt. Roughly 57% of the portfolio is based within U.S. assets. Around 27% is allocated within Europe, with the remainder of the holdings coming from Australia and the Far East. This income investment is truly a global fund, as the name would suggest.
Click to enlarge.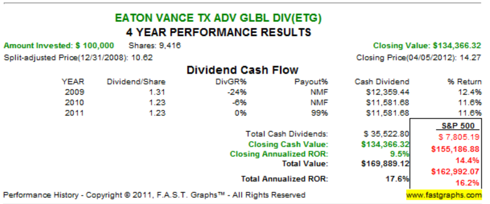 In conclusion, these are the three names I currently am considering to add to the portfolio. Of course, this short article does not do enough to communicate all the facts and findings that are available. Hopefully it gives income investors some more ideas for which they can continue to expound their own due diligence.