York Water Company (YORW) purifies and distributes drinking water to about 182,000 residences in Adams and York County Pennsylvania. It manages two reservoirs.
(click to enlarge)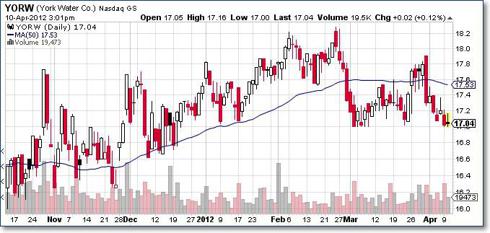 York Water Company has averaged a solid and consistent dividend that has averaged 3.40% over the last five years with a payout of 74.00%. There is nothing glamorous about the company, but it is very healthy and financially sound. This year, it is projected to grow about 9.9%. Next year, about 6.6% and in the next five years, about 4.4%-- so it is slow and consistent.
Comparing it to its industry, the company is very strong. If we look at the debt/equity ratio, we can see that York Water Corp does not take on a lot of debt to finance projects. Side by side- (.89 York to 2.00 Industry) it is less than half the industry average. So it is in good shape there.
Its ability to pay back short term debt and long term interest is also far better than the industry average. Look at these ratios.
Current Ratio: YORW- 2.20 Industry- 0.90
Interest Coverage: YORW- 3.90 Industry- 2.50
Not only is it a strong financial dividend company, but management does a great job with the assets, capital and equity in the company, managing it to bring a profit to the company. If we look at its returns on these we see it also does better than the industry average in 2 out of 3 of the categories.
Return on Equity: YORW- 9.74 Industry 11.03
Return on Assets: YORW- 3.40 Industry- 2.90
Return on Capital: YORW- 3.50 Industry- 3.30
Earnings are projected to grow through the next year. Next quarter earnings are projected at (6/12) 7.37% and this year by 9.30% and in 2013 by 7.22%. These are not outstanding numbers, but they do show consistent dependability.
York Water Company won't make a lot of waves, (not pun intended) but it will be there when you need it. A strong well-managed company that pays out nice dividends year in and year out.