ECB President Mario Draghi claimed in December the potential credit freeze in Europe had been avoided by the Central Bank's timely injection of €500B of three year 1% money for destitute banks. Then, to the chagrin of the Bundesbank, the ECB did an encore in March, injecting another €530B, with the same relaxed terms as before.
The 800 banks that borrowed this ECB money were then flush, and rates came back down, with the Spanish rate for 10-year bonds slipping to under 5%. Now, five weeks later, the Spanish 10-year rate is approaching 6% again. Either the bank liquidity has dried up, or banks may be concluding Spanish sovereign loans may be risky business.
This morning it was reported by 247wallst:
"Prime Minister Mariano Rajoy said high bond yields may kill any chance that government-driven austerity measures can cut deficits enough for the nation to finance its own needs. At about the same time he made the comment, his own national statistics bureau said industrial production fell 5.1% on an annual basis in February. Rajoy has nearly run out of reasons for the global capital markets to have confidence in his plans. That is because there is none."
Continuing in the telegraph.co.uk today, Ambrose Evans-Pritchard writes:
"Spain's industrial output is sliding at an accelerating rate, as is entirely predictable if you enforce draconian fiscal tightening on an economy in deep recession with no offsetting monetary stimulus or exchange rate devaluation.

The latest data show that output fell 5.1% (y/y) in February, after 4.3% in January and 3.5% in December.

Durable goods fell 14.8pc, the sixth successive monthly fall. Capital goods output fell 10.6pc, according to Raj Badiani from IHS Global Insight.

This is politically untenable. Unemployment is already 23.6% on the Eurostat measure. David Owen from Jefferies Fixed Income expects this to reach 27.5% by the end of the year (which is roughly 32% using the old measure from the 1990s, based on a Bank of Spain study).

Prof Jesus Fernandez-Villaverde says the German-imposed drive to cut the budget deficit from 8.5% to 3% over two years in a slump is a "recipe for disaster." It will not fly in a country where the two main trade unions are "living in the 19th century" and where there is no national consensus on the nature of the problem at hand. There will be a revolt ... The professor told me that Germans were "crazy" to try to impose such self-defeating austerity. The EU dictates should be resisted. Premier Mariano Rajoy should take a leaf from David Cameron's book and risk a full-fledged showdown, instead of quibbling over details in mini-spats that achieve little. "What is the EU going to do? Send in the army?"
Well the Germans may not have an army to deploy to Spain, but Finance Minister Wolfgang Schauble has an alternative plan. To monitor efforts by the big spending countries to remain austere and frugal, FM Schauble wants to recruit teams of academics to oversee and promote financial discipline.
As reported by Spiegel Online:
"According to an internal Finance Ministry document obtained by Spiegel, Schäuble plans to propose creating independent panels of experts at both the national and EU level who would monitor fiscal policies in the member states, the eurozone and the EU as a whole. They would be responsible for sounding a warning if they see governments' budgetary policies straying off course."
My guess, if you get this far, this is where an army will be needed to protect the academic auditors dispersed from Frankfurt. And for the German vacationers, best add Spain and Greece on the Do Not Travel list.
Increasingly the members of the euro family looks dysfunctional. It is hard to see how one currency can serve the needs of all the euro members. Trade has been confined to the 1.30/1.34 range, but for how long will the pair remain here? We did have a reversal day yesterday, but the follow through lacks vigor.
Equities likewise have turned around with the Spanish IBEX up 1.70% and the Italian FTSE MIB surging ahead 2.48%, more than the Dow's +.94%. The strength of the European markets may have given their currency a boost today. We are doubtful there will be much upside follow through, and prefer to trade the euro from the short side.
Click to enlarge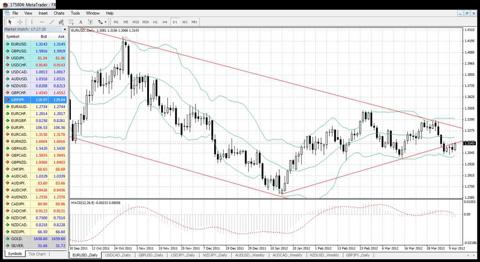 Disclosure: I have no positions in any stocks mentioned, and no plans to initiate any positions within the next 72 hours.