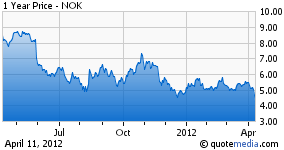 Today Nokia (NOK) presented the market with yet another profit warning, saying the operating margin for Q1 2012 will be -3%, and for Q2 2012 will be -3% or worse. This is not surprising. The motives Nokia claimed were mostly in line with what I said in my article "Turning Negative On Nokia." Basically these were:
The smart phone market is undergoing a lot of competition, leading to lowered margins. The press release actually puts mobile (feature) phones at 26% gross margins versus smart phones at 16% margins, so this is even more worrisome. Not only is Nokia losing revenues due to this transition, but the transition is happening from a higher margin segment, to what is presently a lower margin segment. Double disaster.
The industry dynamics on mobile (feature) phones, both in terms of pricing and because of migration to smart phones, also affect Nokia negatively. In other words, the feature phone is dying but it still represents a huge chunk of Nokia's sales (EUR 2.3 billion and 71 million units as per the press release, which is a lot more than EUR 1.7 billion from smart phones, out of which a bit more than EUR 0.44 billion is coming from Lumias).
None of these trends is going away any time soon. Betting on a huge Lumia success, while not impossible, is to bet on the underdog. Everybody might love him, but it's still a dog ... a slow, unlikely to win dog at that. So even though this warning is just for the Q1 and Q2 2012, the likelihood is that the trends will continue to manifest themselves well after that. At this point, Nokia - and Microsoft (MSFT), since it provides the phone OS - need to be revolutionary and to move fast.
Given these developments, it's also very likely that Nokia will end up withdrawing its dividend completely.
Conclusion
The fundamental trends that I had identified previously continue to manifest themselves inexorably. At this point, seeing if Nokia manages to turn around its fortunes is better done while sitting outside, holding no stock. If anything, the trends have worsened by the fact that the transition (from feature phones and Symbian, to smart phones and Windows Phone) presently represents not only risk of execution, but also implies lower gross margins on the destination - something which isn't about to change given the smart phone glut that's now in evidence.
Disclosure: I have no positions in any stocks mentioned, and no plans to initiate any positions within the next 72 hours.