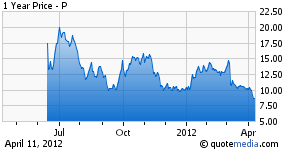 One of the biggest concerns bears express about Pandora (P) is the sky-high royalties it must pay per song. And there's no question that the company has what is, for all intents and purposes, not a great deal. Consider the following data from Pandora's recent annual report:
The rates we pay to SoundExchange for non-interactive streaming of sound recordings pursuant to these licenses are privately negotiated or set by the CRB (Copyright Royalty Board). In 2007, the CRB set royalty rates for non-interactive, online streaming of music that were extremely high. In response to the lobbying efforts of Internet webcasters, including Pandora, Congress passed the Webcaster Settlement Acts of 2008 and 2009, which permitted webcasters to negotiate alternative royalty rates directly with SoundExchange outside of the scope of the CRB process. In July 2009, certain webcasters reached a settlement agreement with SoundExchange establishing a royalty structure more favorable to us that by its terms will apply through 2015. This settlement agreement is commonly known as the "Pureplay Settlement ..."

In July 2009, we elected to be subject to the Pureplay Settlement ... We currently intend to continue to make such elections through 2015. The table below sets forth the per performance rates for the calendar years 2011 to 2015 (1) as established by the CRB, which we have opted out of, (2) under the Pureplay Settlement applicable to our non-subscription, ad-supported service and (3) under the Pureplay Settlement applicable to our subscription service.
(Click to enlarge)

That provides some much-needed background to the conversation.
Undoubtedly, the royalties Pandora pays (referred to as "content acquisition" costs) have skyrocketed over the years. For FY 2008, content acquisition costs totaled roughly $6.4 million. For FY 2012 that number increased a whopping 2,223% to about $148.7 million. During the same period revenues soared by approximately 1,819%.
In this analysis, you have to consider the reasons why each number expanded at such a stratospheric pace. You can associate the increased content acquisition expenses with a massive uptick in users and listener hours. Pandora expects those numbers to naturally moderate, which should result in a leveling off of content costs. That said, they'll still eat a more-than-comfortable share of the company's revenue, at least until Pandora can strike new, and more favorable, royalty deals.
The revenue growth coincides with Pandora stepping up its game with relation to advertising and subscription dollars. Between FY 2008 and FY 2012, advertising revenue increased by a stunning 1,702%. Subscription and "other" revenue exploded by 3,391%. It's remarkable to consider the fact that the company is in the infancy stage of its multi-platform audio, video and display advertising efforts. And it has yet to introduce ways to increase subscription revenue outside of the $36 annual fee it charges for an ad-free version of its service.
Pandora provides some color in its annual report as to how it sees things playing out when its current agreement with SoundExchange expires:
We believe that our participation in the Webcasting IV proceedings as a mature player in an industry that will have evolved significantly since the prior proceedings may enhance our ability to negotiate rates on economically favorable terms. However, if we are unable to successfully negotiate rates for the 2016-2020 period, we will be forced to litigate those rates before the CRB. Any such litigation would be costly, and the outcome of such litigation would be uncertain. If the Webcasting IV proceedings establish rates applicable to us that represent incremental increases in the per performance rates set forth as "CRB Rates" in the table above for the 2016-2020 period and there is no percentage of revenue option available to us, then our content acquisition expenses could substantially increase, which could materially and adversely affect our operating results (emphasis added).
The simplistic surface scratch answer to all of this is to say that Pandora takes an unrealistic view of the future vis-a-vis royalties (I used to think this) and they're, simply put, screwed. That ignores several important factors.
First, the above-mentioned revenue growth is truly in its early stages. Moves like the just-announced deal with Intel (INTC) simply foreshadow things to come. And, second, SoundExchange needs Pandora almost, if not just as much as Pandora needs SoundExchange. Consider the following analysis conducted by Website, Digital Music News:
According to a recent calculation shared by Live365 lawyer Angus MacDonald, Pandora accounted for nearly 37% of SoundExchange's 2011 revenues, up from an already-high 23.5% in 2010.

But wait: MacDonald looked at the numbers from another angle, and started uncovering all sorts of strange oddities. For example, nearly 70% of SoundExchange's year-over-year revenue gains are attributable to Pandora, and Pandora's revenue commitments to SoundExchange more than doubled over the past year.

That 37% figure most likely careens past 50% for internet-specific radio royalties. SoundExchange currently collects non-interative royalties from a range of delivery formats, including satellite radio and cable-based radio.
We should not forget the importance of Sirius XM's (SIRI) antitrust lawsuit against SoundExchange. As fellow Seeking Alpha contributor Cameron Kaine noted, the suit, if successful, should benefit Pandora and other competitors as much as it benefits Sirius XM.
I have to believe Sirius XM huddled with Pandora about the litigation. I would not be surprised if they asked them to be a party to it. I'm not sure Pandora wants to rattle that fence at this stage of the game. And Sirius XM probably does not want to muck up its case by having to bring the concerns of straight streamers into the mix. In any event, they're, for all intents and purposes, in this thing together.
Together, the lawsuit and SoundExchange's dependence on Pandora take concerns over the content acquisition costs Pandora pays to a whole 'nother level. While bears like to portray Pandora as a company with no business model, no prospects and no life - the George Costanza of web "radio" - the reality of the situation tells the clear-headed, long-term, big picture thinker something else. Pandora has plenty of leverage and, as it continues to expand its share of online and overall radio listening, ramp up advertising sales and fills SoundExchange's coffers, it only increases its bargaining clout.