What amazes me after covering the fertilizer company space for the last seven-odd years is that I am still learning new things.
For example, do you know the difference between a "freeze" and a "frost"?
Like me, you might want to know. (Answer at the bottom).
U.S. fertilizer stock performance this year might very well depend the most on what kind of weather we have this year.
Today I received an article with my Renewable Fuels Association newsletter talking about a 14.8 billion bushel corn crop this year (here).
Remembering how river flooding and extreme precipitation decimated crops across the nation in 2010 and 2011, this article immediately got me stirred up. It appears, the number was predicated on perfect harvesting of all planted acres.
Of course, that doesn't happen, some acres are always lost due to drought, flood, tornado, pests, you name it, farmers have endured it. In fact, over the past decade, on average, 8.4% of annually planted corn acres were never harvested.
At that average rate, the 95.9 million acres estimated to be planted with corn for grain in 2012 would only result in about 88 million acres actually harvested.
Still a big number though. At a decade average corn yield of about 150 bushels per acre, that would still produce 13.2 billion bushels, a record.
But it got me wondering, what are the chances for a massive, record breaking corn crop coming in? Maybe the author of the article, however inaccurate her assumption, was on to something.
Maybe we'll have that rare "dream year" when corn grows so high and the cobs are so long and the kernels so big and juicy, it's a "bin buster" of a year.
The first time the U.S. produced a double digit billion bushel corn crop was in 1994, with 10.05 billion bushels produced from 72.5 million harvested acres at an average 138.6 bushel per acre yield.
It took nine years to get back to another 10 billion bushel bumper crop, this time in 2003 with 142.2 average bushels per acre harvested off of 70.9 million acres, producing 10.09 billion bushels.
The year 2004 was even better, with a record high average yield per acre of 160.4 bushels, producing 11.8 billion bushels from 73.6 million acres.
The number of corn acres normally planted was hiked up by about 10 million starting after 2006, to the 90 million area, due largely to the corn and biofuel ethanol mandates signed into law in 2005 and 2007.
Although 2007 experienced a sub-par average yield, the massive number of acres put to work (93.5 million) and harvested (86.5 million) produced the biggest corn crop in U.S. history to that date: 13.04 billion bushels.
But it was 2009 that gets the prize for "King of Corn." Most of 2009, the crop was estimated at 13 billion bushels, a product of ultra-favorable summer weather and, no doubt, better and better crop genetics. The year 2009 was an inkling as to what is possible in the new corn growing era: With 13.15 billion bushels of corn harvested at an exceptional 164.7 bushels per acre from 79.5 million acres.
The 2009 bumper crop plus weak corn demand caused by the miserable global economic conditions dropped corn prices to their lowest level in several years, but it didn't last.
(Click to enlarge)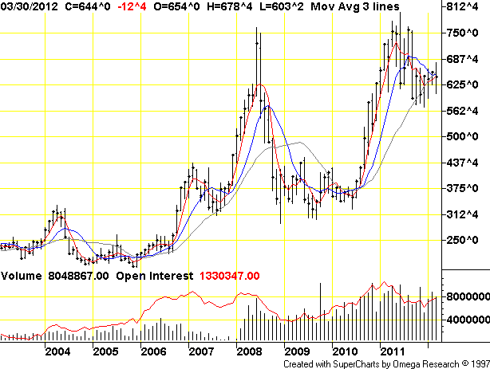 Click to enlarge
Courtesy: TradingCharts.com.
We had two crazy weather sub-13 billion corn years in a row in 2010 and 2011. Flooding, drought, wet cold weather. The average yield dropped to 152.8 and then 147.2 and abandonment of corn acres rose to 7.9 million acres in 2010.
By historical standards, 2010 and 2011 production of 12.45 and 12.36 billion bushels respectively was great, but not up to the new demands being made on the U.S. crop.
Maybe it's Lady Luck's turn to be bountiful. Maybe two years of difficult growing weather and tight crop conditions have made us forget what is possible. Made us complacent.
If we combine the big acreage of 2007 (say 86.5 million acres after soybeans buy a couple of million away from corn) with the record yield of 2009 at 165 bushels per acre, we could indeed come up with a mind boggling 14.3 billion bushels of corn.
I have a nice chart that shows the carry-out of corn stocks that would result if we had a 96 million acre corn plant combined with various yields and based on an 8% abandonment factor.
The 2012/13 new corn carryout next year would be 1.46 billion bushels or twice what is estimated for this year at a yield of 160 bushels per acre, and would represent a 12% stocks to use ratio, over double today. A sub par 155 yield results in 1.0 billion bushels. A banner 165 yield results in 1.9 billion bushels.
To put the U.S. corn crop in perspective, here is a global corn stocks to use chart, showing the overall picture. Obviously, corn crops in places like Brazil, Argentina, the Ukraine and especially China will have a big impact on the demand for U.S. corn, no matter what the 2012 crop size.
(Click to enlarge)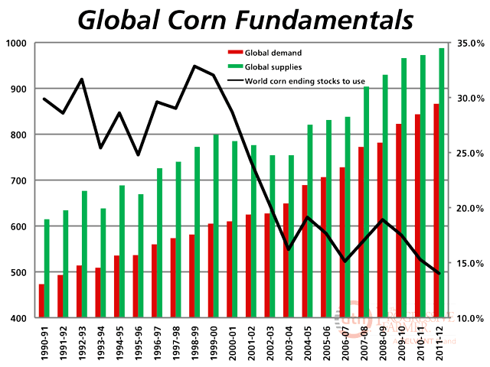 Click to enlarge
Courtesy: DTN/Telvent.
The global corn stocks to use ratio is still snug at below 15%. The USDA WASDE report on Tuesday estimated global coarse grain supplies (which includes corn and its feed substitutes such as oats and sorghum ) to be 4.3 million tons lower. However, a bountiful global wheat supplies provide competition to corn for feed use.
Some U.S. corn growers aren't sure they'd have the storage for a 14 billion bushel crop, and would have to sell on spot as do the natural gas producers (or lay it out under the sky in big yellow piles as they do in Iowa).
An enormous 2012 corn crop would put the kibosh on December futures prices, which are only 44 cents above the psychologically important $5 per bushel.
It would hurt any extended farmer appetite to bid up high nitrogen fertilizer prices, which have rallied strongly this month.
What's the main threat to the dream U.S. corn production scenario and a nightmare for fertilizer prices later in the year and 2012?
Weather, both U.S and global.
It's no secret we had extremely warm U.S. weather in late March, and an early start to farmers preparing their lands for planting.
That's great for fertilizer application - there has been a sharp run to buy nitrogen fertilizers, especially urea, which has blown through $600/short ton for deliveries through May.
Back to the weather though. The crazy warm weather beginning to the planting season has created a risk that early germinating corn plants are killed by a cold weather wave - like the one we are getting right now. Frozen.
On average, the top 18 corn planting states were 7% planted as of April 8, compared to 2% for the 2007-2011 average.
That doesn't sound like much of a jump. But consider that Illinois, the second biggest corn growing state in the nation, was 17% planted as of April 8, compared to 1% historically, and as much as it was planted by May 1 last year.
The U.S. low temperatures last night were in the low 20s in the Dakotas, threatening early germinating spring wheat. Temperatures dropped to the low 30s in the upper Midwest.
(Click to enlarge)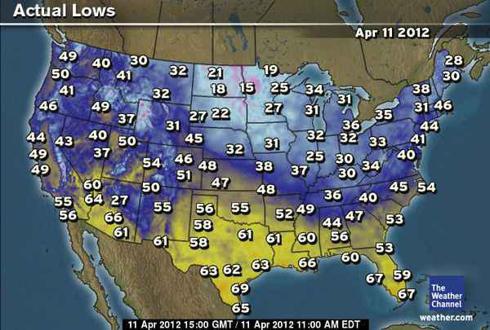 Click to enlarge
Courtesy: The Weather Channel.
According to the USDA, most other major corn producing states had not put seed in the ground as of Easter Sunday. Iowa (1%), Nebraska (1%) Minnesota (1%) and Indiana (6%). These are also the high yield states that the nation depends on to come through with the biggest harvest.
Both the U.S. nightly low temperatures in April and the Crop Progress report should be required reading for nitrogen fertilizer traders, as we head into what could be the biggest U.S. corn crop in history, or a grain sinking bigger than the Titanic.
P.S. A windborne freeze occurs when a cold air mass moves into an area bringing freezing temperatures (32 F or lower). A white frost results when atmospheric moisture freezes in small crystals on sold surfaces. Neither is good for germinating plants.
Disclosure: I have no positions in any stocks mentioned, and no plans to initiate any positions within the next 72 hours.