By Brendan Gilmartin
Overview
Google (GOOG) is scheduled to report 1Q 2012 earnings after the close of trading on Thursday, April 12. Results are usually available in the minutes after the closing bell with a conference call slated to get underway at 4:30 p.m. EST. Google is among the first of the major technology names to deliver quarterly results for 1Q 2012. The S&P E-Mini, NASDAQ 100 E-Mini futures contracts and PowerShares QQQ (QQQ) (GOOG is fourth biggest holding in the QQQ) tend to see active trading off the results.

Outliers and Strategy
Google is expected to earn $9.65 per share (on a non-GAAP basis) on revenue (ex-TAC) of $8.14 bln. The high estimates on the Street are $10.91 per share and $8.53 billion, respectively. (Source: Yahoo Finance)
Google reported the biggest miss in the company's history on January 19, delivering 4Q Non-GAAP Earnings Per Share of $9.50, 9.4% below consensus of $10.49. Revenues of $8.13 billion also missed the mark by 3.3%, triggering a steep move downward in Google shares. The S&P E-Mini Index Futures also moved lower, given Google's broad market influence, dropping about 3 handles immediately following the release.
Recent News
04/11: Piper Jaffray expects Google to meet or exceed estimates for the 1Q 2012, according to post on Benzinga.com. The firm also has a $675 price target, based on paid click growth thanks to strength in mobile, new products and emerging markets.
04/05: Google CEO Larry Paige provided a letter updating the current state of Google's businesses. Among the takeaways, Google now has over 100 million active users, while over 850,000 Android-based phones are activated daily. The company is also seeing a "hugely positive" impact from mobile advertising.
03/28: Citigroup raised its price target on Google from $680 to $750, noting that checks suggest the 1Q 2012 results should be at least in-line with estimates, according to a post on Barron's. Analyst Mark Mahaney asserted that Google warrants a higher multiple, thanks to improved mobile and display advertising.
Technical Review
Google shares are sitting just below the 20-Day SMA near $640 - nearly the same level preceding the 4Q 2011 earnings release back on January 19. Should earnings come in toward the high end of consensus estimates (~$10.50 - $10.90), the shares could make another run toward the recent peak near $660, followed by the January high at $670. Conversely, support is at $630, followed by the 50-Day SMA near $620, with further downside risk to $600. (Chart courtesy of StockCharts.com)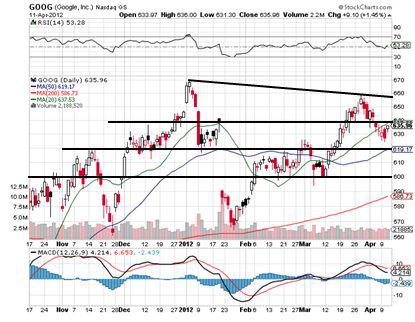 Summary
Google shares are sitting right at the 20-Day SMA near $640 headed into the 1Q 2012 earnings release. The shares are now up more than 11% from the January lows, thanks to growth in online and mobile ad spending, new products, international and emerging market growth, and higher click-through rates. Despite the optimism headed into the report, there is some trepidation due to the surprising outcome of last quarter's release in January. Against the current backdrop, Non-GAAP EPS of more than $10.00 per share (estimate is $9.65) on revenues (ex-TAC) of at least $8.3 billion will be needed for the shares to make a run back toward the recent highs. Results at or below estimates would likely be seen as another disappointment.
Disclaimer: By using this report, you acknowledge that Selerity, Inc. is in no way liable for losses or gains arising out of commentary, analysis, and or data in this report. Your investment decisions and recommendations are made entirely at your discretion. Selerity does not own securities in companies that they write about, is not an investment adviser, and the content contained herein is not an endorsement to buy or sell any securities. No content published as part of this report constitutes a recommendation that any particular investment, security, portfolio of securities, transaction or investment strategy is suitable for any specific person.
Disclosure: I have no positions in any stocks mentioned, and no plans to initiate any positions within the next 72 hours.