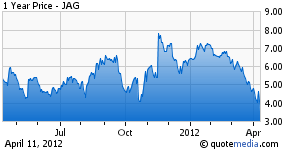 Lately investors in Jaguar Mining (JAG) may be wondering if they are holding fools gold in their hand instead of the highly desired yellow metal. Even with the Spider Gold Trust ETF (GLD) trading near even for the day Jaguar Mining fell off a cliff. Jaguar closed down about 22%, near $3.54 a share.
Jaguar Mining engages in the production of gold, as well as in the acquisition, exploration, development and operation of gold mineral properties in Brazil. The company was founded in 1984 and is based in Belo Horizonte, Brazil. Jaguar Mining trades an average of 2.3 million shares per day, but today with about 12.5 million shares marks the highest volume day with yesterday a relatively close second in trading volume.
Jaguar has lost about half its market cap since a little over a month ago and made a new 52 week low today and now is worth a total of about $340 million.
Jaguar was brought to my attention by another trader in my chat room and I started to closely track it during the afternoon. Catching falling knifes has a way of leaving you with band-aids on your hand and an empty wallet so I was in no "hurry" to gain exposure. I took my time and while it is not always important for me to know what the news is, I do like to get a sense of the driving force behind a panic. In the end I generally give the highest weight to what the chart says because price is always the most important statistic to know.
Is Jaguar oversold? I believe so, but I am not the first one to think so either. I read an interesting column in Forbes from last month about how Jaguar mining is oversold based on the RSI. I know what the RSI is (Relative Strength Index) and have studied it along with 10 gazillion other technical analyst techniques and I have to call into question why Forbes would use a simple RSI reading as a basis for declaring a stock oversold (or overbought). To be fair it's not Forbes, but a Forbes contributor who in my opinion is taking a very liberal and simple approach to finding value (as well as statistically meaningless) in Jaguar Mining. Those that may have given weight to the late March finding of "oversold" are finding their position is worth about 30% less now.
Today on the other hand I do believe Jaguar Mining went into the land of "oversold" and more importantly, oversold with high implied volatility. Catching falling knifes as I stated can be full of peril, but when done correctly can also have outsized rewards.
How I am approaching Jaguar Mining? With a few minutes before the close I started buying Jaguar Mining and writing calls against most of my shares. I wrote the April $4 calls for a premium of $0.25 each and some in the chat room wrote the same for $0.30. Jaguar Mining may have some continued weakness follow through in the next day or two, but I have a partial hedge to protect against it and I expect to see substantial time decay in the next week.
I use a proprietary blend of technical analysis, financial crowd behavior and fundamentals in my short-term trades, and while not totally the same in longer swing trades to investments, the concepts used are similar. You may want to use this article as a starting point of your own research with your financial planner.
Disclosure: I am long JAG.