The E-Mini S&P 500 paused from the downtrend to bask in the onset of earnings season. It may be a short-term technical bounce, but it definitely was propelled by the Alluminati - Alcoa Inc. (AA). Earnings surprised investors with a first-quarter profit when it was forecast at a 4 cent loss per share. China still has growth despite slowing somewhat and the aluminum is used for aircraft, cars and beverage cans. There is anticipated growth in aerospace and automobile sectors for 2012 while they suggest there may be a supply shortage. Revenue increased to $6 billion while analysts expected $5.77 billion.
Alcoa was the first company to report earnings season optimism. The Fed released the "Beige Book" Wednesday showing moderate growth, but the oil prices factored in may inhibit growth to a certain extent. Next week the Fed has its two-day policy meeting on April 23rd and 24th. The US budget deficit increased to $198.16 billion in March, up from $188.15 a year ago. The forecast had been for $196.00 billion. Forecasts for the 2012 year deficit is set at $1.17 trillion down from last years $1.3 trillion.
Spain has come up with about $10 billion euros in budget cuts to alleviate investor concerns as the Spanish yields had risen to about 6%. The yields on the Italian debt instruments rose to about 5.6%. Spain's Economy Minister Luis Guindos stated that the Spanish banks had reached the capital requirements by the European Banking Authority for the recapitalization plan. Spain has announced that they will not need a rescue and will not seek bailout funds from the troika. The European Central Bank, though vague, has remained supportive in their comments to restore confidence into the marketplace.
Iran's oil production may decrease this year by 15% in light of the sanctions against them by the US and Europe! The Energy Information Administration foresee that the daily production from Iran could decrease by 500,000 barrels a day. In light of this, it is hard to believe that Iran could ban exports to Greece and Spain and may even halt shipments to Germany and Italy. While the Iranian situation seems to subside, the North Koreans are planning to launch their rocket thought to perhaps cloak a ballistic missile test.
They are slated to launch the rocket on Thursday. The US has been involved with a food aid program for North Korea until this point. The rocket launch may end that support. The temporary respite in the E-Mini S&P 500 decline may be brief, so despite the lofty earnings reports and the US economic data supporting a recovery, this is still a vulnerable market.
On the stock side: JP Morgan Chase and Co. (JPM) was up 2.44 % to $44.01. Citigroup Inc. (C) was up 2.21 % to $33.56. Bank of America (BAC) was up 3.75 % to $8.86. Alcoa Inc. (AA) was up 6.22 % to $9.90. Boeing Co. (BA) was up 1.66 % to $71.77. Caterpillar Inc. (CAT) was up 1.31 % to $101.75. General Electric Co. (GE) was up 1.44 % to $19.02. Halliburton Co. (HAL) was up 0.44 % to $32.13. Hewlett Packard Co. (HPQ) was up 0.60 % to $23.41. SPDR Select Sector Fund - Financial (XLF) was up 1.57 % to $15.19.
E- Mini S&P 500 Chart.
(click to enlarge)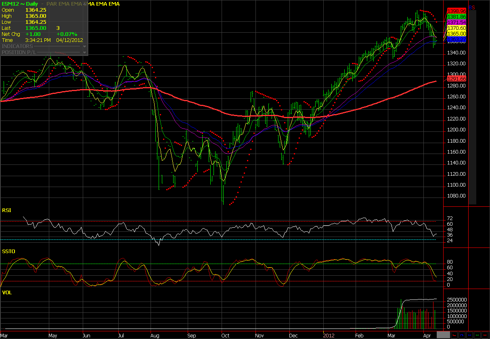 Thursday, what to expect: We maintain a bearish bias unless the E-Mini S&P 500 penetrates $1399.00. Today, we anticipate an inside to higher to outside day. Wednesday's range was $1370.50 - $1357.50. The market settled at $1364.00. Our comfort zone or point of control for this market is $1365.50. Our anticipated range for Thursday's trading is $1375.50 - $1355.50.
Disclosure: I have no positions in any stocks mentioned, and no plans to initiate any positions within the next 72 hours.