Buy-recommended San Juan Basin Royalty Trust (NYSE:SJT) may be entering a valley of low distributions for the next few months before reemerging at higher levels in winter and spring as was the case a year ago. Seasonality has come back for natural gas price after being upset by hurricanes two years ago.
Growing demand for natural gas to generate electricity has not been influential enough yet to keep natural gas at the oil equivalent price, as the politics of pollution in the U.S. and especially in China favor coal over natural gas. In our view it is only a matter of time before the clean characteristics of natural gas regain tangible value. Meanwhile, a projected distribution of 7.2% for the next twelve months ended September 30, 2008 along with a McDep Ratio of 0.81 point to attractive value in our opinion.
Distributions Depend on Natural Gas Price
During the past seven years monthly distributions have ranged from nothing to about $0.40 a unit while the natural gas price received by the trust has ranged from $1 an mcf to $9 (see chart Natural Gas Price and Cash Distributions, below). Because distributions are determined two months after production occurs, low prices of about $4.73 an mcf for the October distribution and some $4.37 for the November distribution are indicated by index prices that are already history. As a result, we may see a low distribution of $0.12 a unit in November compared to a low of $0.10 in December 2006.
Lengthening our perspective twelve months and taking our price forecast from the futures market, we see distributions rebounding from $0.40 in the fourth quarter of 2007 to more than $0.60 for each of the quarters of 2008.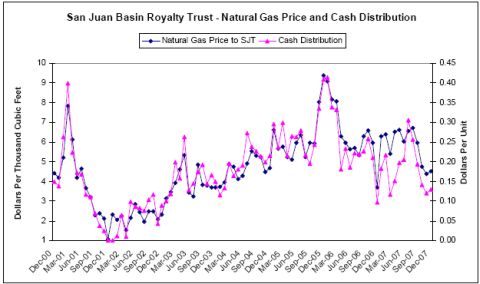 Present Value Also Depends on Natural Gas Price
Applying our technique for estimating an appropriate stock price for energy resource companies, we estimate a present value of $40 a unit for SJT. The calculation illustrates how multiple variables may interact. Any one of the variables could be the subject of a long discussion of which there are past examples on our website, www.mcdep.com.
Taking price as an important variable, we use the futures market to estimate natural gas price for the next twelve months and apply our own estimate of a long-term industry benchmark natural gas price of $11 an mcf thereafter before adjustment for inflation. In contrast, SJT stock price may reflect a benchmark price of perhaps $8.90 an mcf that we approximate by multiplying McDep Ratio of 0.81 by $11. Net to SJT at the San Juan Basin in New Mexico, the benchmark of $8.90 becomes about $7, or $2 less than the monthly high received in December 2005 and January 2006.
A Premium Natural Gas Investment
In the end, we rely on the idea that SJT is a high quality energy resource investment that tends to hold its value relative to natural gas commodity price while paying attractive income. Relative to oil, natural gas seems strongly out of favor at a six-year futures price equal to oil divided by 9. The equivalent energy value compared to refined oil products would be crude oil price divided by 5. We think the question is not if that will happen, but when.
SJT 1-yr chart: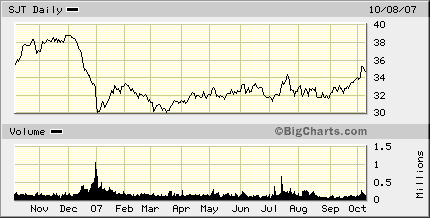 Originally published on September 6, 2007.