"People tend to overstate my resilience, but, of course, I hope they're right." - David Brudnoy
Financials were a star performer during the first quarter of 2012, as animal spirits returned to risk assets, and money repositioned into heavily underweighted banks. We went from the "too big to fail" problem to the "too big to miss having in your portfolio" problem in the blink of an eye.
With positive sentiment getting kicked up a notch with the release of the Fed's stress test results a few weeks back, and dividends being initiated by the likes of JPM, momentum dictates a high probability that Financials can continue their overall outperformance in 2012.
And yet, big banks may not be the way to play continued strength in Financials. Take a look below at the price ratio of the SPDR KBW Regional Bank ETF (KRE) relative to the Financials Select Sector SPDR ETF (XLF). As a reminder, a rising price ratio means the numerator/KRE is outperforming (up more/down less) the denominator/XLF.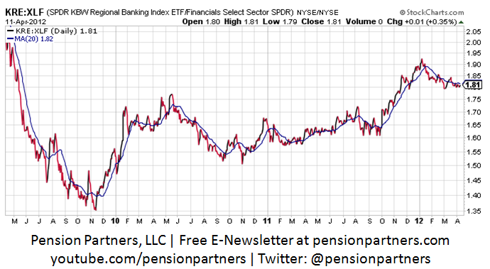 Click to enlarge
I did a segment about this on Bloomberg recently, in which I noted that the ratio has flat-lined as regional banks have kept in line performance-wise with big banks since early December of last year. This is impressive on many levels, considering 1) that large-cap banks had the added benefit of stress test results causing positive sentiment in the overall sector directly, and 2) the overall relative weakness of small/mid-caps more generally against larger-cap names. Regional banks have in many ways been surprisingly resilient in terms of keeping up with broader Financials.
The main point I want to stress here is that while the ratio has not actually turned up just yet, regional banks may begin to outperform as money notices the strength expressing itself in the absence of industry specific news which makes the bullish case more appealing.
Disclosure: I have no positions in any stocks mentioned, and no plans to initiate any positions within the next 72 hours.