A little over a week ago, I wrote an article on REIT returns and sector swap ideas. The following is one of the ideas from that article:
My second sector swap is selling apartments and redeploying that capital into office. The rationale for this is straightforward: the massive shift from owning to renting has mostly occurred. While there is certainly more to go, the bulk of the shift has happened and outperformance going forward will be harder to achieve. The office sector has not fared well due to the economic downturn and the resultant belt tightening within corporate America. As the economy grows, business should be more comfortable increasing their office space which should help stabilize and then grow rents within the sector.

One swap that can be done to take advantage of this is selling Avalon Bay (AVB) and buying Mack-Cali (CLI) or Duke Realty (DRE). Avalon is the big daddy of the apartment sector and plays within the high end of the sector. If the bulk of the owning to renting has occurred, the high end of the market will have a more difficult time driving rents higher in order to outperform. Conversely, Mack-Cali and Duke (which is more of a mixed office/industrial) have had a harder time coming back due to corporations limiting expansionary capital into the industrial space. That said, as we enter an expansionary phase of the economy, industrial properties should be well placed to increase base rents and achieve higher square foot values.
This swap idea is for more than just equities, it should also be looked at in fixed income or bond space. Wouldn't you know it, soon after the article, Mack Cali has issued ten year debt.
The details on the issue are as follows (prospectus here):
| | |
| --- | --- |
| Issuer | Mack-Cali Realty, L.P. |
| Maturity | April 18, 2022 |
| Size | $300,000,000 |
| Coupon | 4.50% |
| Expected Ratings | Baa2 / BBB |
| Spread | 255 basis points/10yr |
| Optional Redemption | Make Whole Call (+40) / par call 3-month prior to maturity |
| Use of Proceeds | CLI intends to use the net proceeds from the sale of the notes to repay outstanding borrowings under their $600 million unsecured revolving credit facility ($186MM outstanding) and for general corporate purposes, which may include the purchasing or retiring outstanding debt securities. |
The bond has standard REIT covenants, which are as follows:
Total debt/total assets <60%,
Secured debt/total assets <40%,
Int. Coverage >1.5x, and
Unencumbered assets/unsecured debt >150% (excludes unconsolidated JV's
By way of comparison and for relative value:
Boston Properties (BXP) Baa2/A- 4.125% due 2021 trade at +165/10yr
Vornado (VNO) Baa2/BBB 5.00% due 2022 trade at +245/10yr
Given where their peers trade, I believe there is value in this issue and it should be considered for inclusion in a fixed income portfolio (although it should trade a couple wider to VNO, I still believe there is value and some upside).
If you are not familiar with Mack Cali, as of December 31, 2011, the company owned or had interests in 278 properties, aggregating approximately 32.4 million square feet, plus developable land, which are leased to over 2,000 tenants. The Properties are comprised of: (A) 269 wholly-owned or Company-controlled properties consisting of 163 office buildings and 95 office/flex buildings aggregating approximately 30.8 million square feet, six industrial/warehouse buildings totaling approximately 387,400 square feet, two stand-alone retail properties totaling approximately 17,300 square feet, and three land leases. As of December 31, 2011, the office, office/flex, industrial/warehouse and stand-alone retail properties included in the Consolidated Properties were 88.3 percent leased.
The company has a well laddered debt maturity schedule, which is very manageable given their liquidity and capital availability: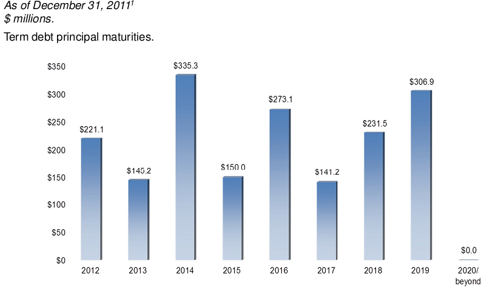 Their debt focused ratios are also very healthy and support their solid BBB rating: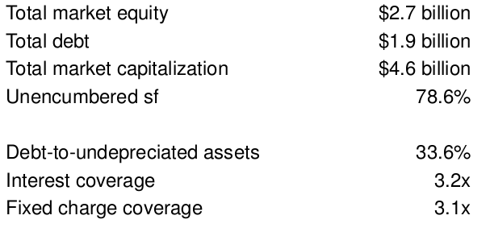 Bottom line: While occupancy is below 90%, it is above comparable properties in the Northeast and the company has solid financial metrics. There is more than sufficient unencumbered assets that serve as a cushion for bondholders and the sector is still somewhat cheap to the REIT bond universe.
Disclosure: I have no positions in any stocks mentioned, and no plans to initiate any positions within the next 72 hours.