The following short write up will list some bio-pharmas I think could be on the move today and Friday.
Codexis (CDXS) engages in the production of custom industrial enzymes for use in the manufacture of biofuels, chemicals, and pharmaceutical ingredients. The company offers Codex Biocatalyst Panels and Kits to pharmaceutical companies that are engaged in drug development and the marketing of approved drugs to allow them to screen and identify possible enzymatic manufacturing processes for their drug candidates and their marketed products.
Codexis designs enzymes and license its technology to a Royal Dutch Shell (RDS.B) and Cosan (CZZ) partnership, while it's also working on intermediates and processes for pharmaceutical companies like Pfizer (PFE), Merck & Co. (MRK), and Teva (TEVA).
Potential Catalyst price mover:
Codexis, which makes enzymes and microorganisms to produce ethanol from plant waste, got about half of its $123.9 million in revenues last year through a research partnership with Shell and Raizan, the Brazilian joint venture of Shell, and sugar and energy producer Cosan.
The research pact expires at the end of October, and a decision to extend and/or expand this pact is expected in the middle of this year.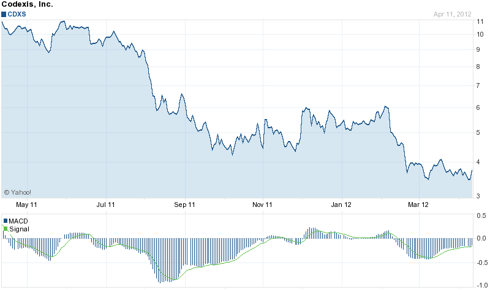 Codexis is has been trading near its 52 week low for some time now. We can see the fear of investors in the above chart of Codexis losing its joint venture of Shell, and sugar and energy producer Cosan. I expect a run up to slowly begin soon in anticipation of the venture actually being renewed. The potential loss of this pact has been priced in for some time in my opinion. At the time the stock was trading higher, this was a potential fundamental factor that signaled to short sellers that Codexis was overvalued, and I agree with their view in this. However, Codexis has been oversold to levels well below fair value and is now undervalued in my opinion. We can also clearly see the uptrend of the MACD and signal as of late, which shows accumulation to me.
| | |
| --- | --- |
| Shares Outstanding: | 36.10M |
| Float: | 23.29M |
| % Held by Insiders: | 39.91% |
| % Held by Institutions: | 36.30% |
| Shares Short (as of Mar 15, 2012): | 1.50M |
| Short Ratio (as of Mar 15, 2012): | 3.70 |
We can see above that the shorts do not feel all that bearish on Codexis at this time. Shorts rightfully look for overvalued companies to sell short. One stock I have written about before, Mannkind (MNKD) has had a lot of short interest in it before and still does, albeit much less as of late.
| | |
| --- | --- |
| Shares Short (as of Mar 15, 2012): | 18.40M |
| Short Ratio (as of Mar 15, 2012): | 8.60 |
The bears still feel Mannkind has some downside left in its pps, even at the current price of around $2.25 a share. I am hopeful for Mannkind's future pps appreciation, but this will take some time for the company to produce the results to warrant the 8.6% short interest to lighten up.
My price targets opinion on Codexis:
Short term price target: $4.25 - $5.00, 2 days to 2 months.
Mid to long term price target: If Codexis gets the extension referenced earlier, then it's price should see $7.00 and higher. and extension along with an expansion in the deal would likely see the Codexis stock price return to its former 52 week high price range.
However, failure to secure an extension will bring the pps right back down to its 52 week low, if not lower.
BioDelivery Sciences International (BDSI)
BDSI focuses on developing and commercializing products in the areas of pain management and oncology supportive care. The company uses its patented BioErodible MucoAdhesive (BEMA) and Bioral cochleate drug delivery technologies in the development of its products.
Potential Catalyst price movers:
Recently, BDSI had an issue rolling out Onsolis, which is an opioid analgesic indicated only for the management of breakthrough pain in patients with cancer, 18 years of age and older, who are already receiving, and who are tolerant to opioid therapy for their underlying persistent cancer pain.
On Mar 12, 2012 BDSI announced Onsolis distribution was being postponed until the product formulation can be modified to address two appearance issues raised by the FDA following a recent inspection of the Aveva manufacturing facility where Onsolis is produced.
Anticipation for the rollout of Onsolis to actually occur should give BDSI some upward price movement.
Also;
a Likely win in its alleged patent infringement lawsuit previously filed by MonoSol Rx, LLC. On March 14, 2012, The New Jersey Federal Court ordered that the case would be stayed pending resolution by the U.S. Patent and Trademark Office (USPTO) of reexamination proceedings and follows the recent rejection by the USPTO of all claims in all three patents asserted by MonoSol against BDSI and its commercial partners for ONSOLIS. Should the USPTO uphold its initial decisions, the MonoSol patents will be rendered invalid, supporting BDSI's assertion that MonoSol's claims from the beginning had no merit. BDSI is pleased that the court will await the outcome of the USPTO's actions prior to conducting further proceedings in this case.
The final decision is expected soon, which should also be a catalyst stock price moving event for BDSI, albeit likely a smaller one in my opinion. However, combining both of these events should see the BDSI stock price make a short term move near $3.05 I believe.
It also helps BDSI having Endo Pharma (ENDP) as a partner for worldwide licensing and development with exclusive rights to commercialize BDSI's BEMA Buprenorphine for the treatment of chronic pain. The agreement is worth up to $180 million to BDSI if all milestones are met.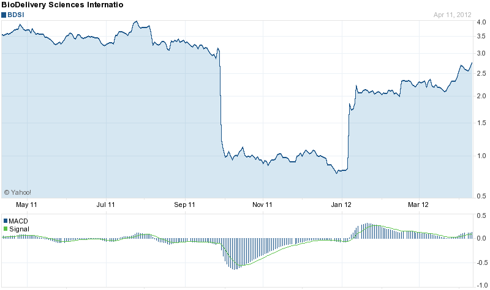 At the end of this chart, we can see the move has already begun to take shape. Even under the recent poor overall market conditions, BDSI more than held its own. It appears to me that its stockholders are not so willing to part with their shares at this time. The MACD and signal look good to me.
My price targets opinion on BSDI:
Short term: $3.05 (as indicated to me on the chart)
Mid-term: $4.00
Longer mid-term (6-11 months) $5.00
Long-term: Uncertain as it is with most development type bio-pharmas. A successful phase 3 efficacy with BEMA Buprenorphine would likely take this stock over $7.00 a share, then with FDA approval, around $10, but these factors are very uncertain at this time, and too far out to make a long term call. However, assuming everything goes right, a 3 year price target of $15 a share is doable, excluding macro economic events and/or geopolitical events.
If I had to pick only one of these stocks to trade, I would go with Codexis as I feel it has stronger short term upside.
Chart data sourced from Yahoo Finance.
Disclosure: I have no positions in any stocks mentioned, but may initiate a long position in CDXS over the next 72 hours.
Disclaimer: This article is intended for informational and entertainment use only and should not be construed as professional investment advice, but rather my opinions as a writer only. Always do you own complete due diligence before buying and selling any stock.