Company Description: Target Corp. (TGT) operates about 1,500 Target and 250 SuperTarget general merchandise stores across the U.S. TGT is part of the Services sector.
Dividend Reliability A stock's dividend reliability is determined by its dividend payment history as well as its current financial health. Total of four points available.
The number of Consecutive Dividend Payments -10 to 25 Years = 1 Point; More than 25 Years = 2 Points
Cash Flow Payout Ratio - Less than 60% = 1 Point
Debt to Total Capital - Less than 45 % = 1 Point
Dividend Growth A company needs to be growing its dividend on an annual basis. The growth of its dividend should be at a respectable rate, and the free cash flow payout ratio should not be increasing over time. Total of four points available.
Number of Consecutive Dividend Increases - 10 to 25 Years = 1 Point; More than 25 Years = 2 Points
1 Year Cash Flow Payout Ratio vs Avg 5 Year - 1 year cash flow ratio <= Avg 5 year = 1 Point
1 Year Dividend Growth Rate vs Avg 5 Year -1 year dividend growth rate > Avg 5 year = 1 Point
Fair Value If we're going to buy a stock, we don't want to purchase it went its overvalued. Total of 2 points available
Current P/E vs Avg 5 Year P/E - Current P/E < Avg 5 Year P/E = 1 Point
PEG Ratio - PEG < 1.5 = 1 Point
| | | | |
| --- | --- | --- | --- |
| Factor | What we want | Actual | Points |
| Dividend Reliability | Consecutive dividend's paid > 10 years | 47 yrs | 2 |
| | Cash flow payout ratio < 60% | 71% | 0 |
| | Debt to total capital < 45% | 42% | 1 |
| Dividend Growth | Consecutive dividend raises > 10 years | 44 yrs | 2 |
| | 1 yr cash flow payout less than or equal to Avg 5 yr cash flow payout | 71% > 39% | 0 |
| | 1 yr dividend growth rate greater than or equal to Avg 5 yr dividend growth | 20% < 21% | 0 |
| Fair Value | Current P/E < Avg 5 year P/E | 13.4 < 13.9 | 1 |
| | PEG ratio < 1.5 | 1.1 | 1 |
| | | | |
| | Total Score | | 7/10 |
Strengths - Target is a convenient one stop shopping source. It offers well-known and respected brands while still obtaining low prices. It has achieved a strong brand presence and customer loyalty.
Weaknesses - Unlike its competitors, Target is not an international company. Although Target has started to expand into Canada and Australia, they are not bringing in profits on a global scale as some of their competitors are. Target's prices, although reasonably low, are not as low as some of their competitors. Target's credit card business has been a drag on its bottom line.
Opportunities - Target still has opportunities to grow in the United States. Target's ability to expand into the international market would play a major role in helping them compete with its biggest competitors. Target can grow its distribution centers which would help improve margins.
Threats - Some of Target's competitors are global companies and as the market becomes much more globalized, Target may find itself struggling to keep up with its competitors financially. Since Target associates themselves with the connection between low costs and stylish images they must work very hard to stay on top of consumer trends. Some of their competitors are catching on to Target's combination of style and low prices.
Conclusion - TGT scored 3 points in dividend reliability, 2 points in dividend growth, and 2 points in fair value for a final score of 7/10 points which rates it as a strong dividend growth stock.
The main knock on Target that stands out in my analysis is the current dividend cash flow payout ratio of 71%. This can be attributed to the recent increase in cap spending that is fueling Target's growth in Canada as well as its entry into the grocery business. This expansion will have a negative affect on cash flow in the near term, which could have a potential affect on upcoming dividend increases. Outside of that, Target appears poised to continue to be a reliable dividend growth stock. Management has demonstrated a strong dividend policy in the past and have stated that this will continue in the future. In a press release dated January 12, 2012, Target's management said it plans "to grow the dividend at a robust pace, which would allow the annual dividend to rise to $3 or more by 2017." This of course is a lofty goal, but one that can be achieved if management stays focused.
The recent run-up in price since the beginning of the year gives me pause at this time. I would be comfortable initiating a position if the stock gives back some of its recent gains and trades near the $52 level again.
click to enlarge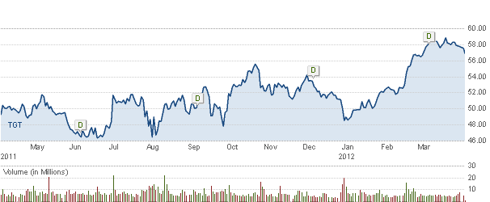 Disclosure: I have no positions in any stocks mentioned, and no plans to initiate any positions within the next 72 hours.