Gran Tierra Energy (GTE) is a Canadian based oil and gas exploration and production company. It is relatively young (started in 2005), but it has acquired an impressive portfolio of oil prospective properties. It has 12.1 million gross acres and 7 million net acres of some of the most promising oil and gas properties in the world. They are in the South American countries of Columbia, Peru, Argentina, and Brazil. The company, as of December 31, 2012, had 48.8 million BOE NAR (85% oil and liquids) of 2P reserves (Proved and Probable). It had 85.8 million BOE NAR (69% oil and liquids) of 3P reserves (Proved, Probable, and Possible). However, like most companies with huge, largely unexplored prospective lands, the reserve figures do not even begin to delineate GTE's real potential oil and gas holdings on those lands. Still, this is no speculative stock. Its production as of March 31, 2012 was approximately 19,200 BOEPD. Its new Argentine well, the Proa-2, in the Surubi Block, Noroeste Basin in which it has an 85% working interest will add nicely to that total. In that well's production tests it averaged 6,300 BOPD gross. It is either already online, or will be soon this April. It is expected to average approximately 2,000 BOPD gross initially, while additional transportation capacity is evaluated. This should add approximately 1,700 BOPD to GTE's daily production figure (19,200 + 1,700 = 20,900 BOEPD).
On top of the above well just completed in March 2012, GTE on Wednesday April 11, 2012 announced the success of the Ramiriqui-1 oil exploration well in the Llanos-22 block, located in the Andean foothills of the Llanos Basin in Columbia. This tests the Mirador formation which has 130ft of gross thickness. This well, drilled to a total depth of 19,519 ft. had natural flow rates of 2,525 BOPD gross over 32.5 hours with a 28/64 inch choke (26 degree API gravity oil). This was a restricted rate due to gas flaring limitations. It is too soon to give a reasonable production rate addition figure for GTE. GTE has a 45% interest in this well.
GTE has three more exploration wells planned for Columbia this year. One more in the Llanos Basin and two in the Putumayo Basin (40% interest). In addition, GTE will also drill one exploration well in Peru, two in Brazil, and three in Argentina this year. One of the Brazil wells is expected to be on production by June 2012. I think it is safe to assume that it will exceed its target guidance for 2012 of 20,000 - 21,000 BOEPD.
GTE did have an OTA pipeline (Columbia) disruption problem in Q1. This resulted in a reduction in sales of 1600 BOEPD for the quarter. Reported production for Q1 is expected to average 16,000 BOEPD NAR (NAR = Net After Royalties).
Overall GTE has properties in some of the greatest oil and gas development areas on the world. GTE is one of the early explorers. Yes the geopolitical risk is greater than in the US, but South American governments are increasingly taking the global economic view on business concerns. They want to be part of the mainstream. The geopolitical risk in these countries may be much less than many think. GTE is a $1.67B market cap company with no debt. It has an enterprise value of only $1.32B. Yes, it does have a Beta of 1.64, which can be a pain in troubled markets. However, its PE is only 13.33, and its FPE only 7.50. Analysts' are estimating 37.80% EPS growth this year and 29.00% next year. These estimates may be significant underestimates. Plus they in no way reflect the huge value GTE has in its properties. If I remember correctly Brigham Exploration (BEXP) had roughly 20,000 BOEPD of production and roughly 500,000 net acres of development properties. It sold for $4.4B to Statoil (STO). How can you compare that to GTE's already 20,000+ BOEPD of production (mostly oil) and its 7 million net acres of development properties? All of which seem to have excellent potential.
GTE owns good prospects in onshore and offshore Brazil. It owns in less publicized, but still great fields in Argentina, Brazil, and Columbia. Yes, there are likely to be more disruptions in South America than in the US. However, the potential of this company is staggering, and the management is not standing still. They have been consistently acquiring new properties. This company is a screaming BUY. You could get beat up by the EU recession, a possible US recession, and a Chinese slowdown, but you won't want to sell this one. The management team, the development properties, and the current production (that is growing rapidly) are simply to good a package to give up on for the bargain price of GTE's 1.67B market cap. If you like hitting homers on stocks, this one's for you.
The two year chart of GTE lends some technical direction to the trade.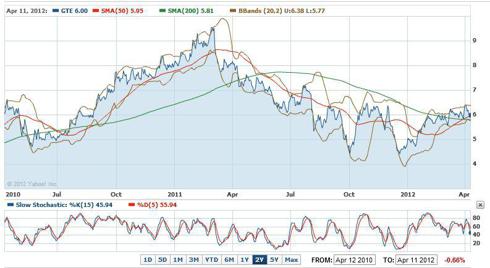 GTE is neither over bought nor over sold. You can buy it at anytime. Its recent rally has weakened of late as the market has vacillated. It could move down with the market, if the market continues to sell off. Fundamentally that should not happen. However, very few people know as much as you know about GTE after reading this article. They only see it as a Joe Schmo small oil stock with decent multiples, and they will likely treat it as such. I would advise you buy some now. Then if the stock goes lower, you should buy a lot more. With GTE production and development being in South American countries, a prudent investor will not want to put all of his money in GTE, but this investment is one that could push your average investment yield up for years.
Good Luck Trading.
Disclosure: I have no positions in any stocks mentioned, but may initiate a long position in GTE over the next 72 hours.