Last week we looked at the S&P 500 stocks in the Industrials sector. Below we highlight Financial stocks.
We calculated the relative P/E, price to book and dividend yield of each stock compared to their group and then added the three relative categories to come up with an overall number. The smaller the number the better (we're looking for low p/e, low price to book and high yield compared to the overall group average).
In the Diversified Financials group, ACAS, CIT, BAC, JPM, C, MER and MS currently rank best.
As far as straight Banks go, Regions (RF), National City (NCC), Huntington (HBAN) and Washington Mutual (WM) look the best, while Hudson City (HCBK) and Commerce (CBH) look the worst.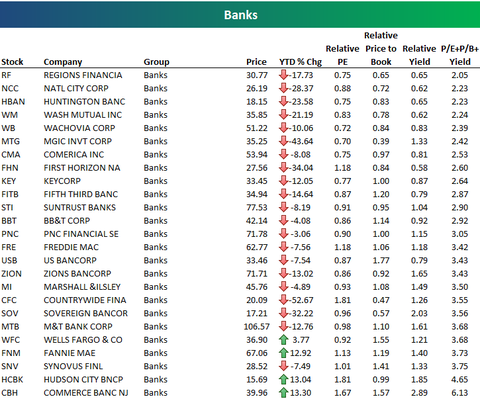 Of the Insurance stocks, Allstate (ALL) looks best, and BXP looks the best in the REIT group.