If you can get past any social or moral issues, "sin" stocks are useful as components of an income oriented investment strategy. Tobacco companies, and international ones in particular, are core "sin" stocks.
There are a variety of local national tobacco companies in countries around the world, but only four working outside of the U.S. that are readily accessible to U.S. investors, or for most investors for that matter. They are Philip Morris International (PM), British American Tobacco (BTI), Imperial Tobacco (ITYBY.PK), and Japan Tobacco (JAPAF.PK).
We have owned PM in the past -- don't right now, but may again at some point. There are some attractive features to the other companies as well.
"Sin" Stocks:
We like "sin" stocks, as they are often called, particularly in depressed economic times. People savor their cigarettes and beer when times are tough.
Cigarettes are a dying product in the United States and some other places, but are still a growth product in many others. We own beer stocks, and have owned liquor stocks from time-to-time.
Wine stocks, on the other hand we generally do not like. They seem much more prone to competition, oversupply, weather and variation in product quality. As Morningstar might say, they have little or no Moat, whereas the brand loyalties on cigarettes, beer and liquor create some degree of Moat.
Cars replaced horses. iPods replaced the Walkman for music. Online delivery replaced DVDs by mail, and so it goes with so many industries and products, but tobacco, beer, wine and whiskey seem to have a perpetual life.
Trading on Foreign Exchanges:
It is not essential to execute trades on Imperial Tobacco and Japan Tobacco over-the-counter in the U.S. In fact, depending on liquidity for those or many other companies, it may be more advantageous to purchase on the local markets in Europe or Japan, for example.
Entering trades in illiquid over-the-counter market securities is often a lot easier than exiting. While it may seem a bit more expensive to trade through the global desk of your discount broker, you may earn back the extra expense when it comes time to sell.
Foreign listed securities are generally more liquid in their home markets, and with the gradual globalization of trading, you are not absolutely confined to trading within the U.S.
An example of costs trading in foreign markets, might look something like this: 1/2% commission each way to your discount broker and perhaps 35 basis points each way to the local broker in Europe. That example is 1.7% round-trip, which is an impossible hurdle for traders, but not so bad for long-term holders. You might trade for lower costs on some pink sheets companies here, but the "price" you might pay in the Bid/Ask spread and possible lack of buyers when you want to sell, could make 1.7% look cheap.
Tobacco Company Valuation Metrics:
Back to the matter of the four key international tobacco companies -- here are some valuation metrics for them; followed by charts of their prices, earnings, and dividends; followed by summary business descriptions.

Click to enlarge
(Click to enlarge)
Based on these numbers alone (and that would be insufficient), Imperial may deserve a second look (but only for trading in its local market). Compared to Philip Morris International, for example, it has a lower P/E, a lower P/S, a lower P/B, a higher yield, a lower payout ratio and higher growth but with lower profitability and stability of earnings.
Price, Earnings and Dividends Charts:
Let's look at charts of price, earnings and dividends now.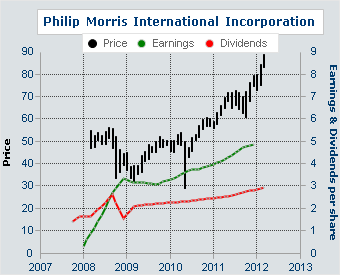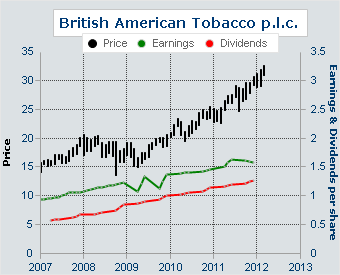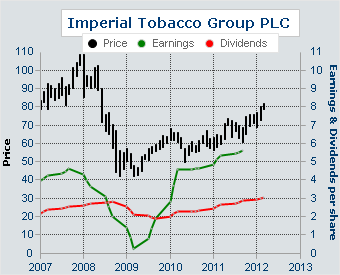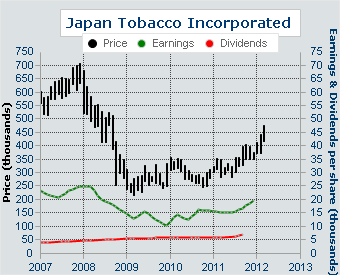 The charts go a long way toward explaining the valuation differences between Philip Morris and Imperial. Philip Morris is a more consistent results producer in both earnings and dividends. Imperial took a big earning hit in 2008-2009 and a bigger dip in dividends. It's price has yet to fully recover, while Philip Morris' price curve is fully recovered and then some -- in fact it looks a bit too steep.
Business Descriptions:
Here are summaries of their respective businesses (from CorporateInformation), followed by links to their company websites, should you wish to look further:
Philip Morris International Inc. is a holding company. PMI's subsidiaries and affiliates and their licensees are engaged in the manufacture and sale of cigarettes and other tobacco products in markets outside of the United States of America. Its products are sold in approximately 180 countries. The Company divides its markets into four geographic segments: The European Union Region , The Eastern Europe, Middle East & Africa Region , The Asia Region and The Latin America & Canada Region. In June 2011, it completed the acquisition of a cigarette business in Jordan, consisting primarily of cigarette manufacturing assets and inventories. January 1, 2011, it established a business structure with Vietnam National Tobacco Corporation (Vinataba) in Vietnam, further developing its joint venture with Vinataba through the licensing of Marlboro and establishing a PMI-controlled branch for the building of its brands.
British American Tobacco p.l.c. is a tobacco company with brands sold in more than 180 markets. The Company's four principal brands include Dunhill, Kent, Lucky Strike and Pall Mall. During the year ended December 31, 2010, the Company supplied over 180 markets with 708 billion cigarettes. These were produced at 45 factories based in 39 countries. Its other brands include Vogue, Viceroy, Rothmans, Kool, Benson & Hedges, State Express 555, Peter Stuyvesant and John Player Gold Leaf. In October 2011, the Company acquired Productora Tabacalera de Colombia, S.A.S. (Protabaco).
Imperial Tobacco Group PLC is an international tobacco company, which manufactures, markets, distributes and sells a range of cigarettes, tobaccos, cigars, rolling papers and tubes. Its portfolio of products includes Davidoff, Gauloises Blondes and West. The Company operates under two segments: tobacco and logistics. The Tobacco business comprises the manufacture, marketing and sale of tobacco and tobacco-related products, including sales to (but not by) the Logistics business. The Logistics business comprises the distribution of tobacco products for tobacco product manufacturers, including Imperial Tobacco, as well as a range of non-tobacco products and services. Imperial Tobacco Group PLC has 51 manufacturing sites and products in over 160 markets. The Company's activities include tobacco leaf procurement and processing, product manufacturing, distribution and responsible sales and marketing.
Japan Tobacco Inc. is engaged in the tobacco business. The Company operates in four businesses. The Japanese Domestic Tobacco business is engaged in the manufacture and sale of cigarette products in Japan, the delivery of the Company's products, the wholesale and sale of imported tobacco products, as well as the manufacture of material products. The International Tobacco business manufactures and sells cigarette products overseas. The Pharmaceutical business is engaged in the research, development, manufacture and sale of pharmaceutical products. The Food business manufactures and sells beverages, processed foods and seasonings.
The business descriptions go a step further in explaining why Philip Morris and British American Tobacco are the primary choices for most investors in the U.S. who want exposure to cigarettes (and we don't mean second had smoke by that). They has internationally recognized, iconic cigarette brands. The other two companies much less so.
Imperial is also in the middle-man roll on tobacco leaf area, which is probably more volatile than the straight cigarette business.
Japan Tobacco is diversified into other lines than tobacco and lacks the mono-line appeal that a tobacco only company would have for an investor seeking tobacco exposure.
Disclosure: QVM has no positions in identified securities as of the creation date of this article (April 11, 2012).
Disclaimer: This article provides opinions and information, but does not contain recommendations or personal investment advice to any specific person for any particular purpose. Do your own research or obtain suitable personal advice. You are responsible for your own investment decisions. This article is presented subject to our full disclaimer found on the QVM site available here.