By: Brendan Gilmartin
Overview
Citigroup (NYSE:C) is scheduled to report 1Q 2012 earnings before the opening bell on Monday, April 16. The results are expected to come through at approximately 8:00 a.m. EST with a conference call to follow at 11:00 a.m. Citigroup has the potential to impact the broader market indices, including the S&P and Dow Futures.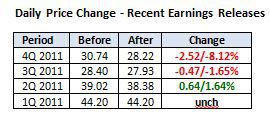 Outliers & Strategy
Citigroup's earnings follow results from JP Morgan Chase (JPM) and Wells Fargo (WFC) on Friday, April 13.
Citigroup is expected to post earnings of $0.99 per share (High: $1.12 / Low: $0.80). Revenues are forecast to come in at $19.853 bln. (Source: Yahoo! Finance).
Citigroup shares are currently trading at a steep discount to tangible book value of $49.81 per share (as of 4Q 2011).
Last quarter, Citigroup surprised the Street with disappointing earnings on January 17, posting 4Q earnings per share of $0.38, more than 26% BELOW the consensus of $0.52. The shares dropped more than $1.60 within 30 seconds of the report, while the S&P E-Minis dropped about two handles over that same span.
Recent News
04/10: Credit Suisse reportedly expects Citigroup to report "respectable" first quarter earnings, due in part to improving capital markets and investment banking activity, according to a post on Barron's. The firm also noted that valuation looks attractive.
03/30: Deutsche Bank raised its price target on Citigroup from $36 to $40, according to a post on Benzinga.com, based on improving capital markets.
03/13: Citigroup reported that it passed the Federal Reserve's hypothetical severe stress test scenario without the capital actions Citi proposed. The bank noted that, despite the Fed's objection to its proposal to return capital to shareholders, it remains "the best capitalized large banks in the world, with a Tier 1 Common capital ratio of 11.8% as of December 31, 2011."
03/07: Citigroup CEO Vikram Pandit made the following observations from the Citi Financial Services Conference:
Emerging markets are expected to show sustained higher GDP growth. Citigroup is highly levered toward international and emerging markets relative to other large banks.
Citigroup is remaining vigilant on risk management, while maintaining a "strong and highly liquid" balance sheet, building tangible book value, and increasing capital.
Technical Review
Citigroup recently broke an uptrend dating back to late November and is off more than 13% from the mid-March highs. The loss of momentum is also evidenced by the downward-sloping Relative Strength index (RSI) toward the oversold 30-level. Should earnings disappoint, look for support near $32.00, just above the 200-Day SMA, followed by $30.00. Resistance is at $34.50 (just above the 50-day), followed by $36.00. (Chart courtesy of StockCharts.com).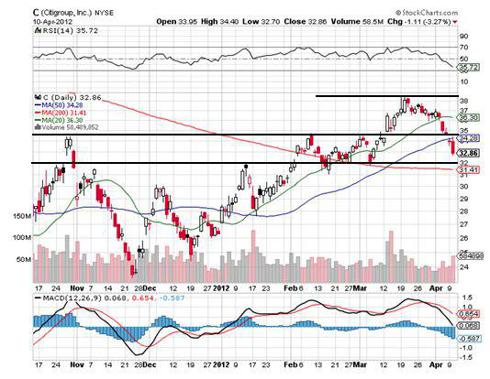 Summary
Citigroup is seen posting solid 1Q 2012 earnings, thanks to an improvement in capital markets and investment banking activity, strength in emerging and developed international markets, increased capital, and a solid balance sheet. Despite the optimism headed into the numbers, the shares are off about 13% from the recent highs, breaking a 4 ½ month uptrend. Results on Friday from JP Morgan Chase could provide clues ahead of Citigroup's closely-watched report on April 16.
Disclaimer: By using this report, you acknowledge that Selerity, Inc. is in no way liable for losses or gains arising out of commentary, analysis, and or data in this report. Your investment decisions and recommendations are made entirely at your discretion. Selerity does not own securities in companies that they write about, is not an investment adviser, and the content contained herein is not an endorsement to buy or sell any securities. No content published as part of this report constitutes a recommendation that any particular investment, security, portfolio of securities, transaction or investment strategy is suitable for any specific person.
Disclosure: I have no positions in any stocks mentioned, and no plans to initiate any positions within the next 72 hours.