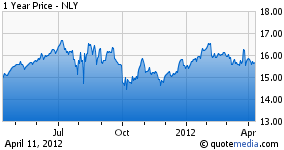 Annaly Capital Management (NLY) is a mortgage REIT, meaning that the primary emphasis of the business is on government-sponsored mortgage-backed securities market. The company generates revenues largely through trade of a wide range of GNMA, FNM and FRE securities and their derivatives and currently holds worth more than $54 billion in these securities. Annaly has a further $15.4 billion in assets under management through its advisory subsidiary.
In terms of capital, Annaly is an enormous business with a massive market capitalization of more than $15 billion and an average trading volume of more than $13 million. The stock has performed reasonably well in the current year after getting off to a somewhat sluggish start. Contrary to previous year's somewhat dismal performance, especially near the close of the year, the stock has opened the current year with a new resolve for growth and higher revenues.
At the start of the previous year, the stock announced plans to raise more than $1.3 billion by offering nearly 75 million shares of common stock. Over the last three fiscal quarters, the stock has successfully widened its competitive moat by strengthening its product portfolio with the repayment of short-term liabilities and by making smart investments.
Annaly has maintained an impressive dividend history over the last 3 years, which has largely been the result of steady market growth and impressive returns on investment. The stock has an impressive price to earnings ratio of 48.25 and a fabulous dividend yield of more than 14%. Currently, it has promised to pay investors $0.55 in dividends on average on earnings per share of $0.32.
Moreover, Annaly announced Series "A" Preferred Stock cash dividend of almost $0.5 per share and Series "B" Preferred Stock cash dividend of nearly $0.4. It is expected to make the dividend payments by the end of April. As a result, the stock currently enjoys favorable investor sentiment, and looking at the current prevailing market trends, I believe that the stock is poised for growth.
I seriously believe that, with the abundance of capital and resources that it employs, it is marginally undervalued at a current trading price of a little more than $15. The impressive manner in which the stock has staged a recovery, after plummeting down to as low as $14 is also commendable. Dividend history has been impressive and easily exceeds the industry average.
Moreover, the stock has staged a strong comeback since the start of the current financial year with aggressive market trading and favorable investor sentiment. The stock's holdings have increased by as much as 10% over the last three fiscal quarters and therefore, I strongly believe that this stock is poised for growth.
Annaly got an early scare in the current financial year when the Obama administration proposed a new Mortgage Aid Plan aimed at helping out more than 3.5 million good-credit people who were unable to refinance at incredibly low rates as the value of their homes had slipped below the mortgage rate. This plan, if passed, threatens to jeopardize the profit levels of the high-yield REIT such as Annaly.
Therefore, although the stock is still trading strong owing to a lack of news on whether the proposed mortgage aid plan is expected to be introduced, the eventual passing of the plan could affect the favorable run that the stock continues to enjoy currently. It will also inevitably influence the annual dividend of $2.28 that the stock pays to its investors.
Annaly has been around much longer than other relatively newer mortgaging REITs. It is a massive business, easily overshadowing its major competitors in terms of size and overall capital. After getting off to a somewhat sluggish start this year amid uncertain market conditions, the stock has also recorded an overwhelming performance in the first fiscal quarter with impressive cash flows and profit margins exceeding analyst estimates. Currently, the stock is trading higher and, given its impressive trading history, I strongly believe that the stock has the capacity to record solid gains this year.
A major competitor, American Capital Agency (AGNC) is considered to be the traditional rival of Annaly. However, the stock has dismally failed at posing both a real challenge and a threat to its massive competitor. American Capital has a relatively unimpressive market capitalization of just over $6.5 billion and its average trading volume of $7 million is only half of Annaly's. Although the stock has traditionally maintained a good dividend history, financial performance in the previous three fiscal quarters has been unimpressive owing to a high dependency on reserves for meeting dividend commitments. Moreover, in case the proposed Mortgage Aid Plan is eventually passed, I believe that the stock lacks the firepower needed to come out on top of emerging challenges. As a result, I speculate that its price will be seriously affected. In comparison, Annaly is certainly a much safer and more viable investment option for investors.
Another player in this market, Chimera Investment (CIM) lacks both and size and power when compared with major competitors. With a market capitalization of only $2.8 billion and average trading volume just managing to cling onto $10.7 million, the stock has never really posed a serious challenge to Annaly. With a trading value of just over $2.7 and a price to earnings ratio of 5.6, there is little to wonder why the stock has largely relied on reserve funds In order to meet dividend commitments. Annaly overshadows this stock in size, age and capital.
Also worth mentioning here is Anworth Mortgage (ANH), which has established a strong presence in the market mainly by dealing in a diverse array of mortgage obligations and securities. The stock has a puny market capitalization of less than $1 billion, and its average trading volume of $1.2 million is equally unimpressive when compared against traditional industry standards. After reaching as high as $ 7.7 at the end of the previous financial year, the stock's trading price has subsequently followed a strong downward trend with the stock losing most of its value. Currently, the trading price is averaging around $6 but a downward movement seems imminent considering that the stock is experiencing some market turbulence amidst sluggish trading. Therefore, there is little chance that this stock will pose a threat to the positive upward trend of Annaly.
Disclosure: I have no positions in any stocks mentioned, and no plans to initiate any positions within the next 72 hours.