It's really hard to justify a bullish case for Facebook (FB), but I'll try even though the stock is likely to debut at absolutely outrageous multiples
Perhaps I've caught the "Facebook Fever" that Camari Ellis warned about last month, but I do think there are many reasons why this company could grow into those multiples in the years ahead.
According to this chart from Statista, if Facebook is valued at $100 billion, it would be trading at 67 to 100 times its 2011 net income.
If Apple (AAPL) traded at that multiple, it would be priced at $2,300 to $3,300 per share.
Even I don't think Apple is worth $3,300 per share, and I wrote an article suggesting that Apple could indeed be a $2,000 stock - but in 2016. However, we're comparing Apple now with Facebook now. For Facebook to justify $100 billion now, it will have to grow relatively quickly.
But I think it can. In my view, Facebook is not just another IPO. It's likely to become one of the world's most valuable brands - not just in financial terms, but in global recognition. After all, Facebook has 800 million active users, and will probably hit 1 billion pretty soon. That's 1 in 7 people on the planet.
It's hard to turn down the opportunity to invest in Facebook when you consider some of the stats that Hitwise Research Director Heather Dougherty noted in her post "10 Key Statistics about Facebook."
Among them:
One in 11 of all site visits go to Facebook
Facebook is the world's top search term, with 4% of all searches for "Facebook"
Facebook has been the world's number one ranked web site for more than two years.
Advertising opportunities galore
I think advertisers are going to have a lot of success on Facebook. Advertising on Google, you can target your market fairly well, but Facebook offers a treasure trove of seemingly unlimited narrowly focused market segments.
Need to reach men in their 20s in Australia who like to go to the pubs? That will be an easy target to hit. Just those men in Brisbane? That's easy, too. Women in their 30s in Florida expecting their first child? Not a problem. Just those women who shop for organic foods? Well, you get the idea.
These highly focused targeting opportunities are why I think Facebook ad revenues could surge as this nascent ad platform gets developed further.
And Facebook isn't just for young people anymore. According to the Hitwise article I cited above.
visit share by income level and age show that 20% of Facebook visitors are older than 55 and that 20% of the visitors make more than $100,000 per year.
"Facebook Fever": Another Google?
So will I buy the stock? Perhaps. Not a lot, certainly less than 1% of my portfolio. And definitely not right away.
Yes, I know this could be 1999 all over again. And yes, it could be a toxic bubble.
And I know full well that Yahoo! (YHOO) was once a $100 stock when it was an Internet darling. And remember LookSmart (LOOK)? You could have turned $350 into $1 with that one.
You see, Google (GOOG) also became a major global brand, and it certainly outperformed the Nasdaq QQQ ETF since its 2004 IPO as shown here: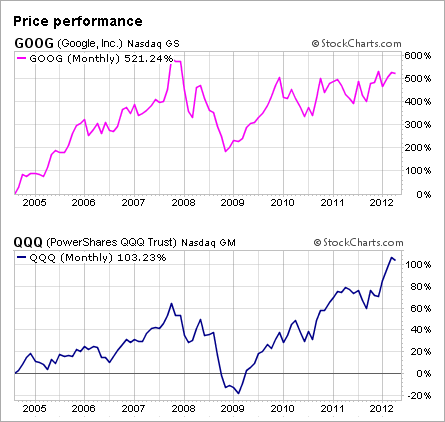 But over the last six years? Not so much.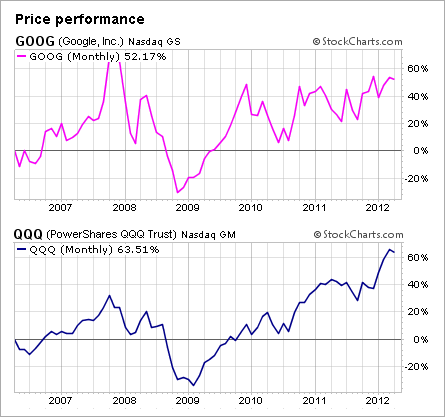 Pretty mediocre performance considering that Apple is up nearly 9-fold in six years while Google is up only 50%.
So is Facebook the next Yahoo! - destined to be doomed from poor management? The next Google - not exactly living up to its hype? Or will it be this coming decade's big success story?
The truth is nobody knows. Nobody can know. It's highly speculative. But I might buy a few shares anyway - or wait until the options on the stock begin trading.
To be clear, it's certainly not going to be an enormous part of my portfolio. And I'm not expecting to retire on it either. I just have this gut feeling that the Facebook advertising platform is going to generate a lot revenue In the years ahead.
In the end, Jacob Steinberg is right. Investors should wait until Facebook's value becomes clearer. I should too.
But I've come down with a mild case of "Facebook Fever." And unless there's some major accounting scandal at Facebook in the next month or so, the only cure for that is to buy a few shares and see what happens.
If you don't have the fever, don't worry. I don't think it's contagious.