High-yielding equity closed-end funds (CEFs) can often trade at valuations that don't correlate to their NAV performances and I wanted to write about some of these valuation discrepencies that exist between funds to give investors an opportunity to see what funds may be undervalued and which funds may be overvalued.
Let's start with a couple global funds. The first is the Calamos Global Dynamic Income fund (CHW) and we're going to compare it against the ING International High Dividend fund (IID). Both funds are similar in the sense that they have global equity portfolios and came public around the same time in 2007 near the market high. In addition, both funds offer monthly pay distributions of similar yields which is a nice feature compared to quarterly pay distributions.
The primary difference between the two funds is how they generate income to pay for their high distributions and yields. CHW uses 27% leverage as well as convertible and corporate bonds to generate income while IID is a pure global equity fund that uses a low covered-call option strategy on indexes and individual stocks to generate income. Here are the fund basics as of 4/11/2012:
Calamos Global Dynamic Income fund
Inception Date: 6/27/2007
Inception NAV: $14.30
Current NAV: $9.28
Current Price: $8.44
Premium/Discount: -9.1%
Market Yield: 8.8%
ING International High Dividend fund
Inception Date: 9/26/2007
Inception NAV: $19.06
Current NAV: $9.33
Current Price: $10.24
Premium/Discount: 9.8%
Market Yield: 10.1%
The first thing to notice about these funds is that CHW's market price is almost $1 lower than its NAV, whereas IID's market price is almost a $1 higher, giving rise to their almost 20% valuation difference. Funds trading at discounts to their NAVs like CHW tend to be the norm among CEFs and those funds that trade at premiums better have a good reason for their premium pricing.
Unfortunately, I have yet to see where IID earns that distinction.
The fact is that since their inceptions, CHW has almost the same NAV as IID even though IID started with a much higher inception NAV at $19.06, which should be cause for concern to IID share holders to begin with. Then consider the fact that CHW trades at a market price $1.80 lower than IID even though their NAVs are essentially equivalent and you start to see the valuation discrepancy that exists between these two funds.
Then there are other factors to consider. The most important of which is that CHW raised its distribution by 24% in February whereas IID cut its distribution by 7% in January. Typically funds that cut their distributions would immediately see their valuations decrease substantially but IID has actually increased its premium since the beginning of the year.
Part of the reason why CHW was able to raise its distribution is because of its superior NAV performance over IID. IID suffered in 2011 because of its heavy reliance on overseas equity markets, whereas CHW was able to benefit from a balanced portfolio that included corporate bonds and convertible stocks. So far in 2012, leveraged funds have been the place to be over option-income funds and CHW continues to benefit from that trend.
However, let's look at longer term comparisons since the most important distinction between these two funds is how they have performed historically on a total return basis. The following table shows the quarterly NAV performances of CHW and IID with all distributions added back from the third quarter of 2007 through 4/10/2012.
This roughly 4 1/2 year period makes a good side-by-side comparison because its starts at around the market highs back in late 2007 and includes both bear and bull market periods. Both funds had the unfortunate timing of going public close to the market highs and so both funds have negative total return performance, which is not a surprise for global funds. The table shows quarterly distributions which are added back to the NAV to give a running total NAV performance by quarter. Green represents up quarters while red represents down quarters.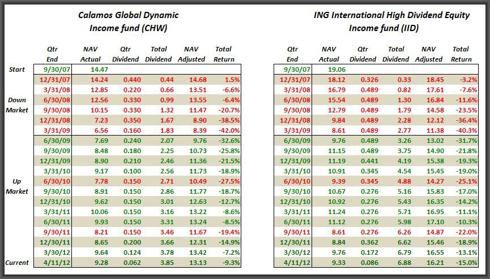 The next table compares the NAV total return performances from the market lows after the 1st quarter of 2009 to compare how the funds performed in an up market environment. Here it should be expected that the funds will have much better NAV performance.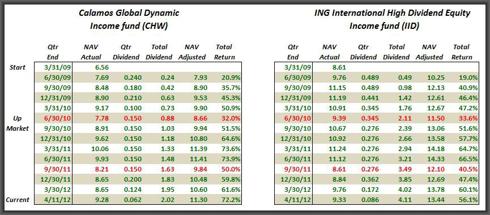 The bottom line is that CHW's NAV has outperformed IID's NAV both from the market top AND from the market bottom. Though these may not be huge percentage differences, the fact that this is occurring in all market environments begs the question as to which fund should be trading at a premium and which fund should be trading at a discount.
These tables provide a very revealing look at how CEFs are truly performing and I use them often to compare against indexes and other funds. So I ask investors, which fund would you rather own? Even if the funds traded without a discount or premium, the advantage still is in CHW's favor even with a slightly lower monthly pay yield. Add in CHW's discount pricing compared to IID's premium pricing and its not even close as to which fund is a far superior investment currently.
I suggested to investors earlier this year to take a look at CHW and its sister fund the Calamos Strategic Total Return fund (CSQ) after both funds announced hefty distribution raises in February. On the other hand, I would urge investors to swap out of funds like IID at premiums that clearly don't deserve it and consider other funds that are more reasonably priced. ING has several option-income funds that range from the more defensive Global Equity Dividend & Premium Opportunity fund (IGD) at -5% discount and a 12.2% yield also paid monthly to the more aggressive Infrastructure, Industrial & Materials fund (IDE) at a -4.3% discount and 10.3% yield.
IGD in particular, presents an arbitrage opportunity with IID. IGD has a higher NAV at $9.62 vs. IID at $9.33 but IGD trades over a $1 lower at $9.16 than IID at $10.24! This is also a rather ridiculous valuation difference since they are both on the same monthly distribution cycle and IGD offers a much higher 12.2% yield vs. 10.1% for IID. IID may have more upside in a strong overseas market, but this valuation difference is way out of whack for sister funds.
Disclosure: I am long CHW, CSQ, IGD, IDE.
Additional disclosure: Short IID