Apple Inc. (AAPL) makes great products at a premium price that people are willing to pay (for now), and that have made technology accessible and easy to use for the masses. Apple is not only the most talked about stock, but it also the largest holding by percentage in the largest and most popular exchange traded funds.
On March 1, Apple joined CSCO, GE, INTC, MSFT, and XOM to become the sixth company to exceed the $500B market capitalization (market cap) mark. This month, Apple joined Microsoft (NASDAQ:MSFT) as the only stock to have reached a market cap above $600B. Amazingly, apple gained 20 percent or $100 billion dollars in less than two months!
It seemed "everyone" loved MSFT when it passed the $600B market cap level - yet today, more than twelve years later, it is less than half this at "only" $255B. Will Apple follow a similar fate? Many responded to my article on Seeking Alpha Apple's Market Cap Breaks $500B Barrier; Can It Keep This Where All Others Have Failed?with a "yes" and some said Apple could maintain this level because the stock was not overvalued.
Rather than take the belief that Apple's valuation is low as a given, it is time to take a serious look at Apple's valuation verses its competition as well as the valuation assumptions. This is especially important to review after the recent $100 billion gain in market cap.
What TV and radio gurus have to say on valuation
Jim Cramer: In the Seeking Alpha April 9, Mad Money Recap, Miriam Metsinger reports Cramer said,
"While some feel this stock is overextended, Apple is expected to make $50 per share until 2013, but still trades at a multiple of 12, lower than the average multiple of 14. The company has many revenue streams with its various products, and can still take market share, especially as the iPad replaces the PC. The company recently instated a dividend, which it may increase over time, is not dependent on a strong economy and is not vulnerable to raw costs. Apple's balance sheet is clean, and its management has not missed a beat since the passing of former CEO Steve Jobs last year. Cramer thinks Apple just might be the greatest growth stock of our lifetime."
Bob Brinker, host for over 15 years of "Moneytalk" said for the first time that he owned Apple (See March 18, Moneytalk Show Summary) and that there will be a time to sell Apple, but Bob said he is not selling now. Brinker said in terms of the present value of Apple shares:
You take the $585 share price is being adjusted for $100 in cash per share that Apple has in the bank which is not earning a lot of money. But as long as Apple doesn't do anything silly with that cash, it is appropriate to value the company including that amount. So subtract that $100 from the $585 and you get $485 per share and you have to come up with an earnings estimate. Bob said using a very conservative 12-month forward number of $40 for earnings, that would produce a P/E multiple of 12.
Are they right? I've followed both for a long time. They both appear to chase performance with what they are excited about. It is much easier to sell their newsletters by talking about what is going up than being a contrarian. Perhaps they have learned their lessons by looking at valuation.
With Apple, I think they both miss how difficult it is to grow earnings at 20% a year when you are the largest company on the planet with fat profit margins - good capitalists will attack from all directions with lower prices and better performance. Eventually value wins, profit margins shrink and the leaders usually have to give up on profit margins to maintain revenue and total earnings to pay dividends and fund R&D for future products to maintain earnings. I strongly suspect valuation claims that rely on double-digit earnings growth for very large companies. Lets see if Apple is a good value without high earnings growth.
Apple's Current Valuation Numbers:
(Note: Data for calculations come from Yahoo! Finance on the date shown in the tables.)
Click to enlarge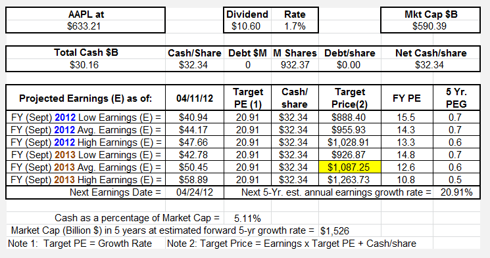 What stands out from this analysis are the following:
Apple looks cheap on a PEG (price to earnings ratio divided by its 5-year forward growth rate) basis. IF it can continue to grow earnings above 20% as the analysts estimate, then it is at a very good valuation. Unfortunately, many stocks I follow top out when PEG is low (near 0.5) and actually are usually better buys when they look overvalued, since analysts are usually too optimistic at tops and too pessimistic at bottoms.
$30B in cash is far less than the $100B in cash people talk about. If you look at Apple's balance sheet, you see a third is in true cash and two-thirds is in "short-term investments." How much is offshore where it would pay Federal and State taxes to bring it back?
The current PE using fiscal 2013 operating earnings is 14.3. This is HIGHER than the market PE of 12.6, not lower as so many claim. Here is an excerpt from page 6 of my April 2012 investment letter:
Operating earnings are what companies say they would have earned from "normal operations." GAAP[1] earnings include options expensing, law suit settlements and other write offs such as the special charges companies take for restructuring or other "one time" charges. I like to follow BOTH because some companies make a habit of writing off mistakes and lawsuit settlements as a regular part of their business to make their operating earnings look better. S&P500: Price = $1,404.20, Forward Dividend Yield = 2.07%.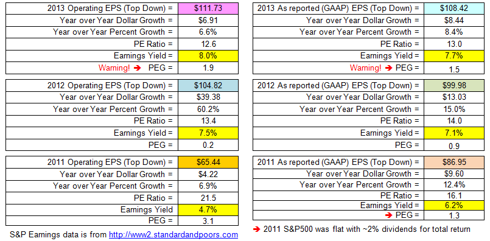 ---
[1] GAAP stands for "Generally Accepted Accounting Principles"
So, Brinker says Apple is cheap if you remove its cash, but cash is only 5% of its market capitalization. When you account for cash as I do in my spreadsheet, Apple's valuation based on PE (price to earnings ratio) is little different than the market as a whole.
Also, Intel's (NASDAQ:INTC) cash is 10.8% of its market cap and Microsoft's cash is a whopping 18.7% of market cap! Using the same calculation for valuation, I have PEs of 10.6 and 10.1 for INTC and MSFT, respectively. Can you guess which two of the three stocks I own today?
Brinker has a long history of chasing performance with what he discusses on the radio. He recommended MSFT as a HOLD in his Marketimer newsletter back in January 2000 when it was near its all-time high at $56 and he told callers to his show they could hold their MSFT to avoid capital gains and sell other funds in their portfolio as he recommended cutting back on equities. Today, MSFT is less than half the price, while the S&P500 is back near 1400. Thus, Brinker tends to favor what is popular at the worst times.
Cramer says Apple's 2013 PE of 12 is below the S&P's multiple of 14. Maybe he's confused because my table shows that Standard and Poor's has 2013 estimates for its index giving it a PE of 12.6 and 13.0, based on operating and GAAP earnings, respectively. My analysis shows Apple currently has a 2013 PE of 12.6 - which is equal to the market.
One critical comment to me in an article here about Apple suggested I wasn't worth listening to since I didn't own Apple and "missed" its great run. I don't usually buy device makers. I worked at Hewlett Packard (HPQ) in R&D for 20 years when our stock had gains similar to what Apple has seen. I was one of the few who took significant profits as it went from $40s to $50s to $60s after it became a very large part of my portfolio. I didn't wait to sell all at the very top, but I am sure glad today - with HPQ at $23 - that I sold something like 95% of my stake in that range to diversify.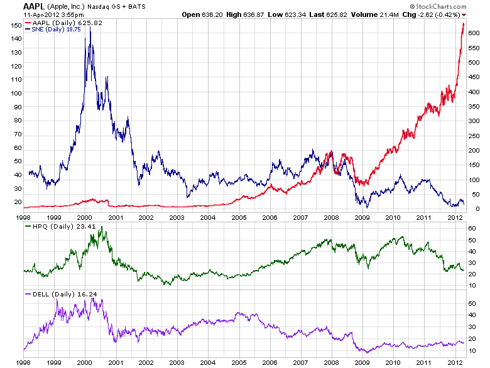 A big reason I don't buy device makers now is it is very hard to stay number one. Just ask anyone who had a major part of their net worth in Sony (SNE), Palm (now part of HPQ), DELL and Rimm when these stocks were at the top of their games. I remember when everyone had or wanted Sony TVs, CD players and Sony Walkmen just like it seems now everyone has or wants iPhones, iPads and Apple TVs.
Conclusion
I think it is safe to say "Apple is fairly valued" if it can maintain its earnings. Since Apple is the largest holding in several index funds such as SPY and VTI, I would give serious consideration to selling or taking large profits in these funds if I thought Apple was significantly overvalued. I have not done so. I did take some profits in a managed mutual fund that has Apple as a top holding. Yesterday, I bought some more Finisar (FNSR) at $17.50 as I suggested in Apple, Is The Bandwagon Full? Consider Finisar. I think Apple MAY continue to go up and has a good chance to become the first company to boast a one-trillion-dollar market cap, but I believe there are better alternatives that will do even better if the economy allows Apple to reach that level.
Disclosure: I am long FNSR, GE, HPQ, INTC, MSFT, SPY.
Additional disclosure: I also own the index fund version of the total stock market EFT, VTI.