There's not much more that I can say about this excellent YouTube video put together by fellow Seeking Alpha contributor Mick Trivane than it's beyond excellent, deserves broad consumption (even if you do not follow the Sirius XM (SIRI) debate) and it provides a perfect tie-in to what I planned on writing about this morning.
Often, I think we beat a dead horse discussing - and given how comments' sections sometimes devolve, I use that word loosely - Sirius XM, particularly when Pandora (P) enters the conversation. Then, when I review the content Seeking Alpha publishes on the subject, save very few exceptions, I change my mind. By and large, it covers all bases, from bullish to bearish, quantitative to qualitative and everything in between. I learn something in most of the articles, have my perspective challenged (or reaffirmed) and, while wading through Porky's-like hijinks and some sophomoric dribble, most reader comments help inform my thought process. That's the beauty of Seeking Alpha, minus the rare hijinks and dribble.
This morning, SA contributor Helix Investment Management published one of the better entrants into the debate, Pandora And Sirius XM: There Is No Reason Why They Cannot Coexist. I appreciate the firm's take on both companies:
The advent of the iPhone revolutionized not only the smart phone industry, but Pandora's business as well, in both positive and negative aspects. On the plus side, Pandora's share of American radio listening has been able to grow to 5.74% as of February 2012, and mobile users now account for over 70% of Pandora's usage. On the negative side, mobile usage has lower RPMs than the traditional desktop business. RPM in fiscal 2012 came in at $20, compared to $13 in fiscal 2011.

Furthermore, mobile revenue quadrupled in fiscal 2012 to $100 million. In the long run, there is little material difference between the monetization potential on the mobile side of Pandora's business compared to its desktop business. Once user growth reaches a more modest pace in the mobile business, monetization should improve. And as growth in users falls, so to will growth in content acquisition costs. This is why Pandora must be seen as a long-term holding. The primary driver of long-term profitability will take several years to play out ...

We once again emphasize that Pandora is a stock for patient investors who are willing and able to hold it for at least several years.
Helix expresses an equally as rational view on Sirius XM's prospects:
The first (initiative) is Sirius XM's mobile streaming service, which will cost users an additional $3 per month. The revamped service will include personalized music in the style of Pandora ... Sirius XM recently instituted a 12% rate increase, and one of the side effects of that is a projected rise in churn, from 1.9% to 2.1%. To counter this effect, Sirius XM is revamping its streaming service, in order to derive incremental revenue increased from its existing subscriber base. Stealing users from Pandora is not the goal of this service.

Sirius XM is also working to strengthen its presence in the automotive industry, arguably the most important aspect of Sirius XM's business at the present moment. Sirius XM says that 67% of new cars come pre-installed with its radios, up from 62% a year ago.

The company is also making inroads in the used car market. Currently, the company has partnerships with over 4,000 used car dealerships across the country, and this business should grow in the years to come.
Helix concludes:
Many people see Pandora and Sirius XM as competitors, and believe that one must fail in order for the other to succeed. We do not see it that way.
I could not agree more. When I make Pandora to Sirius XM comparisons, I do not, generally, do it under the assumption that the former will drive the latter out of business. Rather, I compare the two to illustrate my perceived differences between the two companies. I see Pandora as a new media/tech/Internet player innovating to a future it helps shape. Meanwhile, Mel Karmazin appears, in my eyes, to be running Sirius XM like an old school radio company.
When I compare leadership at Pandora to Karmazin at Sirius XM, this distinction comes as no surprise. Cats like Pandora founder Tim Westergren are innovators and musicians. Pandora CFO Steve Cakebread, who is more than a bean counter, comes from tech, last serving as president and chief strategy officer at Salesforce.com (CRM). These guys would not look out of place sitting in a coffeehouse wearing jeans and t-shirts rapping about the future of mobile streaming with Steve Jobs. I cannot picture the consummate professional, life-long sales guy Karmazin buying the next round of macchiatos for that motley crew.
That picture of Karmazin is not necessarily a bad thing. But, here's the important part: If Sirius XM fails, it will not fail because of Pandora. It will have nobody else to blame but itself. I merely illustrate Pandora as an example of a company I think does things right within the context of positioning itself for the future. Helix argues that Sirius XM does the same with its multi-platform efforts. We just have a difference of opinion.
I do not see what Sirius XM does online and via mobile as being any different than what Netflix (NFLX), another vanilla middleman, does. It essentially aggregates content that end users can get in any number of other, sometimes more convenient places. Consider Sirius XM's announcement the other day that, "for the first time ever," it will stream this year's NHL Playoff games and the entire 2012-13 NHL season online and via its mobile app. That's fine and all, but I pose two points to consider:
There's little, if any, value add; and
if you put it online or make it mobile, there's no guarantee that they will come.
Unless you already subscribe and circumstances favor such a decision, there's no reason for you to listen to hockey on Sirius XM. More importantly, what does this do to attract new subscribers? And, even more importantly than that from a long-term marketing perspective, what does it do to build your own brand and take ownership of another? Very little. That's not the case for another company that struck a similar deal.
In Canada, Rogers Communications (RCI) adds CBC's coverage of the NHL Playoffs to its app that already streams hockey, basketball and live concerts. Even if nobody listens to the broadcasts (and, of course, that's a slight exaggeration), Rogers wins. When Canadians turned on Maple Leafs' General Manager Brian Burke's end of season press conference, they saw the Rogers logo on the backdrop. When they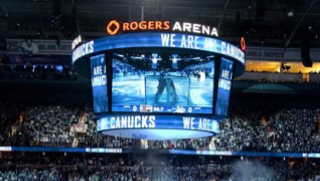 tuned into game one of the Vancouver-Los Angeles series last night, they saw the Rogers logo on the ice, along the boards and on the roof of the arena. It's all part of a larger, more meaningful marketing plan that aims to "make" Canadians connect Rogers with hockey and hockey with Rogers. While I do not expect Sirius XM to buy sports teams and naming rights to arenas, I do expect it to attach these types of announcements to something larger and more thoughtful, meaningful and valuable.
By a similar token, Pandora provides its users with content they can obtain from any number of other sources. But they do not simply stop at slapping that content online and hope the stars will align and that you'll listen. While Pandora does not follow the Rogers model, it has its own value-add: personalization and discovery. No other company has been doing this for as long or as well as Pandora. If you want to personalize your "radio" experience and/or discover new artists, you go to Pandora. And the company makes that experience more interactive and valuable to users and advertisers by the day.
When I give a reason to support my contention of buy Pandora, sell Sirius XM, it's not because I think the two cannot coexist. Of course, they can. Satellite radio will die a death resembling AM radio's demise over the course of the decade not because of how Pandora acts, but because of how Sirius XM acts and fails to properly react.
Additional disclosure: I am long NFLX June $40 put options.