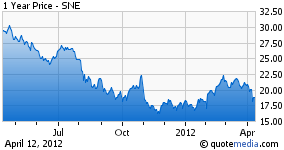 Sony (SNE) CEO Kazuo Hirai yesterday announced 10,000 job cuts and a turnaround strategy built around mobile and medical products.
There were also hints he might be interested in Olympus, reeling from a $1.7 billion accounting fraud, which is the leading maker of medical endoscopes.
But there was one big word totally absent from Hirai's strategic vision.
Movies.
Sony Pictures Entertainment represents only 10% of Sony revenues and the aftermarket gives it a fat operating margin of 20%, even while the picture business itself is at break-even. That would indicate annual revenue of over $700 million, and a powerful after-burner in the catalog.
Former CEO Howard Stringer came from the entertainment business, but Hirai comes out of gaming, and that seems to be where he's focusing his attention.
The news is almost certain to spark rumors, begun in 2011, that Sony might be interested in selling the studio. The company's financial troubles were highlighted by the studio's sale of merchandising rights to its Spiderman franchise.
Beyond the usual suspects (Disney (DIS), Fox (NWS), Comcast (CMCSA), Time Warner (TWX)) Sony recently bought 30% of an Indian television network. Hurray for Bollywood. What would you say to a Bollywood-Hollywood merger produced in Japan?
You might also put some Internet companies into that auction, outfits like Netflix (NFLX) that have been starting their own production arms, or Google (GOOG), which owns Youtube. While we're at it let's throw Apple (AAPL) into the mix - Sony holds the rights to Walter Isaacson's Steve Jobs biography.
Not only is the Internet seen as where value will come from, but the production of value from movies is also heavily computerized.
Question is, however, what is Sony Pictures worth? Based solely on its estimated sales, a 2.3x sales figure would bring in almost $2 billion. But as valuation expert Seth Willenson noted, when MGM was reportedly on the block two years ago, studios often go for more than they're worth.
A $2 billion-plus sale of assets would certainly look sweet on a company now worth just $18 billion, when that's just 10% of the business. Could make a nice pop in the stock.